This post is sponsored by ALDI USA. All opinions are mine.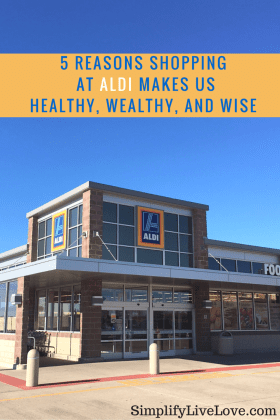 Recently, I was honored to attend an event at the ALDI Test Kitchens in Batavia, Illinois. If you're a regular reader of SimplifyLiveLove, you know that I've been a loyal, life-long ALDI shopper, starting when I was a young girl in Germany. ALDI saves me time, ALDI saves me money, and ALDI provides an overall healthy product line that I am comfortable feeding to my family.
Before I went on this trip with ALDI, I thought I knew everything there was to know about shopping there. But I was really wrong. I learned so much during my tour of an ALDI store in the Chicago area and I'm excited to share you with a list of the progressive reasons ALDI is a top-notch grocer in the USA and why you MUST shop there if you don't already!
5 Reasons Shopping at ALDI Makes us Healthy, Wealthy, and Wise
ALDI provides healthy and organic food at rock-bottom prices
Every time I go to ALDI, I am amazed at how little I spend and the awesome products I find. Looking for organic grass-fed beef? ALDI has it. How about KerryGold cheese? Gluten-Free selections? Organic milk? Organic apples? Chemical-free lunch meats? Organic peanut butter? Yes, yes, yes, yes, yes AND yes – you can find all of that and more at ALDI. I was excited to learn that ALDI private label, the SimplyNature line, will never contain any of these 125 nasty, and unsafe, ingredients. Many of the SimplyNature products are organic, a lot are non-GMO certified, and more products are being added to this line all the time. I love to find 49 cent pomegranates and avocados!! And a couple of weeks ago I stocked up on 24 ounce cans of organic crushed tomatoes (on close-out for 75 cents each) and organic tomato paste for 19 cents each!! My pantry looks like an aisle at ALDI. You can't beat their prices, or quality, and that's part of the reason ALDI is one of my go-to grocery stores.
ALDI has a double guarantee on most of its products. 
If for any reason you are not 100% satisfied with almost any ALDI exclusive brand food products you buy at ALDI, ALDI will gladly replace the product AND refund your money. To receive the Double Guarantee, the product packaging and any unused product must be returned to your local ALDI Store Manager. (There are a few exceptions to the Double Guarantee though. It does not apply to non-food Special Buy items, alcohol, national brands and non-quality related issues.)
ALDI is an innovator in streamlined efficiency.
With stores that average 10,000 square feet, ALDI stores are about a quarter of the size of the more traditional grocery stores, but that doesn't mean they're lacking diversity. They stock a full assortment of fresh, frozen, baked and canned goods; international chocolates; spices, baking supplies and sweets; and wine and beer (depending on state laws). The small size really means that you can get in and out of ALDI fast. I love being able to run through their 4-6 aisles in under half an hour. While you might think fewer product choices is bad, I don't think so at all. Because ALDI has committed to removing many ingredients that I like to avoid, I know I can trust their products. They also clearly label products for allergy concerns which is crucial for people who suffer from food allergies.
I might be a nerd, but I was seriously interested in the quick and efficient way ALDI stores are stocked. Next time you're there – notice that their products are not removed the boxes they are shipped in! Employees simply take boxes of products to their home, stack, open, and voila! Stocked store! The products also contain barcodes on all sides to make check out easier – which is why I never groan too much at register lines because the checkers move so quickly! So fascinating to have a behind the scenes look at ALDI business practices.
ALDI treats its employees well.
Not only do I love ALDI products, I am also impressed with how well they treat their employees. ALDI is one of the only grocery stores where cashiers sit while ringing up groceries. Employees are provided with ergonomically-correct chairs so their bodies are strained less as they work. All ALDI employees are cross-trained to not only check out groceries, but also to keep the food stocked on the shelves, so they're doing a variety of work instead of standing at a register for their entire shift. And finally, ALDI employees are eligible for health, dental and 401k with only a 25 hour work week! We're a self-employed small business ourselves and we also try to take care of our employees, so I can really support other companies that treat their employees right.
ALDI listens to customer concerns.
People want better food. Period. We want to be able to trust what we're eating and pronounce the ingredients.  I was thrilled earlier in the year when I found out ALDI is phasing out added MSG, synthetic colors and partially hydrogenated oils from all ALDI private label products by the end of this year, and I am stoked to check out the list of 125 products that ALDI will never put in their SimplyNature line! And these product changes were initiated because consumers like you and me told ALDI that we're concerned about the ingredients in the food we buy! Before I went on my trip, I was supposed to ask my readers if they had any questions they'd like me ask ALDI. Well, I didn't get many questions, but that didn't stop me from asking questions anyway. I was surprised by how seriously ALDI takes their customer requests! If you have a product you'd like ALDI to carry, or a concern about anything in their stores, let them know! They'll do their best to make your wishes a reality – like carrying cilantro to go with the rock bottom prices on their avocados so you can make the best guacamole in the world. 😀
By the way, if you've never been to ALDI before, make sure you take a quarter for the cart (you'll get it back as long as you return the cart to the cart corral), your own bags or you'll have to buy them there, and cash or a debit card because ALDI does not accept credit cards! These are more ways ALDI is able to keep their prices so low!
I'm always surprised when people tell me ALDI quality is lacking. You guys, it's not. ALDI makes it easier to shop quickly, at prices most people can afford, while selling products that are better for our health! I hope you will give ALDI a chance if you have one in your area! And if you learned something new in this post, I'd love to hear about it!
SimplifyLiveLove is a participant in the Amazon Services LLC Associates Program, an affiliate advertising program designed to provide a means for sites to earn advertising fees by advertising and linking to amazon.com.