Wilson's Apple Orchard + 9 More Amazing Apple Orchards in Iowa
on Oct 05, 2018, Updated Jul 19, 2020
 With dozens of apple orchards in Iowa, thousands of Iowans will head to their favorite orchard for a day trip of apple picking, hayrides, games and treats. Here's information about Wilson's Apple Orchard in Iowa City and 9 more amazingly perfect apple orchards to visit. Which is your favorite?
Wilson's Apple Orchard + 9 More Amazing Apple Orchards in Iowa
Wilson's Apple Orchard – Iowa City
Iowa  enjoy using a line from the movie "Field of Dreams." A baseball player's ghost asks, "Is this heaven?" "No, it's Iowa." That line could easily describe the view at Iowa City's Wilson's Orchard. Set in a valley surrounded by forest, with the Rapid Creek running through, the scenery is breathtaking. So, the apples have to be the best tasting in Iowa, right? With 120 varieties of apples grown there, Wilson's is confident you'll find your perfect apple. Stop by the store and sample the apples ready for picking during your visit to help target your harvest. Then, grab a bag and head out for a day in nature, as you'll hear birds chirping and maybe see an animal friend or two roaming about.
Open daily 10 a.m.-6 p.m. through the end of October, Wilson's offers a unique hayride, starting with its specially-designed wagon, and including stories of alligators and more. While there is a charge for the wagon ride, you'll get the fee back when you buy apples. Each ride is $5 per person, so you'll receive a $5 credit when you buy apples, etc.
Appleberry Farm – Marshalltown
After more than three decades of running the farmstead, Bob and Donna Atha decided it was time to pass the harvest on to new owners. Dave and Kelly Mason are in their second year as the owners of Appleberry Farm in Marshalltown. With more than two dozen varieties of apples raised on the nearly 20-acre farm, Appleberry encourages visitors to pick their own or buy prepicked bags at the gift shop, in addition to fresh vegetables, jams and jellies. Families can enjoy a hayride around farm, and kids are encouraged to play in the sandbox, as well as farm games. Caramel apples, popcorn and other refreshments. The farm is open 9 a.m.-6 p.m. daily, except for Sunday, when the hours are noon-6 p.m.
Deal's Orchard – Jefferson
Frank Deal planted his first apple tree in Greene County more than 100 years ago. Today, the historic Deal's Orchard raises more than 25 varieties of apples on about 45 acres in central Iowa. From Sharon to Arkansas Black, visitors are encouraged to pick their own apples or buy pre-picked ones at the store through mid-October. Open daily (8 a.m.- 6p.m. weekdays and 10 a.m.-6 p.m. weekends), the farm has a lot of activities for visitors at its Apple Acres. From a themed 5-acre corn maze to a giant jumping pillow, slides, duck races and apple slinger, your admission fee gets you access to a day's worth of fun. Families can also enjoy a tractor-driven hayride around the farm.
Small's Fruit Farm – Mondamin
With 33 acres overlooking the Missouri River, Small's Fruit Farm in Mondamin welcomes visitors to pick their own apples or buy prepicked varieties in its store. What started with an apple purchase in 1894 led to the family's first generation of apple farm owners. Now in its fifth generation, Small's raises about 25 varieties of apples, in addition to strawberries, raspberries, pumpkins and other fruits and vegetables. Visitors are encouraged to try the apple cider. The orchard is open 8 a.m.-6 p.m. daily through late October.
Gravert's Apple Basket Orchard – Sabula
Located on a farm overlooking the Mississippi River along the Great River Road National Scenic Byway, Gravert's Apple Basket Orchard in Sabula offers more than 20 varieties of apples through late October. From Snow to Braeburn, visitors have an opportunity to pick fresh, tasty apples through late October. The orchard's store sells pre-picked apples, too. When you stop by, check out the pygmy goat, Jenny the donkey, peacocks and chickens. The general store with a 1930s kitchen, sells a variety of homemade jams and jellies, as well as handmade baskets. The orchard and store are open daily, 9 a.m.-6 p.m.
Appleberry Orchard – Donnellson
The first apple tree in Iowa was planted in 1852 at the Appleberry Orchard in Donnellson, making the farm the oldest working orchard in Iowa. Today, the farm in southeast Iowa attracts thousands of visitors each fall with its wagon ride to the orchard for u-pick apple weekends beginning in September and running through late October. Offering a dozen varieties, visitors can have fun finding the apples of their choice. In addition to apple (and even pumpkin) picking, visitors can spend a full day at the farm, visiting the petting zoo at the barn, built in 1882 and a nationally-recognized historic site. Kids of all ages can have fun feeding and petting goats, pheasants, chickens and rabbits, as well as a miniature donkey and pony.
Visitors can challenge themselves to find their way through the 10th anniversary Great Pumpkin corn maze. Or, maybe take in the pumpkin chucker, pig races, barrel train rides or an actual wagon ride. The farm has special rates during the week, as well as weekend prices, which can be found on the website. While you make a full day on the farm, grab lunch or dinner, as well as dessert at the concession area. The farm is open 9 a.m.-5 p.m. Monday-Friday, 9 a.m.-7 p.m. Saturday and 11 a.m.-7 p.m. Sunday through Oct. 21.
Ditmars Orchard – Council Bluffs
A trip to Ditmars Orchard in Council Bluffs is more than apple picking. The orchard hosts outdoor concerts during harvest season, featuring local musicians. Balloon launches are hosted on the grounds. But, when it comes to apple harvest, Ditmars rates as high as any orchard in Iowa. With six varieties that can be picked from the orchard to another half dozen available to be bought in the store, Ditmars has just about any apple to satisfy cravings. Its café is second to none with a menu featuring chicken wraps and nacho taters, as well as kids meals. Don't forget to grab a dozen apple cider donuts or a pie. For adults, wine is also available for purchase. The orchard is open 10 a.m.-6 p.m. Tuesday-Saturday and 11 a.m.-5 p.m. Sunday (closed Monday) through late October.
While visiting Ditmars, you're encouraged to take part in activities (additional fees/bundle package available), such as tractor-driven wagon rides and taking a walk through the corn maze. Kids can play in a corn box or on a tire mountain, in addition to other games.
LaDoga LaBranche Orchards – Bedford
History awaits visitors to LaDoga LaBranche Orchards in Bedford in southwest Iowa, about 2 hours south of Des Moines and 90 minutes southeast of Council Bluffs. In addition to picking apples from more than 100 trees, you can visit the Little Red Schoolhouse, a homage to the teachers who once educated children in one-room schools across the Midwest. The farm's apple history dates back to the late 1800s, when the family's patriarch homesteaded the land. The farm's harvest would find its way aboard trains to Omaha and Chicago through the 1940s. The apple orchard eventually went away. Resurrected with new apple trees in the 1980s, today LaDoga LaBranche opens its gates to visitors Monday-Saturday (9 a.m.-5 p.m.) through mid-October. The farm has a variety of apples that can be picked, including MacIntosh and Jonathan.
Wills Family Orchard – Adel
Weekends were made for apple picking, or so it goes at Wills Family Orchard. About a 20-minute drive west of Des Moines in Adel, the family farm opens its farm to visitors during the Apple-Pumpkin Festival, every Saturday (9 a.m.-5 p.m.) and Sunday (noon-5 p.m.) through Oct. 21. Visitors can pick their own apples on weekends, based on weather. Currently planned for the first or second weekend in October, tell the cashier you want to pick your own delicious apples, prepay $25 for a 10-lbs. bag (you'll be given a bag) and head out to the orchard to pick apples. Four acres of land are used to raise about a dozen varieties of organic apples, from Pristine to Gold Rush. In addition, the 27-year-old farm has five acres of pumpkins, as well as additional crops.
In addition to the u-pick 'em, the Apple-Pumpkin Festival includes a 15-minute tractor-driven wagon ride around the farm, a ride that will make you question the farm's proximity to the city. Wills Family Orchard offers visitors a chance to see goats and chickens at the Barnyard, take a hike through the one-acre corn maze, "swim" in a corn pool, paint gourds and play games, among other activities. Admission to the farm is free, but there are fees for some of the activities. Tickets are $7 per person for 3 and older. Children 2 and younger and free.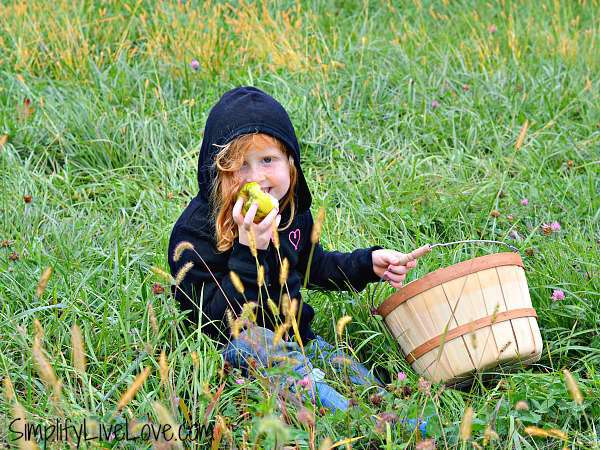 Apples on the Avenue – Nashua
Offering more than 20 varieties of apples that visitors can pick themselves from the orchard or buy prepicked bags of goodies, a visit to Apples on the Avenue in Nashua is more than just buying an apple. Families can hop aboard a horse-drawn wagon for a ride around the grounds. Pony rides are available for children. The orchard also offers a petting zoo, yard games and mini golf. Don't forget to buy a caramel apple or two for the drive home. The North Iowa apple orchard, which has free admission, is open 10 a.m.-6 p.m. Tuesday – Saturday and 1-6 p.m. Sunday through Oct. 31.
With a great selection of apple orchards to visit, Iowa is THE place for apple-picking season. From beautiful views to fun attractions, you're guaranteed to have a fun day trip to the farm this fall.
If you liked this post on Apple Orchards in Iowa, you might like these posts too:
Top 10 Pumpkin Patches in Iowa
Franklin County, Iowa Harvest Tour
American Gothic House Center in Eldon, Iowa