Dunkin' Donuts All Day Breakfast Menu & a Giveaway!
Many thanks to Dunkin' Donuts for sponsoring my chance to try the GranDDe Breakfast Burrito from their all day menu and offering a $25 mGift Card for one lucky reader as well!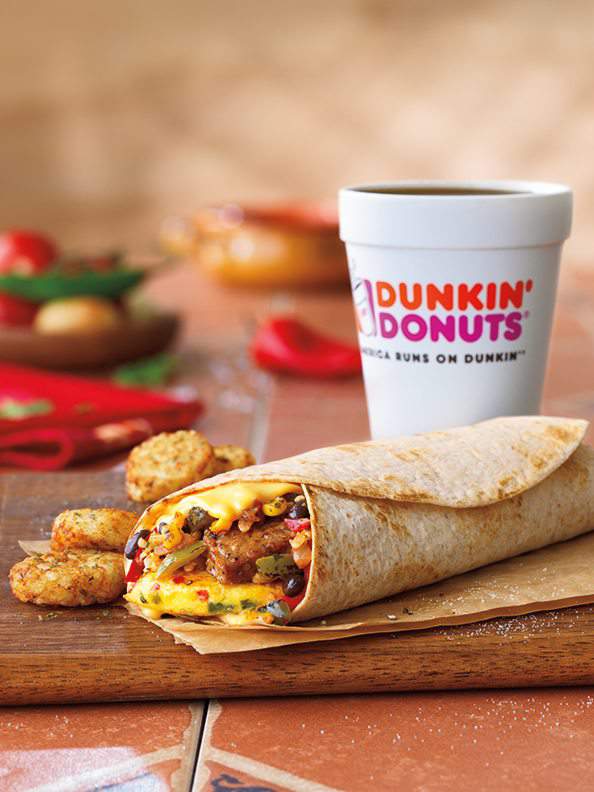 Dunkin' Donuts All Day Breakfast Menu
We recently got a Dunkin' Donuts across the street from our CrossFit gym. We live in a rural area so this new restaurant is a pretty big deal, friends. While we don't eat a lot of fast food, Dan and I love how easy it is to buzz through the Dunkin' Donuts' drive-through sometimes on the way home after an early morning work-out.
I know coffee might not seem like the perfect after-work-out-pick-me-up, but getting up at 4:45 am to workout is hard. Coffee and water are the only things I can stomach most mornings for quite a while until my stomach wakes up. While I don't relish the 4:45 am alarm, I do enjoy the quiet mornings I spend with my husband when we workout together.
The other day we varied our morning routine a bit, and also picked up breakfast at Dunkin' Donuts. I honestly didn't know they had anything other than coffee and donuts. But they do! Dunkin' Donuts also has breakfast burritos, hash browns, bagels and more. I grabbed a new Sausage GranDDe Burrito to try out because it looks and sounds pretty amazing, doesn't it? The GranDDe Burrito is a 10-ounce breakfast burrito featuring a spicy omelet of jalapenos, red bell peppers and pepper jack cheese with habanero, as well as a rice and bean blend with corn, fire-roasted peppers, and onions. You can get it with or without sausage, too. It's pretty good, you guys. I was pleasantly pleased. I don't normally like breakfast burritos much,  but I did like this one. I thought the rice and beans were really tasty in a breakfast burrito!
Want to win a $25 mGift Card to try Dunkin' Donuts full menu yourself?
The GranDDe Burrito is available any time of day at participating Dunkin' Donuts restaurants nationwide for a limited time. Make sure you try it! Enter to win your own mGift Card using the rafflecopter form below! Good luck. 🙂