How to Make Homemade 12 Grain Bread
on Apr 10, 2015, Updated Oct 29, 2023
Continuing with my Earth Month Challenge this week – I'm moving to food. Today, I'm showing your how to make a delicious, homemade 12 Grain Bread. Bread is often a source of hidden ingredients (potassium bromate, trans fats, monoglycerides, diglycerides, BHA, high fructose corn syrup, coloring, soy lecithin – to name a few).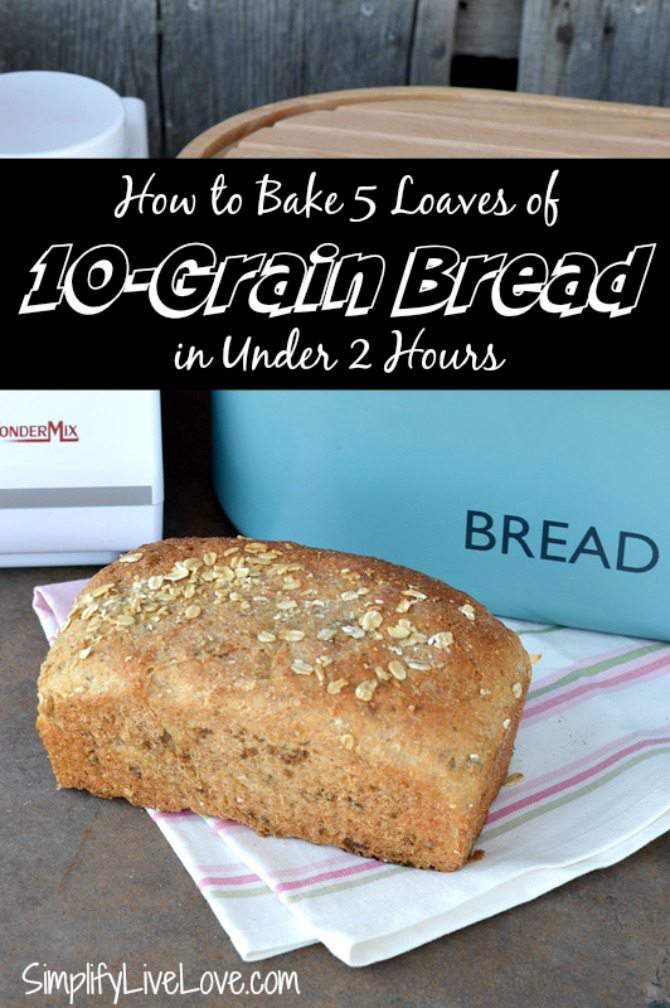 Since I'd rather not feed my family these ingredients, I've learned over the years to bake my own super yummy bread. Another bonus – baking my bread is also lot cheaper than buying it from the store!
One way that I keep my costs down is to grind my own flour. I buy wheat berries in bulk from Azure Standard and make my own flour for pennies on the dollar. Because I don't have a lot of time, and I have six hungry people to feed, I need to bake a lot of bread very quickly.
Using the right equipment, I'm able to grind my own flour AND bake five loaves of yummy bread in under two hours – from start to finish, including clean up time. That's not all active time either. The bread rises for half an hour and also bakes for half an hour.
I grew up eating what I call REAL BREAD in Germany. Bread that crunches. Bread that's made with whole ingredients. Bread that has flavor. We used to joke that American Bread was plastic compared to the German bread we bought from bakeries.
You know what plastic bread I'm talking about, right? After I got married and started cooking for my husband and then later my kids, there weren't many great bread options for me. The good bread that I could find was seriously expensive and out of my price range. After meeting a woman who ground her own flour and baked her own delicious bread in 2003, I think, I was hooked. And I have been grinding my own flour and baking my own bread ever since.

I came upon this recipe for 12 Grain Bread by accident when I bought Bob's Red Mill 10 grain hot cereal. I meant to buy it, but I thought I was getting something different – more along the lines of whole oats, rather than ingredients that were ground more finely for hot cereal. Since I had a huge bag that I couldn't return, I had to figure out how to use it.
I can't stand oatmeal, but it turns out, this hot cereal mix works just as well as for bread as the non-ground mix I thought I was buying. The 12 grains in this bread are found mostly in the 10-grain cereal (hard red wheat, rye, triticale, oat bran, oats, corn, barley, soy beans, brown rice, millet, and flaxseed). Additionally, I add sunflower and chia seeds.
How to Make Homemade 12 Grain Bread
The first step to making the bread is to put all ingredients in your Wondermix kitchen mixer, starting with the wet ingredients. You'll want to wait to add the last of the flour, as the amount is some what subjective.
Make sure the lid is on the WonderMix and then turn the machine on SPEED 2. While it's mixing, quickly add in the last 3-4 cups of flour, stopping when the dough stops sticking to the side of the bowl. This is a process called cleaning the sides of the bowl.
I took a little video to show you what I mean by cleaning the sides of the bowl. In this video, my dough is still a little wet. I could have added a bit more flour, but this is my personal preference, because the wetter the dough, the softer (and less dense) the bread. So I stopped adding flour once the sides were mostly cleaned.
Now, oil a bread board and your hands, turn the dough out onto the board and divide it into five equal parts. Punch them down to release air bubbles, then add them to oiled bread pans. Then, let your dough rise until doubled, about 30-35 minutes. I put mine on top of my oven while it's pre-heating, and cover them with a towel.
Finally, bake bread at 350 degrees for 30-35 more minutes. Clean up your kitchen while the bread is baking. Once the bread is finished, remove for the oven and cool on racks for 15 minutes. Remove the bread and let it cool completely before putting it inside your bread box, or freezing.
How to Make Homemade 12 Grain Bread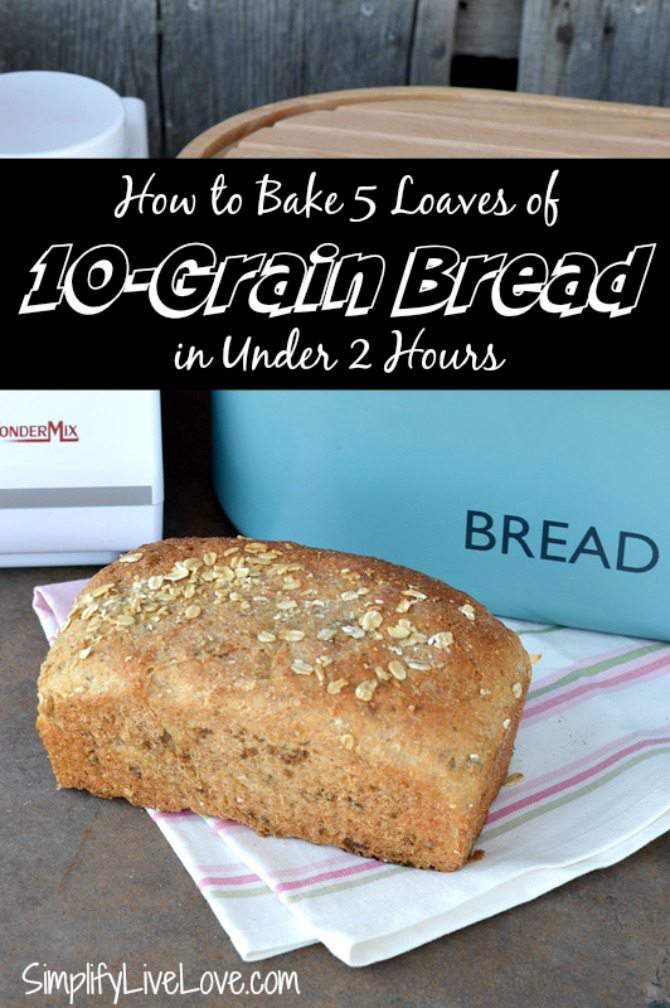 Ingredients
6 cups warm water (between 120 and 130 degrees)
1/2 cup oil
3/4 cup honey
8-10 cups freshly ground hard red wheat
2 cups Bob's Red Mill 10 Grain Hot Cereal
1 cup sunflowers
1 cup old fashioned oats
1/2 cup chia seeds
1 heaping TBS REAL salt
3 TBS SAF yeast
An additional 3-4 cups of of freshly ground hard red wheat flour
Instructions
Preheat oven to 350 degrees.
Add wet ingredients to your mixer first. Then add dry ingredients, except the last 3-4 cups of flour.
Turn the mixer on SPEED 2 and add the last flour, one cup at a time, until the dough cleans the sides of the bowl and comes up from the bottom. The wetter the dough, the softer the bread, so stop adding flour once the sides of the bowl look clean while it's still mixing.
Knead on SPEED 2 FOR 4-5 minutes.
While the dough is kneading, grease 5 loaf pans and pour a bit of oil on a bread board.
Slightly oil your hands and turn the dough out onto bread board. Divide the dough into 5 equal loaves.
Shape loaves and place in the pans.
Then let dough rise until doubled, usually about 30-35 minutes. I put my loaf pans on my stove and cover with a towel.
Once the dough has doubled, bake at 350 for 30-35 minutes, or until the inside temperature of the bread is 180 degrees.
When I first starting baking my own bread, I used my little Kitchen Aid, and I must admit, it just didn't work. Admittedly, I had the smallest of the Kitchen Aids, but the bowl capacity was only half and the motor was not nearly as powerful. If you're serious about baking a lot of bread, I can't recommend a machine like this highly enough. Upgrading my mixer made all the difference in my bread baking career.
If you're curious about the WonderMix Kitchen Machine, here are the specs –
900 Watt Motor
Direct Drive High Torque Transmission
3 Speeds + Pulse
Large 22 Cup Mixing Bowl (5.5 qt.)
Heavy Duty Tru-Mix Dough Hook
Convenient bowl handle
BPA Free
Cord Storage Compartment
No Walking Base
Overload Protection
Quiet Operation
Dishwasher Safe Bowl
Safety Bowl Locking System
Double Beating Whisks
For a limited time: comes with Cookie Whips & Blender
Designed, Engineered & Licensed in Germany
I've been very happy with the WonderMix. The only thing that messes me up when I use it is when I forget to take the cord out of the bottom. I love the convenient storage compartment at the bottom of the mixer, but when the bowl is full of bread dough and you forgot about the cord…let's just say it's tricky to get the cord out. So don't do that, mm-kay? 😀
Okay, are you sold? You can buy the Wondermix Kitchen Mixer on Amazon.