Free Pumpkin Carving Patterns + Hotel Transylvania Stencils!
Halloween is just around the corner, and it's time to get creative with your jack-o-lanterns this year. We always like to do different designs so are always looking for printable pumpkin templates and pumpkin carving ideas.
Do you usually go for spooky, creepy, or cute pumpkin designs? I've rounded up a few of our favorite free pumpkin carving stencils that will cover all the options.
Tips for Choosing the Right Pumpkin for Carving
Before you get carried away with pumpkin carving, it's important to start with a proper foundation. Select a firm and unblemished pumpkin. A flat base provides stability.
With a sharp knife or pumpkin carving kit, carefully cut out the lid around the stem. Angle the cut slightly inward to create a secure lid that won't collapse inside your pumpkin.
Use a scoop or your hands to clean out the pumpkin's guts. Remove the seeds and stringy flesh. Create a smooth and even surface by scraping out all the guts.
Make sure to roast those seeds for a tasty and nutritious snack later.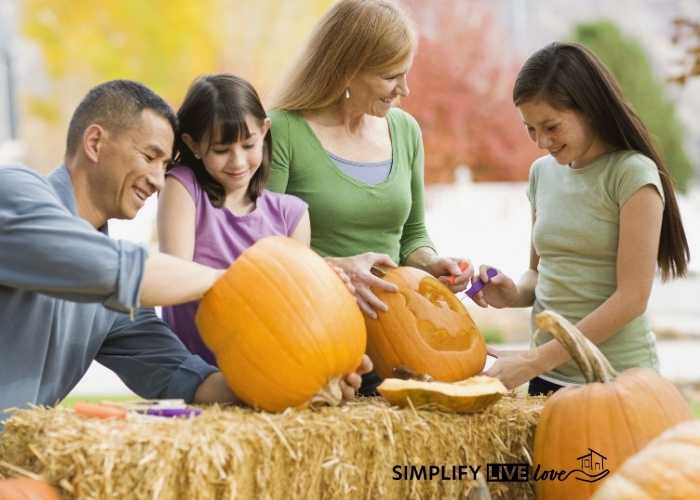 Free Pumpkin Carving Patterns
A good pumpkin display showcases the carvers' sense of humor, interests, or personality. Here are some of our family's favorite resources for finding unique pumpkin carving patterns each year. Each collection features funny pumpkin carvings, scary patterns, and more classic choices.
Scary Pumpkin Patterns
Want to creep out the neighborhood kids with your jack o lantern faces? Then these free printable pumpkin patterns are for you!
Famous Faces Free Pumpkin Stencils
Favorite TV actors, musicians, and even politicians often make appearances on pumpkin faces. Creating faces is difficult for me. Turning a simple pumpkin into a work of art with a craft knife is a skill level that I don't possess.
Printable Nature and Animal Pumpkin Templates
Animals are always a hit on our front porch. Sometimes the kids opt for classic animals and some years they opt for an animal out of the ordinary.
Hotel Transylvania 3 Free Pumpkin Carving Patterns and Party Ideas
Do you have Hotel Transylvania fans at your house? If so, you'll want these free pumpkin carving patterns and more Hotel Transylvania 3 Halloween fun ideas. A few years ago, we had a Hotel Transylvania Halloween party and made our Halloween crafts accordingly.
From a cute Mavis Hotel Transylvania Costume, monster singalongs and even snack ideas, a Hotel Transylvania party was so fun. It's also a regular in our family movie night DVD collection.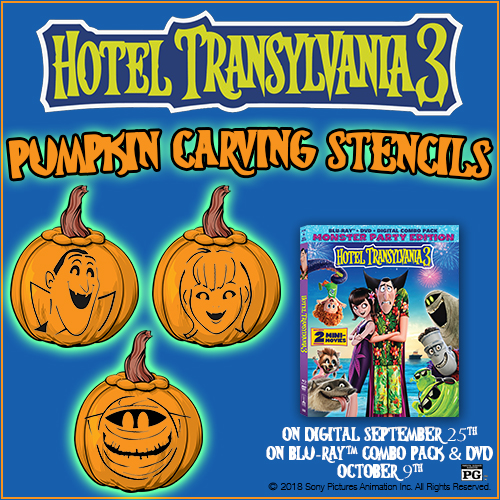 There are even Hotel Transylvania 3 inspired free pumpkin carving patterns! Carve all the fun characters including Mavis, Drac, Frank, Murray and more! Grab this Colossal Carving Kit for an easier carving experience.
Snack Ideas for your Hotel Transylvania 3 Family Movie Night
You never know what the weather will be like on pumpkin carving night. Some years all the carving happens outside, but when it is too cold we move it inside. When the weather is bad we have a movie night with popcorn and smoothies.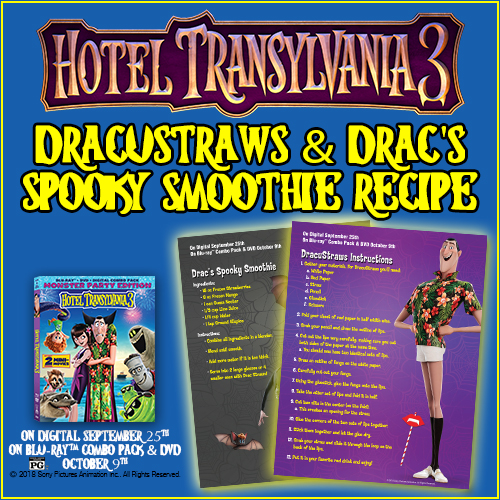 If you need inspiration, just download the instructions for Drac's Spooky Smoothie and then grab the kids together to make these fun straws! Pop some popcorn, throw in a few sour gummies, and party snacks and/or dinner is served!
For more Halloween inspiration, try these:
Carving pumpkins is a longstanding family tradition for a reason. It gives everyone a chance to show off their creativity and make a statement. It's a fun display for your front porch in October, and there is an inspired pumpkin design for everyone. Tag me on social media with your favorite designs this year!