Do you have Hotel Transylvania fans at your house? If so, you'll want these free pumpkin carving patterns and more Hotel Transylvania 3 Halloween fun ideas! From a cute Mavis Hotel Transylvania Costume, monster singalongs and even snack ideas, we've got you covered! Hotel Transylvania 3 releases on Oct 9, you'll want to grab these fun resources to celebrate!
I received free product to facilitate this post. All opinions are mine.
Free Pumpkin Carving Patterns + Hotel Transylvania 3 Fun!
Hotel Transylvania 3 is available on Blu-ray, DVD & Digital October 9 and my youngest girl couldn't be more excited. We don't honestly watch movies in theaters that often, but we made a special trip to the fancy theater this summer to check out Hotel Transylvania 3. We even sat in the comfy seats and got snacks. Huge deal. For real. 😉
Since then, Sara has been begging for copy of the DVD to add it to our road trip and (this post contains affiliate links) family movie night DVD collection. So she was super pumped when a special package arrived at our house recently just full of Hotel Transylvania toys and her favorite, the Mavis Hotel Transylvania costume. If you have a Hotel Transylvania fan in your life, you have to grab this cute freebie and maybe a toy or two too. They're super fun! Here's everything you need for an awesome Halloween family night- Hotel Transylvania 3 style.
Hotel Transylvania 3 Free Pumpkin Carving Patterns
Want to carve an Hotel Transylvania 3 inspired pumpkin? Then you need these free pumpkin carving patterns! Download them here and then carve all the fun characters including Mavis, Drac, Frank, Murray and more! Grab this Colossal Carving Kit and you'll have super fun carved pumpkins in no time. If you don't want to carve pumpkins, check out this post full of lots of fun ways to decorate pumpkins – no knives required.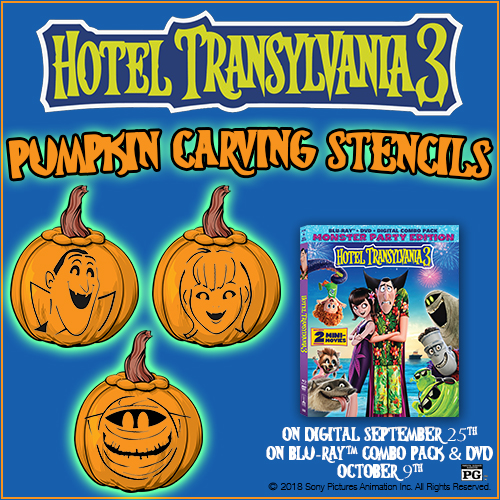 Cute Mavis Hotel Transylvania Costume for Girls
My daughter is so excited for this fun Mavis Hotel Transylvania costume. She put it on right away and won't rest until get her flat black shoes to complete the ensemble. We are going to skip the Mavis wig, but I think that's ok. I only hope that it's not as brutally cold this year on Halloween as it sometimes is in Eastern Iowa.
Here's quick makeup tutorial to help you complete the authentic Mavis look:


How about a Monster Singalong?
Head over to Youtube to find fun singalongs you Hotel Transylvania Fans will adore. Here's one I think adequately sums up busy mom life.
Snack Ideas for your Hotel Transylvania 3 Family Movie Night
What movie night would be complete without popcorn and smoothies? If told you that we sometimes have popcorn and smoothies for dinner on nights when I just can't be bothered to cook, what would you think? Well, it's true. Let's keep it real folks, sometimes you have to do whatever it takes to feed the family, right?
If you need inspiration, just download the instructions for Drac's Spooky Smoothie and then grab the kids together to make these fun straws! Pop some popcorn, throw in a few sour gummies, and dinner is served!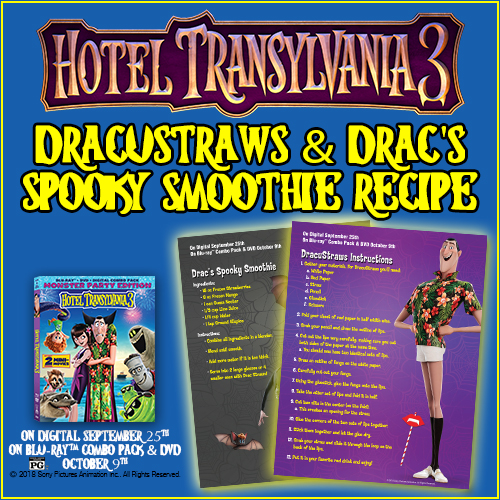 Hopefully these free resources will make your next family fun night extra special! Make sure to grab your copy of Hotel Transylvania 3 today, and if you carve one of the pumpkins, send me a picture or tag me on social media! I'd love to see it. 🙂
If you liked this post on Halloween Pumpkin Carving Patterns for Halloween, you might like these posts too:
Easy Ways to Decorate Pumpkins without Carving
Healthy Recipe Ideas for Fun Halloween Parties
How to Grow a Pumpkin Patch for Halloween Pumpkins