I highly recommend taking a family trip to Philadelphia, the City of Brotherly Love. There are so many amazing history lessons and fun things for people of all ages to enjoy. Here are our favorite kid friendly activities in Philadelphia. Don't miss any of them!
Kid Friendly Activities in Philadelphia that Adults will Enjoy too!!
Philadelphia is one place I always wanted to visit. I'm a history junkie and really love seeing historically relevant sites. I was pretty darn thrilled when a great, great friend moved to Philly several years ago. That gave me a justifiable excuse to visit (as well as a free place to stay) and I packed up my four kids for two different road trips to the area. We had a great time during each visit. At the time we were homeschooling and the kids learned so much while we were having fun. Here's a list of the many kid friendly activities in Philadelphia that adults will also love!
What visit to Philadelphia is complete without seeing the birth place of the United States? Independence Hall is part of the US National Park System and is a free visit. Take a guided tour to see the original US constitution, the exact rooms where the Declaration of Independence and the U.S. Constitution were both signed. Tickets are free, but entrance to Independence Hall is by timed entry ticket only from March through December. No tickets are necessary in January and February. You can reserve tickets in advance for a small fee $1.50 per ticket). Learn more about tickets to Independence Hall here.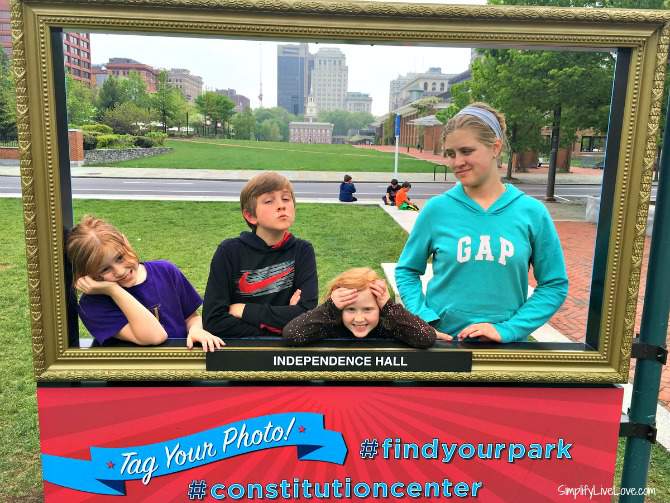 Don't let the thrilled look on my kids' faces fool you for a minute. They did enjoy visiting Constitution Center and Independence Hall. They also loved earning the Junior Ranger Badge from the National Park Service that we MADE them do. 😀 If you're heading to Philly with your kids, I recommend finding all the cheesy photo ops you can and forcing them to post. Very amusing for parents…
Ok, so this isn't the real Liberty Bell, but we did go see it. It looks just like that one only you can't touch it. 🙂 Make sure you also stop in the Independence Visitor's Center with your kids and let them touch and feel exhibits.
That's also where you can get the Junior Ranger booklets for your kids! My kids really enjoyed the dress up. Independence Hall, the Visitor's Center, and the Liberty Bell are very close to each other. You'll walk from once to the next.
Another one of our favorite kid friendly activities in Philadelphia is taking a free tour of the US Mint! Also located very close to Independence Hall, this 45 minute self guided tour will show you how the US Treasury makes coins! It's not quite as sexy as learning about making millions of dollars worth of bills, but we enjoyed our time there a lot! Tours run Monday through Friday 9 a.m. to 4:30 p.m., but the doors close at 4:15 pm. The Mint is located at 151 N. Independence Mall East (on 5th Street between Arch Street and Race Street).
A quick walk from Independence Hall, you'll find the Betsy Ross House where you can meet Betsy Ross, tour her house, and learn about her role in the new United States of America. We really enjoyed this tour because historical actors are so real and believable. I had to convince my youngest daughter that it wasn't actually Betsy Ross. Unlike the activities I've mention thus far, there is a fee to tour the Betsy Ross House – $5 for adults and $4 for kids. Totally worth it, in my opinion.
What a great place to grab a bite to eat! Reading Terminal Market is one of the largest and oldest public markets in the US. Not only do they have tons of fabulous food, but they also have an indoor farmer's market and lots of locally made products. I did some of my Christmas shopping here when we visited. The market is open daily from 8 am to 6 pm, except the Pennsylvania Dutch merchants who are closed on Sundays. You'll find it near Macy's at 51 North 12th Street. Be sure to keep a close eye on your kids. It's a pretty crowded place.
If you're into music, make sure to stop at Macy's Center in downtown Philly. If you happen to go during Christmas time, the Christmas Light Show is absolutely amazing. My kids really enjoyed wandering around this enormous Macy's store and seeing the huge Wanamaker Organ. I highly recommend visiting when the organ is playing – Monday through Saturday at noon; Monday, Tuesday, Thursday and Saturday at 5:30 pm; and each Wednesday and Friday at 7 pm. Learn more here!
More kid friendly activities in Philadelphia that the entire family will enjoy include visiting the Seaport Museum! This fun and educational museum features many interactive exhibits about the history of boating in Philadelphia and beyond. The kids had fun climbing in and out of boats, sailing small electric boats inside, and also watching master boat makers build boats! It's also near the downtown area, so pretty close by if you're visiting downtown Philly.
But our favorite part of the trip was climbing aboard the Becuna submarine and seeing how sailors lived underwater during WW2. Touring the Olympia to learn how sailors lived before WW1 was even more amazing. The Olympia was launched in 1892 and is the oldest steel warship still afloat in the world. It was really neat comparing officer quarters to those of enlisted personnel. I highly recommend a visit to the Seaport Museum if you have time! Very fun and education.

Battleship New Jersey was my son's favorite activity in all of Philly. Though we had a great time everywhere we went, he loved this the most. This floating museum is not in in Pennsylvania at all. Instead, it's on the Camden Waterfront in New Jersey, directly across the Delaware River from Penn's Landing Philadelphia. Battleship New Jersey saw action in WW2, Vietnam, and the Korean War and was decommissioned in 1991. The kids loved this visit and it's totally kid friendly! We climbed ladders, sat in the captain's chair, learned about the weapons it used. It was a great day full of history lessons and another place in the Philly area you and your kids will really enjoy.
In all, Philadelphia is just full of amazing kid friendly activities that both kids and grownups will enjoy. So many rich history lessons and fun hands on learning activities! I highly recommend that you take a trip to the City of Brotherly Love in your lifetime. I hope we get to go back because there are more places I'd love to visit.
If you liked this post in kid friendly activities in Philadelphia, you might like these posts too!
Walking Boston's Freedom Trail
Family Friendly Indoor Activities in the Twin Cities
What to know about visiting Neuschwanstein with kids
Planning a trip to Disney World on a Budget
I'd love to hear what kid friendly activities in Philadelphia you would add to the list! Have you been?