If you'd like to learn how to can crushed tomatoes quickly and easily, this tutorial is for you! Canning doesn't have to take forever. Learn how to can crushed tomatoes in record time. No blanching or de-seeding required!
How to Can Crushed Tomatoes quickly!
In past years, I have had tomatoes coming out of my ears and have to find an easy way to can the bounty from my garden. I love canning crushed tomatoes primarily for Taco Soup, but these tomatoes are also a great base for all kinds of sauces. Taco Soup is one of my go-to recipes for busy fall nights.  Canning crushed tomatoes can be such a pain in the butt, though.
When I first started canning tomatoes, it was a long and drawn out process. First, I washed all the tomatoes and cut off the blossom end and stem end. Then I blanched the tomatoes in boiling water and removed the skin. Then I removed the seeds (and half the tomato). Then I boiled what was left. And finally, I canned the crushed tomatoes in my water-bath canner. I thought I was supposed to do all of this because I was directed to in the Blue Book Guide to Conserving. Does the process sound familiar to you?

Since I'm short on time,  I developed a new procedure for canning crushed tomatoes; a process that takes about half the time and is a heck of a lot easier. I call it, The Lazy Person's Guide to Canning Crushed Tomatoes, even though a really lazy person would probably just go to the store and  buy them. 😉 Here's how you can cut your tomato processing time in half too!
The Lazy Person's Guide to Canning Crushed Tomatoes
First, wash the tomatoes and cut off the bad spots.
Then, skip two of the most time consuming steps – blanching and removing seeds. Instead, just put the tomatoes in the food processor and puree them – skin, seeds, and all! It yields a lot more this way because half the tomato is not thrown out.
I have to tell you, I LOVE my mother's Braun Food Processor! It's awesome because there's no hole in that pitcher. I have a 14 cup Cuisinart and hate that tomato juice spills out of the pitcher if I over fill. My mother's Braun can't spill! Another awesome German invention. But I digress…
Next, boil the tomatoes in a big pot on the stove for 2-3 hours, until they reduced and thickened.

After you're happy with consistency of your tomatoes, ladle them into sanitized jars, added 2 TBS bottled lemon juice per quart to protect against botulism. My mom uses a pressure canner and processes her quarts for 15 minutes. I use a water-bath canner and it takes quite a lot longer – 45 minutes for quarts according to my Ball Blue Book of Preserving
– my "Bible" for home food preserving!!
In my experience, Romas and San Marzanos produce the best stewed tomatoes because they are less watery than other varieties. This year I planted primarily Roma tomatoes and am excited by all the green little tomatoes I see growing in my garden!
Do you grow tomatoes? What do you do with the bounty?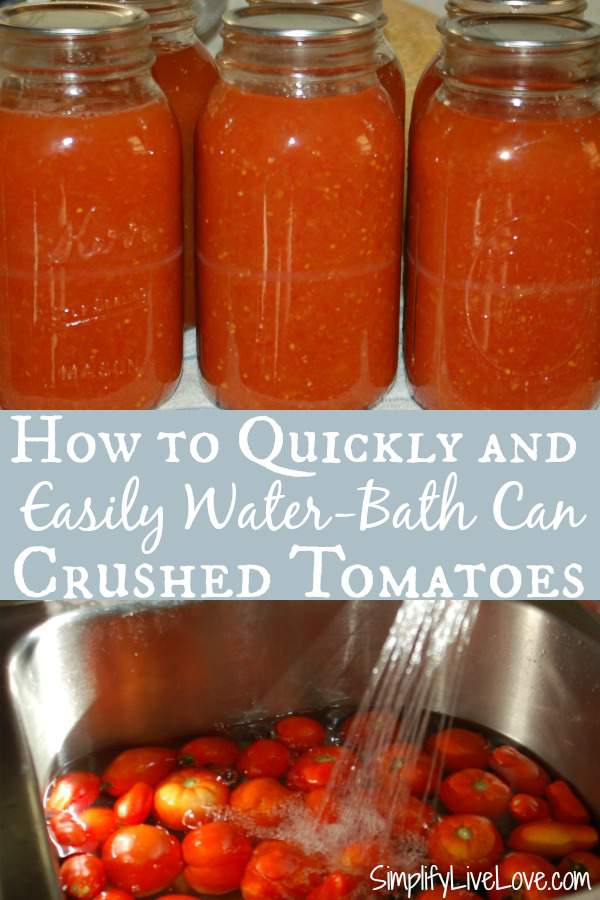 If you liked this guide to canning crushed tomatoes quickly, you might like these posts too:
Grandma's Secret Dill Pickle Recipe
Preserve your own flavored vinegars with herbs from your garden!
Strawberry Syrup Canning Guide