Homemade Freshness in Every Jar: Can Crushed Tomatoes
on Sep 27, 2023, Updated Oct 27, 2023
If you'd like to learn how to can crushed tomatoes quickly and easily, this step by step tutorial is for you! Canning doesn't have to take forever. Learn how to can crushed tomatoes in record time. No blanching or de-seeding required!
In past years, I have had tomatoes coming out of my ears and have to find an easy way to can the bounty from my garden. I love canning crushed tomatoes primarily for Taco Soup, but these tomatoes are also a great base for all kinds of sauces. Taco Soup is one of my go-to recipes for busy fall nights. Canning crushed tomatoes can be such a pain in the butt, though.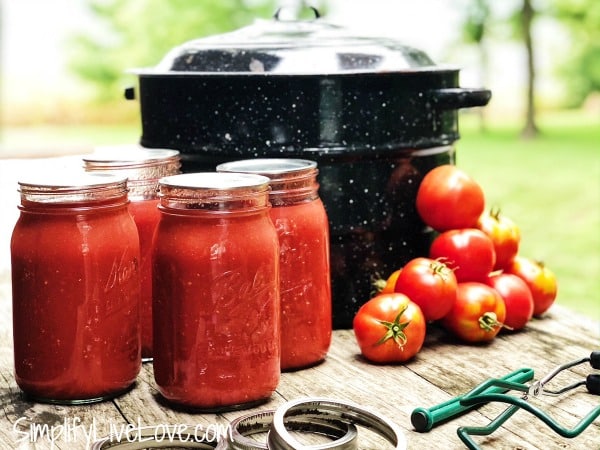 How to Can Crushed Tomatoes Quickly!
When I first started canning tomatoes, it was a long and drawn out process. First, I washed all the tomatoes and cut off the blossom end and stem end. Then I blanched the tomatoes in boiling water and removed the skin. Then I removed the seeds (and half the tomato) and boiled what was left. And finally, I canned the crushed tomatoes in my water-bath canner. I thought I was supposed to do all of this because I was directed to in the Blue Book Guide to Preserving. Does the process sound familiar to you?
Since I'm short on time, I developed a new procedure for canning crushed tomatoes: a process that takes about half the time and is a heck of a lot easier. Here's how you can cut your tomato processing time in half too!
Prepare Your Crushed Tomatoes
First, wash the tomatoes and cut off the bad spots.
Then, skip two of the most time consuming steps – blanching and removing seeds. Instead, just put the tomatoes in the food processor and puree them – skin, seeds, and all! It yields a lot more this way because half the tomato is not thrown out.
I have to tell you, I LOVE my mother's Braun Food Processor! It's awesome because there's no hole in that pitcher. I also really like pureeing crushed tomatoes in my vitamix.
Next, bring the tomatoes to boil over medium-high heat. Then reduce heat and simmer for 20 minutes, or up to 2-3 hours depending on the time you have available. If you use the shorter time, keep the temperature higher and stir more often.

Prepare the Water Bath Canner
When your crushed tomatoes are about ready, prepare the water bath canner. You'll also need to sterilize your clean quart jars or pint jars by either boiling them in the canner for 10 minutes or running them through a hot cycle in the dishwasher. I generally run mine through the dishwasher so they'll come out nice and hot about the time I need to fill them.
Prepare your canning lids by submersing them in steaming, but not boiling, water for a few minutes. I use both BPA free Tattler Reusable Canning Lids
and the normal Ball Canning Lids
which are now also supposed to be BPA Free!! YAY!! You used to have to boil them gently, but you don't anymore. Simply heat them in the hot water and you're good to go.
Fill up your jars with the hot tomatoes – you want at least 1/4-inch headroom left AFTER you add 2 TBS lemon juice concentrate (VERY IMPORTANT STEP!!) per jar, wipe the lid to remove any food — you want your jars to seal, after all. As you finish each jar, place it in the water bath canner to keep it hot. It is recommended that you completely finish one jar at a time for optimal results – not the batch method I display here… Do as I say, not as I do. 🙂
NOTE: Four tablespoons of a 5 percent acidity vinegar per quart may be used instead of bottled lemon juice or citric acid. It's possible the vinegar may cause undesirable flavor changes, but I've never personally noticed anything. I prefer to use vinegar instead of lemon juice.

Put your lids on and tighten rings securely. Once your canner is full, make sure the water covers the tops of the jars, adding more water if necessary and bring to a boil. When the water has reached a rolling boil, start the timer for 45 minutes. Add 5 minutes per 1,000 feet to compensate for your altitude. I live at just under 1,000 feet. If you live at 2,000 feet, process for 50 minutes instead. And so on. If you don't know your altitude, just google it.
Carefully remove the jars and put them on a clean towel. Let them cool for a full 24 hours before you move them. Sit back and listen to the wonderful pings of the sealing jars! After 24 hours, make sure all of your jars have sealed. Wipe them down, remove the rings, and put them on a shelf to admire. If any jars didn't seal, heat the sauce back up and try again.
In my experience, Romas, San Marzanos, and Amish paste tomatoes produce the best stewed tomatoes because they are less watery than other varieties. Regardless, fresh tomatoes canned at home will always be better than store bought versions.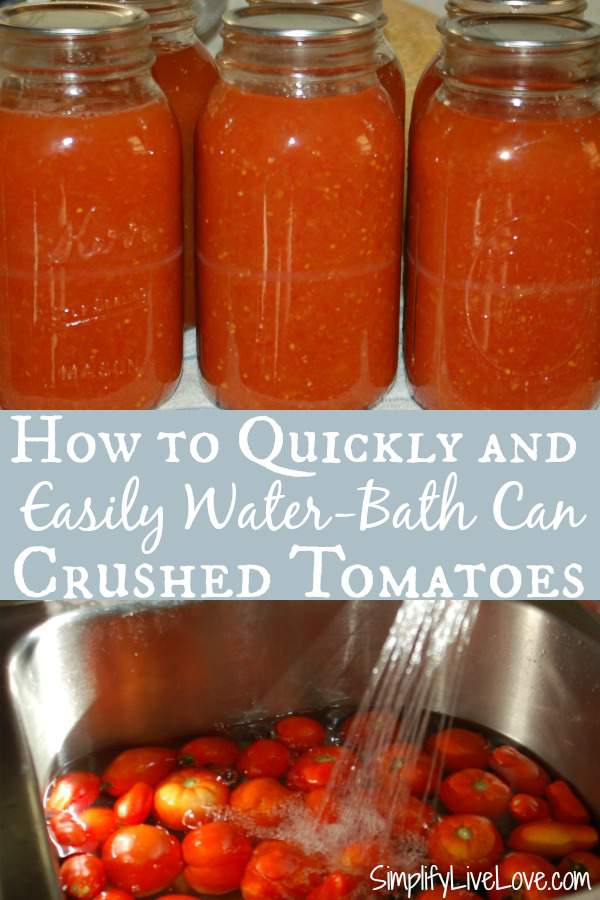 What's the Difference Between Crushed Tomatoes and Tomato Sauce?
In a pinch, I have used crushed tomatoes and tomato sauce interchangeably, but there is a difference.
Crushed tomatoes and tomato sauce are two distinct tomato products. Crushed tomatoes consist of peeled and crushed whole tomatoes. They are often canned and have a chunky texture with visible pieces of tomato. The flavor is generally fresher and has more of a tomato-y flavor. Use crushed tomatoes as a base for pasta sauces, soups, and stews.
Tomato sauce is smoother and cooked down to a thicker consistency. Sometimes it is seasoned with herbs, spices, or even diced vegetables. Use tomato sauce straight out of the jar for pasta, pizza, and lasagnas.
Crushed tomatoes and tomato sauce have their own qualities. Choose which one to use based on your texture, consistency, and flavor preferences.
Crushed Tomatoes Recipes
Crushed tomatoes are the perfect addition to pasta sauces, soups, and stews because of their fresh flavor and chunky texture. They add depth of flavor as well as improved taste and texture.
Use crushed tomatoes to create a comforting chili, a flavorful curry, or even a homemade pizza sauce. Crushed tomatoes are a kitchen staple, especially when you've canned them yourself.
Yield: 7 quarts or 14 pints
The Lazy Person's Guide to Canning Crushed Tomatoes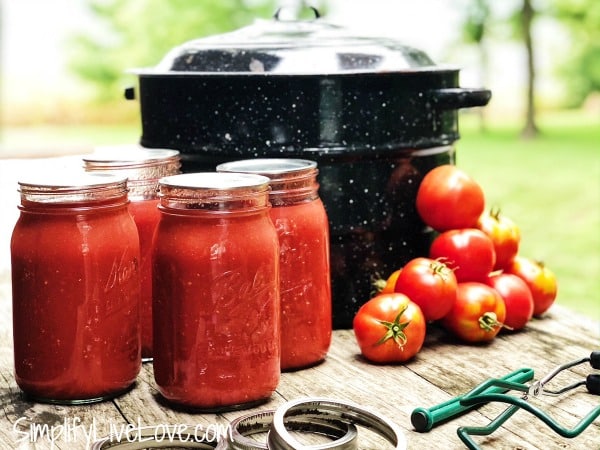 Quick and easy canning tutorial for crushed tomatoes.
Cook Time
1 hour
45 minutes
Total Time
2 hours
15 minutes
Ingredients
45 lbs of tomatoes
2 TBS Bottled lemon juice
OR 4 TBS 5% acidity vinegar - per quart jar
Instructions
Wash tomatoes and remove core and blossom ends, plus any bad spots.
Fill a food processor or blender with tomatoes and puree tomatoes, skin, seeds, and all.
Pour tomatoes in a large pot and bring to biol over medium-high heat.
Decrease heat to low, and simmer sauce 20 minutes, or as long as 2-3 hours, stirring occasionally to prevent sticking.
Sterilize 7 quart jars or 14 pint jars and bring water to boil in the water-bath canner.
Heat rings and lids in warm water.
Ladle tomatoes into jars leaving 1/2" head space and add 2 TBS lemon juice or 4 TBS vinegar to each quart jar.
Slide a nonmetallic spatula around the inside of the jar to release air bubbles.
Wipe rim and threads of jar, then remove the lid and ring from the hot water and screw lid on jar.
As you fill each jar, place it in the canner. The water should be simmering in the canner.
After all the jars are filled, lower them into the canner. The water must cover the jars by 1-2" so add water if needed.
Put the lid on the canner and bring the water back to biol. Once it's boiling, start the timer.
Process pints for 40 minutes and quarts for 45 minutes.
When the time is up, turn off the burner and remove lid. Let the canner cool for five minutes before removing jars.
Remove the jars from the canner and set them upright, 1-2" a part on a dry towel. Let them cool for 12 to 24 hours.
After the jars have cooled, check the lids for seals by pressing down on the center of the lid. The lid should be pressed down and should not flex. If that's the case, take the ring off, and gently try to take off the lid. If it doesn't come off, you have a good seal!
Wipe the lid and jar, label, and store jars in a cool, dry, dark place.
Nutrition Information:
Yield:
7 quarts
Serving Size:
1
Amount Per Serving:
Calories:

527
Total Fat:

6g
Saturated Fat:

1g
Trans Fat:

0g
Unsaturated Fat:

3g
Cholesterol:

0mg
Sodium:

147mg
Carbohydrates:

114g
Fiber:

35g
Sugar:

77g
Protein:

26g
Nutritional information is not always current.
Want to preserve more of your garden produce? Stretch your fresh bounty throughout the year with these homemade canning recipes:
Grandma's Secret Dill Pickle Recipe
Preserve your own flavored vinegars with herbs from your garden!
Strawberry Syrup Canning Guide