Becoming a member of Harvest Hosts is a great way to go RV camping on farms, wineries, and other off-the-beaten-path locations. If you're curious about the Harvest Hosts program, or are a current member of Harvest Hosts wondering about staying on our farm in Eastern Iowa, here's what you need to know.
RV Camping on Farms with Harvest Hosts
What is Harvest Hosts?
Harvest Hosts is a membership camping network that offers free camping to self-contained RVers at participating locations across the US, Canada, and Baja California. After purchasing a membership, you have access to a database listing over 1400 different farms, wineries, and other places you can stay.
In exchange for free camping, RVers are asked to support the businesses during their stay as the locations are not compensated otherwise by the Harvest Hosts program. Some businesses offer homemade products, fresh garden produce, wine etc.
Welcome to our Hobby Farm in Eastern Iowa
Located in Eastern Iowa just south of I-80, our hobby farm is home to our family of six and our construction company Oak Tree Homes. We can accommodate RVs of any size and offer water and electric hookups as well.
*Please help us to be able to offer electrical hookups by making a monetary donation to offset our cost.* We accept paypal, venmo, and cash as well.
Here at the Oak Tree Homes farm we have a large garden, fruit and berry trees, an apiary, and a motley collection of farm animals including sheep, goats, Great Pyrenees dogs, cats, chickens, geese, ducks, turkeys, guineas, and peacocks.
For the kids we also have a use-at-your-own-risk ninja warrior course, an un-netted trampoline, zipline, hammock, swing sets and more. We think our sunrises, sunsets, country stars, and fire flies are the best.
How Harvest Hosters Can Support Us
A lot of people who stay here ask how they can support us since we are not a typical Harvest Host. While we would be happy to build you a new home or remodel your RV, we realize that's not a good fit for most people on vacation driving across the country. 😉
Here are ways you can support us. Depending on availability, we offer:
Farm-fresh eggs (ask about our variety pack – perfect for adventurous eaters or homeschooling families!)
Seasonal produce from our gardens or orchard
Found feathers from our birds
Honey produced on the farm
If requested in advance, Michelle may be able to bake you a fresh, crusty loaf of homemade sour dough bread
Michelle's book on raising chickens for meat – part tutorial / part cookbook
5″ x 7″ prints taken by Michelle of life on the farm.
We also accept donations of IPA, red wine, and/or cash in exchange for the electricity and water we provide.
If you see something you might like to buy, just ask!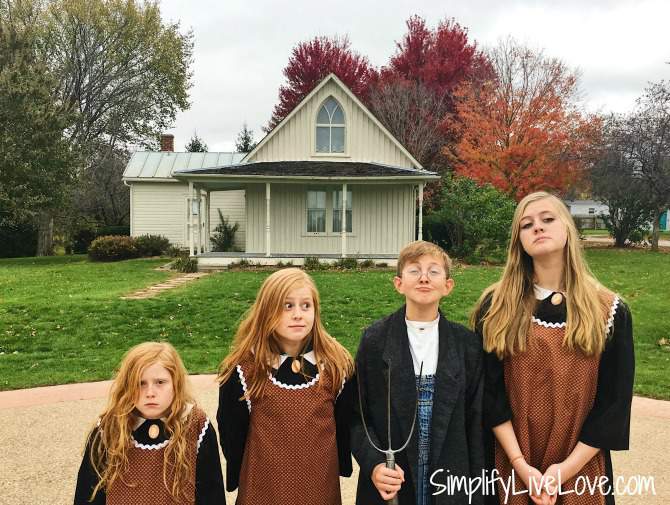 How We Ended up Becoming Harvest Hosts
A lot of people ask us how we came to be on the directory of Harvest Hosts businesses, so here's the short version. Dear friends came to visit in 2019 on their way out west in their big RV. Having just completed their first Harvest Hosts stay, they told us we would be perfect Harvest Hosts.
A fun night of bonfires, driveway drinking, and 4th of July celebrating followed and we found ourselves on the list. We started getting calls almost the very next day. Ironically, we didn't think anyone would want to stay here, but turns out we have a very handy location.
As life-long travel addicts ourselves, we know there is great value in stepping into a local community and meeting the people who call it home. We enjoy meeting new people and sharing our Eastern Iowa hobby farm in the middle of no-where surrounded by corn and bean fields.
Some things to consider before deciding to stay here
We are located on a dirt road. If you don't like to get your rig dirty, we might not be the right fit.
Our birds can be quite loud and our dogs sometimes bark all night to protect them. Our rooster Cock-a-Doodle-Drew is happy to give you a wake-up call at the crack of dawn.
The smaller of our two Great Pyrenees dogs can be a little stand-offish to new people. But if you ignore her and pet the fat guy Harry, Nora will also be your best friend.
Sometimes you can hear the trains and the traffic from I-80, but for the most part the animals and kids make the most noise around here.
Finally, we also have busy working bees – something to consider if you are allergic.
We love to answer your questions, show you around, and get to know you. Please understand that we are a working business and don't always have time to chit-chat for long during business hours. We also have construction workers / vehicles staging from our barn, so there can be a fair amount of traffic.
Finally, we ask that your kids not enter any buildings without permission. It's not normally a problem, but we have had overly-excited children in places they should not be.
Thank you for getting to know a little bit about Oak Tree Homes and Eastern Iowa. Feel free to tag Michelle on social media posts. You'll find her most often on instagram.
If you're not a member of Harvest Hosts, but would like to be, sign up through my affiliate link and save 15%!
Looking for some things to do in Iowa? Here you go!
Visiting the Bridges of Madison County and Winterset
I-80 Trucking Museum at the World's Largest Truck Stop
American Gothic House Visitor's Center