This post is sponsored by Wellness® Natural Pet Food and the BlogPaws® Pet Influencer Network™. I am being compensated to help share the reinvented Complete Health Line and other Wellness Products, but we only share information we feel is relevant to our readers. Wellness is not responsible for the content of this article.
Tips for Introducing a New Puppy to Older Dogs
In May, we added a new Great Pyrenees puppy, Harry, to our family. You may have seen pictures of him on Instagram. Before Dan and I had kids, we raised puppies for Guide Dogs for the Blind. We had a new puppy coming in every year and we also had our existing, older pet dog, Montana. We have lots of experience introducing puppies to older dogs, so when we got Harry, I wasn't really worried. However, we have learned tried and true tips that make the introduction process a lot easier.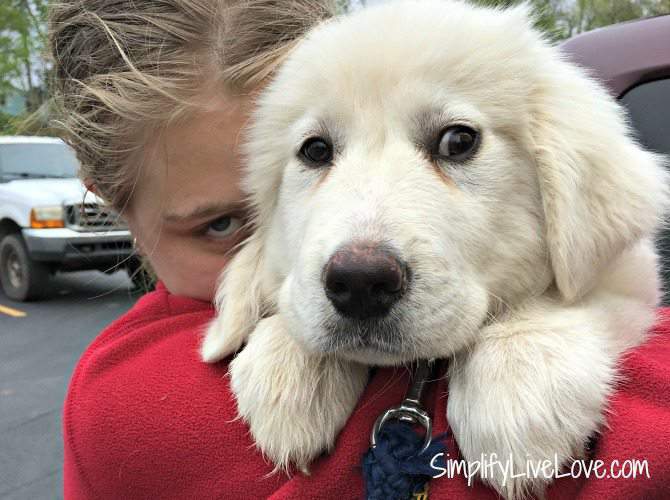 Introduce on neutral territory
Depending on your current dog's behavior, it might be a good idea to introduce your new puppy to your older dog on neutral territory like a neighbor's house or a park. This is a good idea because you current dog might be possessive of her things aka your house. Bringing both dogs to a neutral territory for the first time can help the older dogs feel better about, and be more accepting toward, the new puppy.


Let them sniff each other through a fence.
Ideally, the dog and puppy would be off leash during their introduction as dogs are really good at picking up on human emotion, even through the leash. Your dog will pick up any tension you may have over the meeting, even if you don't know that you're anxious. Watch their body language and look for signs of aggression (postured bodies, hackles, tails straight up, barred teeth, snarling). If that happens, separate the dogs and try again another time.
Give both dogs equal attention.
Sibling rivalry is not just for children! Dogs can feel jealous too, so try to give equal attention to both dogs to keep them both happy. It can be harder than you think when you're so excited about a cute, fuzzy new puppy. But don't forget about your other dogs. Love on them too. Maybe even more than you normally would.
Prepare the puppy a sleeping area not used by the current dog.
It's just not nice to give your new puppy your other pet's things. So make sure you let your other pets keep whatever sleeping habits they already have and make a new routine for the new puppy. You'll probably want to crate the puppy in the beginning so just set that crate up in an area that your current dogs do not use.
Feed them separately
Dogs can be quite possessive over food, so it's a good idea to separate them at first during feeding time. Feeding them separately just eliminates any potential problems. It's also possible that your puppy will eat a different food than your current dog, so feeding them separately is another way to make sure they both eat the right food.
Save $2 on @wellnesspetfood at PetSmart #GrainFreeForMe
At the end of April, I shared with you that we switched our Great Pyr Nora over to the Wellness® Complete Health™ Grain Free Line. She's been eating that food for about two months now and really loves it. We were actually recommended by our breeder not to feed our Great Pyrenees puppies puppy food, so Harry has been eating the same food as well and he gobbles it up. I'm pleased with Wellness Pet Food's commitment to superior nutrition. I like that I can pronounce all of the ingredients and I especially like that our dogs enjoy eating their food. If you'd like to try Wellness Complete Health, I'm excited to tell you about a coupon that will be starting July 6th through the end of the month. Complete Health™ Grain Free recipes will be $2.00 off at PetSmart®! Make sure to bookmark this post so you can come back and grab the coupon then!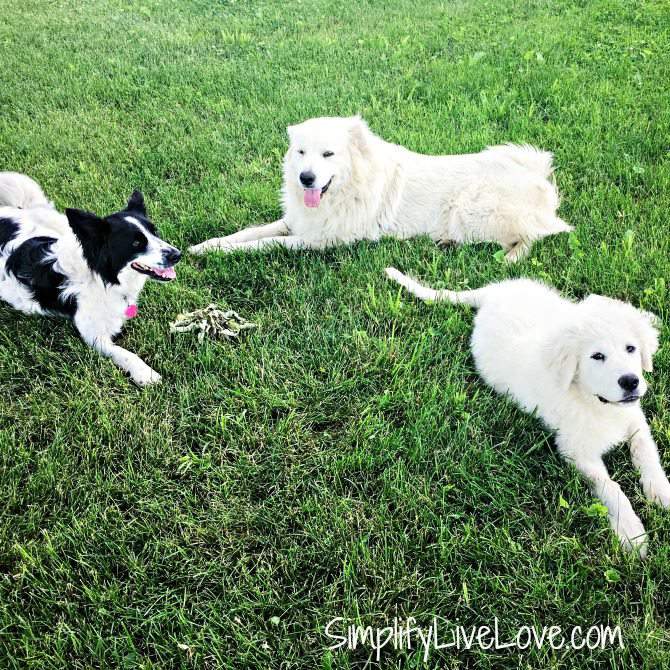 Finally, be patient
They may not like each other right away, but if you work with them, chances are good that they'll come around and be buddies, if you can be patient. It's hard to go slowly when you're excited to have a new puppy, but the rewards will be great if you can. Take your time, work them up to each other slowly, and before you know it, they'll be great pals.
Many thanks to Wellness Pet Food for sponsoring this series on dogs and dog nutrition. Be sure to connect with Wellness Pet Food on Facebook, Twitter, Instagram, Pinterest, and Google +. And don't forget to grab your $2 off coupon starting July 6th – over here.
This is a sponsored conversation written by me on behalf of Wellness® Natural Pet Food. The opinions and text are all mine.