Tips for Introducing a New Puppy to Older Dogs
on Jun 16, 2016, Updated Oct 28, 2023
Introducing a new puppy to older dogs can be a bit tricky. Follow these tips for a successful integration of new puppies into your dog pack.
Tips for Introducing a New Puppy to Older Dogs
In May, we added a new Great Pyrenees puppy, Harry, to our family. You may have seen pictures of him on Instagram. Before Dan and I had kids, we raised puppies for Guide Dogs for the Blind.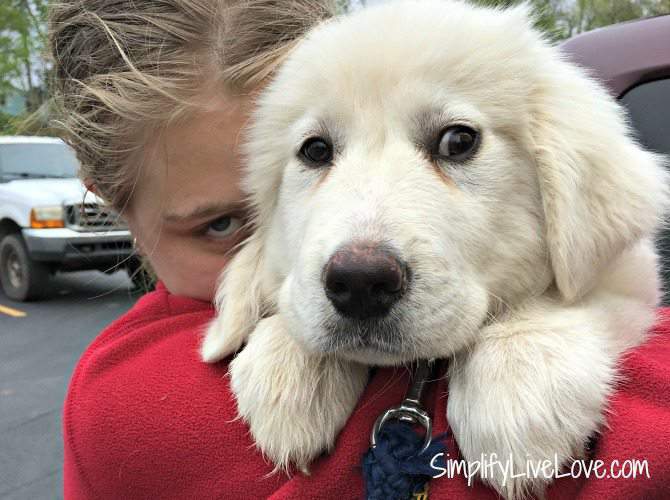 We had a new puppy coming in every year and we also had our existing, older pet dog, Montana. We have lots of experience introducing puppies to older dogs, so when we got Harry, I wasn't really worried. However, we have learned tried and true tips that make the introduction process a lot easier.
Introduce on neutral territory
Depending on your current dog's behavior, it might be a good idea to introduce your new puppy to your older dog on neutral territory like a neighbor's house or a park. This is a good idea because you current dog might be possessive of her things aka your house. Bringing both dogs to a neutral territory for the first time can help the older dogs feel better about, and be more accepting toward, the new puppy.
Let them sniff each other through a fence.
Ideally, the dog and puppy would be off leash during their introduction as dogs are really good at picking up on human emotion, even through the leash. Your dog will pick up any tension you may have over the meeting, even if you don't know that you're anxious. Watch their body language and look for signs of aggression (postured bodies, hackles, tails straight up, barred teeth, snarling). If that happens, separate the dogs and try again another time.
Pin this now to find it later
Pin It
Give both dogs equal attention.
Sibling rivalry is not just for children! Dogs can feel jealous too, so try to give equal attention to both dogs to keep them both happy. It can be harder than you think when you're so excited about a cute, fuzzy new puppy. But don't forget about your other dogs. Love on them too. Maybe even more than you normally would.
Prepare the puppy a sleeping area not used by the current dog.
It's just not nice to give your new puppy your other pet's things. So make sure you let your other pets keep whatever sleeping habits they already have and make a new routine for the new puppy. You'll probably want to crate the puppy in the beginning so just set that crate up in an area that your current dogs do not use.
Feed them separately
Dogs can be quite possessive over food, so it's a good idea to separate them at first during feeding time. Feeding them separately just eliminates any potential problems. It's also possible that your puppy will eat a different food than your current dog, so feeding them separately is another way to make sure they both eat the right food.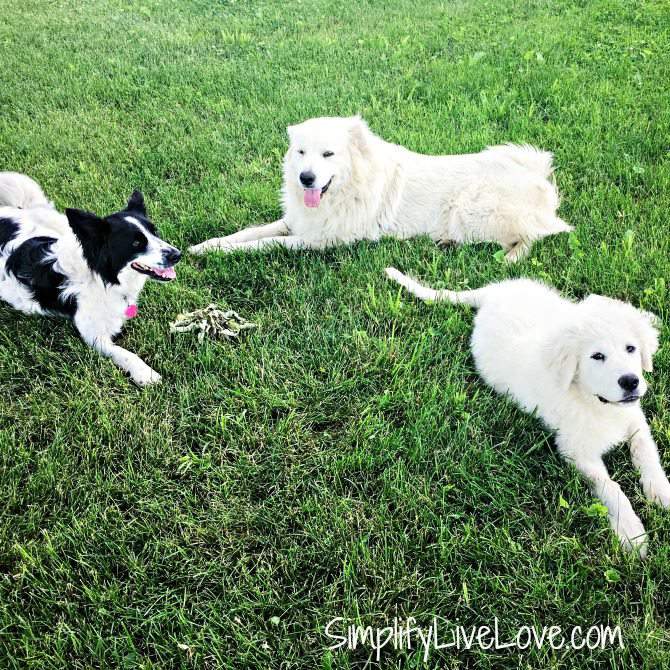 Finally, be patient
They may not like each other right away, but if you work with them, chances are good that they'll come around and be buddies, if you can be patient. It's hard to go slowly when you're excited to have a new puppy, but the rewards will be great if you can. Take your time, work them up to each other slowly, and before you know it, they'll be great pals.
If you liked this post on introducing a new puppy to older dogs, you might like these too:
Why You Should Pay Attention to Your Dog's Gut Health
Tips for Keeping Outdoor Dogs Safe & Healthy this Winter
5 Signs of Ultimate Dog Health
What You Must Know about Feeding Great Pyrenees Dogs
5 Useful Tips for Grooming Great Pyrenees Puppies