Looking for an easy succulent garden gift? This 5 Minute Upcycled Succulent Garden Gift makes a fabulous addition to your decor or a quick last minute gift idea! Since succulents are so easy to care for, I love to give them as gifts and sneak them around my house. Here's my favorite way to display lovely succulents.
5 Minute Upcycled Succulent Garden Gift Idea
I first got this 5 minute easy succulent garden gift when I was helping a friend move. She had the most interesting display of aloe I had ever seen – in a milk glass vase artfully arranged on her piano. That was my aha moment! Genius, I thought! I had just sent a few milk glass vases of my own to Goodwill and wanted to cry!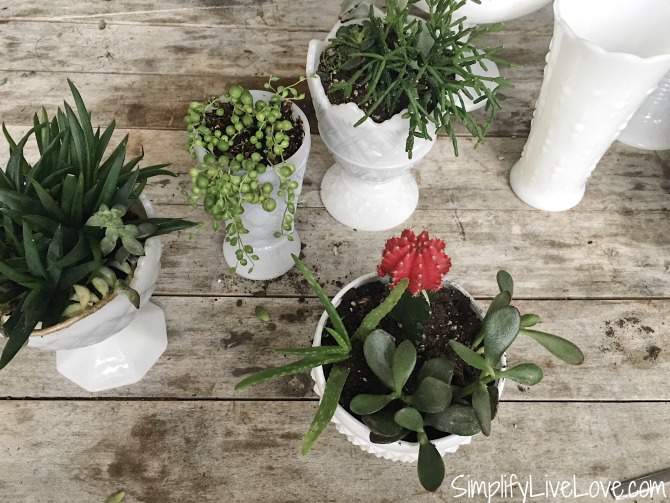 Since then, I started buying all the milk glass again. And, I'm always on the lookout for cute little succulents to plant in them. Now, these lovely succulent gardens grace most of the window sills in my house. If you'd like to make your own 5 minute succulent gardens, here's how easy it is!
What you need for this 5 Minute Upcycled Succulent Garden Gift
1. Mini succulents – I'm always on the lookout for mini succulents and sometimes I add in a little cactus or two as well. I brought home a lovely string of pearls succulent from a farmer's market in San Antonio recently. I've also found them succulents Lowe's, at seasonal garden centers, and at ALDI!
A really great thing about succulents is that they're also easy to propagate. The aloe I brought home a few years ago from Florida has little babies all the time. 🙂 Makes for very frugal gifts!
2. Milk Glass – like I said, I buy all the containers I find at Goodwill. I'm pretty sure I have succulents planted in ash trays, vases, and candy dishes. I love them all.
3. Rocks & cactus soil – since the milk glass containers don't drain, you'll want to put a few rocks in the bottom before you add the soil. The rocks help with the drainage. Then add your mini succulents and top with soil. That's it! Seriously easy.
And that's it! What do you think? Do you know a succulent love who would love this idea?
Colorful Shade Loving Perennials for Show Stopping Containers
Poinsettia Care Tips for Beautiful Flowers All Season
12 Best House Plants that are hard to kill