Glazed Apple Fritter Cookie Bites
on Nov 17, 2016, Updated Oct 25, 2023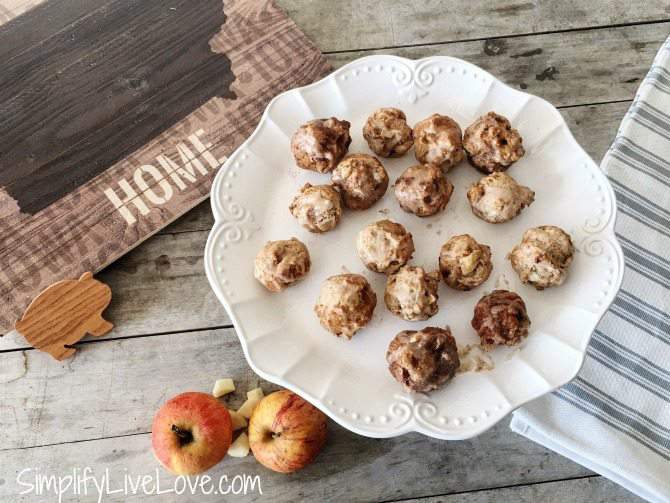 I'm so excited to represent Iowa in Bob's Red Mill United States of Cookies Campaign! 50 states, 50 bloggers, 50 cookies, and one mission — to bring our country together for a sweet treat that celebrates our wonderful nation. Because we all enjoy is great food, and you will really like this easy recipe for Glazed Apple Fritter Cookie Bites!
As I researched recipe ideas for this post, I learned that Iowa doesn't really have much in the way of state foods. There's no state fruit, and corn and bacon are the two most commonly referenced foods from Iowa. Or potatoes, but you know they're from IDAHO, right? 😉
To come up with my cookie ideas, I thought back to our days at the Iowa State Fair, where we go almost every year. We love visiting the animals, the Butter Cow, the 4-H building, and trying the food of course.
You can get just about any type of food on a stick at the Iowa State Fair – even salad on stick! Yes, it's true. This year they had apple fritter bites for sale at the State Fair. So I used them as inspiration for a healthier, yet still delicious, apple fritter cookie bites!
Apple Fritter Cookie Bites
Making these cookies is pretty easy! I used Bob's Red Mill Organic Unbleached White Flour which is freshly milled from organic hard red wheat and not enriched with any additives. You might know that I often mill my own wheat berries to make whole wheat flour for delicious homemade bread. Yet while my home milled flour is great in my bread, it doesn't work well in delicate baked goods.
I like the Bob's Red Mill Organic Unbleached White Flour because the bran and the germ have been removed (something I can't do when I grind my own flour) and a finer flour results. Bob's Red Mill produces the same high protein flour used by professional bakers and it helps delicate baked goods turn out much nicer than the denser flour I get when I mill my own.
So using the right flour, combine dry ingredients and wet ingredients separately, then slowly mix them together. Spoon small ball fulls into a mini muffin pan and bake for 12-14 minutes, or until the muffins are nicely golden brown. While the cookie bites are baking, make the glaze and the spoon over the baked cookie bites after they've cooled until to touch. Sprinkle with a final dusting of cinnamon sugar mix, if desired and enjoy!
Yield: 24 mini cookie bites
Apple Fritter Cookie Bites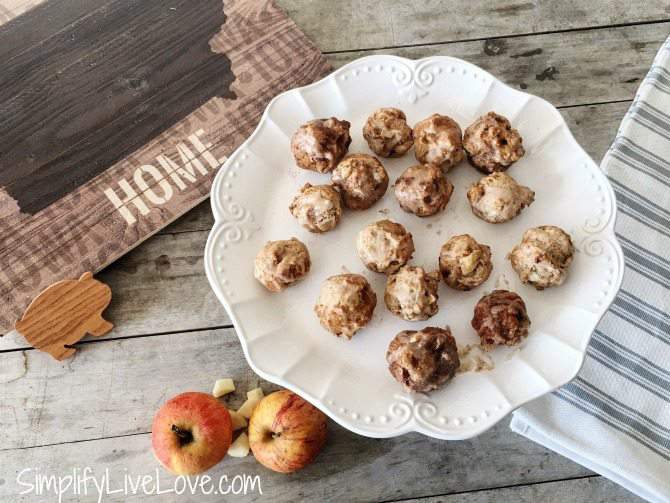 Ingredients
For the cookie bites:
1 ½ cups all-purpose, Unbleached Bob's Red Mill Organic Flour. Get a coupon here!
1 tsp baking powder
¼ tsp salt
2 tsp cinnamon
1 cup diced apple (about 1 large apple)
¼ tsp nutmeg
2 tsp coconut oil, melted
½ cup unsweetened applesauce
¼ cup milk
¼ cup raw sugar
For the glaze:
1 1/2 cups powdered' sugar
1 tablespoon butter, melted
1/2 teaspoon vanilla extract
2 TBS raw sugar
1 tsp cinnamon
2 to 4 teaspoons milk
Instructions
Preheat oven to 350 and spray a mini muffin plan with cooking spray.
Mix flour, spices, apples, baking powder, and salt together on a large mixing bowl.
In another bowl, combine apple sauce, coconut oil, sugar, milk, and vanilla.
Make a well in the dry bowl and add wet ingredients, stirring just until combined.
Spoon batter balls into prepared mini muffin pan and bake at 350 for 12 minutes, or until lightly golden brown. Let cool 5-10 minutes, and remove from pan.
While the cookie bites are baking, melt butter to make the glaze. Combine butter, powdered sugar, vanilla, cinnamon, and sugar. Slowly add milk to get the desired consistency and spoon over the cookie bites (I recommend doing this on a piece of parchment paper). Sprinkle with more cinnamon and sugar mix, if desired.
Enjoy!
Nutrition Information:
Amount Per Serving:
Calories:

34
Total Fat:

3g
Carbohydrates:

2g
Curious to see what the other 49 bloggers created? Head over here to see all 50 States of Cookies recipes! I know you'll find some yummy ideas! And don't forget to grab a few great coupons courtesy of Bob's Red Mill before you hit the store! Every little bit helps, and these are great coupons.
I was selected for this opportunity as a member of Clever and the content and opinions expressed here are all my own.