Taco soup is the one meal my family asks for over and over. I always have ingredients on hand to make this soup and love that I can get in the table in a jiffy. If you're looking for quick meal inspiration for busy nights, you will love this recipe!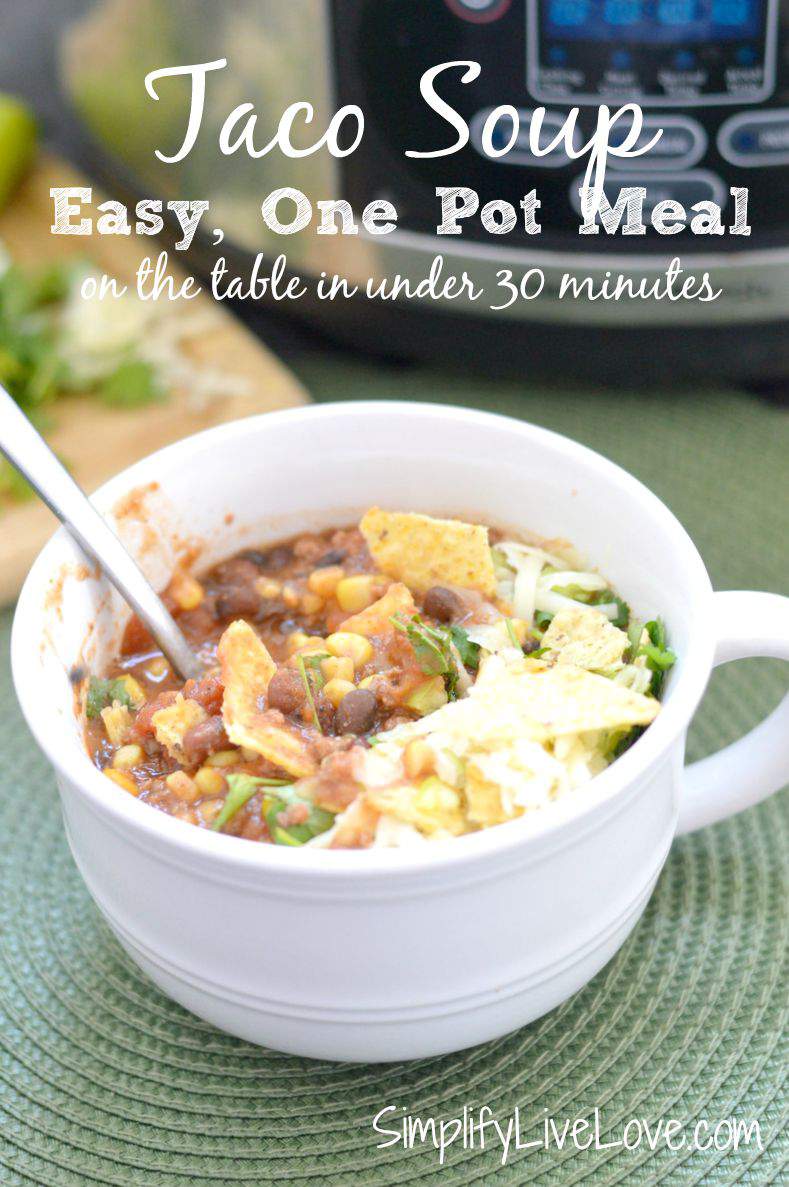 Delicious Taco Soup Recipe – Our Family's Favorite Go-To Meal
I try to always keep ingredients on hand for a couple meals – my go-to meals – which can mean the difference between take-out pizza or a home-cooked meal. One of my go-to meals is Taco Soup – I'm sure you've heard of it. Everyone loves it. It's quick and easy. The ingredients are easy to keep! And I can cook it in a pinch (as long as I have beans in my freezer).
It used to be my "open can and dump" meal. Now that I don't use much canned food it's a bit less convenient, but as long as my freezer is well stocked, it still makes a delicious go-to meal. If you don't like to use canned food, you can still make Taco Soup, with this easy recipe that doesn't use cans!
Want to easily cook dried beans for this soup using y0ur instant pot? Learn to cook perfect dried instant pot beans here. You can also make your own taco seasoning following this easy recipe and learn how to easily can crushed tomatoes here!
Taco Soup – My Go-To Meal
Quick, easy, and flavorful meal the entire family loves.
Ingredients
One pound ground beef
24 ounces crushed tomatoes (I used one quart home-canned)
6 cups beans, any combination of kidney, red, or black (the equivalent of 3 cans), undrained (I cook and freeze dried beans)
2 - 4 cups corn (equivalent of 1-2 cans - but I use one quart home-frozen)
1 packet taco seasoning (I buy mine in bulk from Sam's Club - MSG-free) or make your own taco seasoning with this easy recipe
1 packet ranch dressing mix (Watch out for MSG here, too. I have to find a new option, so if you know of an MSG-free variety, let me know)
For garnish
Shredded cheddar cheese
Organic tortilla chips
Sliced jalapeños or banana peppers
Sour cream
Instructions
Brown the ground beef. Make sure to cook it thoroughly, until beef is completely brown and the internal temperature has reached 160 degrees (to kill any possible e coli)
Dump tomatoes, beans, corn into the pot after the ground beef is cooked.
And seasoning. Make your own taco seasoning with this recipe.
Cook until warm!
Garnish with your choice of extras.
Enjoy.
Nutrition Information:
Yield:
8
Serving Size:
1
Amount Per Serving:
Calories:

548
Total Fat:

15g
Saturated Fat:

5g
Trans Fat:

0g
Unsaturated Fat:

7g
Cholesterol:

55mg
Sodium:

1422mg
Carbohydrates:

83g
Fiber:

14g
Sugar:

27g
Protein:

33g
Nutrtional data is not always correct.
Instead of store bought canned food, I use one quart of home-canned crushed tomatoes, frozen corn, and beans that I cook in bulk and freeze in large quantities. Served with
homemade corn bread
and a salad, I love that I can have this easy to prepare and delicious meal on the table in under 30 minutes! Yum YUM!!
If you liked this taco soup recipe, you might like these recipes too:
Our Favorite Taco Meat – freezer friendly recipe
Instant Pot Chili made with Dried Beans
Weekly Menu Plan for Taco Lovers
Having ingredients for go-to meals on hand helps me keep my grocery budget low and healthy food in our bellies. Do you have a go-to meal? I'd love to know what it is.
SimplifyLiveLove is a participant in the Amazon Services LLC Associates Program, an affiliate advertising program designed to provide a means for sites to earn advertising fees by advertising and linking to amazon.com.