You don't need a huge space to grow a beautiful and colorful flower cutting garden! All you need are the right flowers, some pots, and a little bit of inspiration, and you can have beautiful flower arrangements in your home from flowers you grow yourself.
Grow a Beautiful & Colorful Cutting Flower Container Garden!
Happy Tuesday, my gardening Friends, and welcome back to Tuesdays in the Garden. Today, my friends and I are talking blooms. Beautiful, bright, pollinator attracting blooms. Who doesn't love flowers in the garden? We have lots of beautiful posts for you to check out and I hope they inspire you to add some pops of color to your own outside decor this year.

One thing I really love about gardening is being able to bring lovely blooms in my house. I always have irises, sunflowers, and zinnias in my garden to bring indoors, but I haven't been great about establishing other blooms for cutting. This year I'm trying something new – a cutting flower container garden near my front door. I put this container garden together last week using beautiful and prolific blooms which I look forward to cutting for lovely indoor flower arrangements.

I'm excited to partner with Monrovia Plants for this post because I always love when the Monrovia flowers start showing up at my local Lowe's stores. Do you remember the Butterfly Garden in a Pot that I made a couple years ago? I also partnered with Monrovia on that post as well. 🙂
I love this time of year when the flowers arrive at gardening nurseries. The colors, the scents, I love everything about the gorgeous displays of Monrovia flowers at the nurseries. Not only can you go to Lowe's to buy Monrovia plants, but you can also head over to their website to do a bit of research as well. Plug your zip code in here and find out what will grow well in your area! See something you like? Have it shipped directly to your store with free shipping.

Flowers that Grow Well in Containers
For my cutting flower container garden, I wanted prolific bloomers, preferably flowers that will do well in containers. I found so much beauty and information at the Monrovia Grow Beautifully Blog I encourage you to check it out too! Based on the information at Monrovia, I chose these blooms for my cutting flower container garden:
Dahlinova Dahlia
African Daisy
Asiatic Lily
I looked for descriptions like masses of bright flowers, compact growth habit, perfect for mixed containers and cutting gardens, and amazing large blooms. I'll be perfectly honest with you and let you know that I've never grown dahlias in containers before but I'm excited to see how it works. One thing I love about the beautiful dahlia is that as a perennial, they can come back each year. The downside is that my zone is too cold, and unless I did up the roots and bring them indoors to over winter, they won't survive. That's just not going to happen, but bringing a pot indoors is well within my abilities. We'll see if it works! Call it a fun experiment. 😀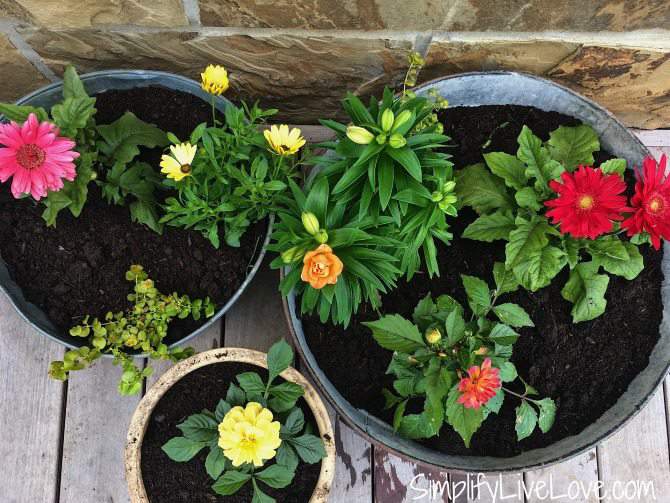 Container Garden Tips
Once I brought my plants home, I selected large, well draining pots and got to work planting my flowers. I placed them on the boardwalk patio outside our passive-aggressive house. I like having them close to the house because it will make them easier to water and cut to bring indoors. If you'd like to grow a cutting flower container garden, make sure to follow these tips:
Make sure to use a large container so there's room for growth.
Use a high quality potting soil to give the plants better nutrients
Don't forget mulch because it's not just for traditional gardens. It also helps the plants maintain moisture in containers as well.
Find a high quality, natural fertilizer to keep your plants healthy.
Don't forget to water!!
Tuesdays in the Garden
And now it's time to see what my gardening friends are up to. As promised, we've got a lot of great posts for you. I hope you'll pop over and see what they're up to!
From Shelly at @FrugalFamilyHome – Favorite Spring Flowers
From Patti at @Hearth & Vine – Favorite Scented Plants for the Garden
From Angie at @TheFreckledRose – Favorite Flowering Vines for Your Garden
From Jami at @AnOregonCottage – Favorite Plants for Gardening in the Shade
From Diane at @HomemadeFoodJunkie – 5 Bushes to Attract & Support Birds
SimplifyLiveLove is a participant in the Amazon Services LLC Associates Program, an affiliate advertising program designed to provide a means for sites to earn advertising fees by advertising and linking to amazon.com.