If you're wondering how to cook with a solar oven, these 11 tips will set you up for success! A solar oven can be a great way to harness the sun's energy to cook a meal, but there are a few things you need to know before getting started.
*Many thanks to Solavore Sport for sending me a solar oven to try. My successes and failures with it are sure to help you a lot.*
How to Cook with a Solar Oven
Using the sun instead of fossil fuels to cook is great idea, isn't it? Any why shouldn't we? The right tools make it possible to cook without heating up our kitchens or contributing to pollution. So when Solavore offered to send me a solar oven to try out a while back, I said why not? Cooking in a solar oven is a concept I was curious to learn more about.
We produce a significant amount of our own electricity with our 7 kw grid tied solar array, so cooking with the sun is next logical step on our path to self-sufficiency. We know the sun is capabable of amazing things! Our solar array produces enough electricity to power our entire passive house, as well as 2/3 of the electrify we use in our barn shop and office show room. Our house is 100% electric, so it's pretty amazing that we power the whole thing on clean energy we produce ourselves! So it's no surprise that I was curious to try out another form of solar energy – a solar oven to cook my food.
Solavore Sport Oven
Solavore sent me a solar oven a while ago and I've used it numerous times in the months I've had it. I've been successful and unsuccessful with cooking in my solar oven primarily because it takes a different mindset. The Solavore is similar to a crockpot – prep in the morning and enjoy food later in the day. While it is easy to use, it's not quite as simple as plug in and go and not all of the food turns out the same. Cooking in a solar oven was an adjustment for me – a person who is used to the creature comforts of effortless electricity!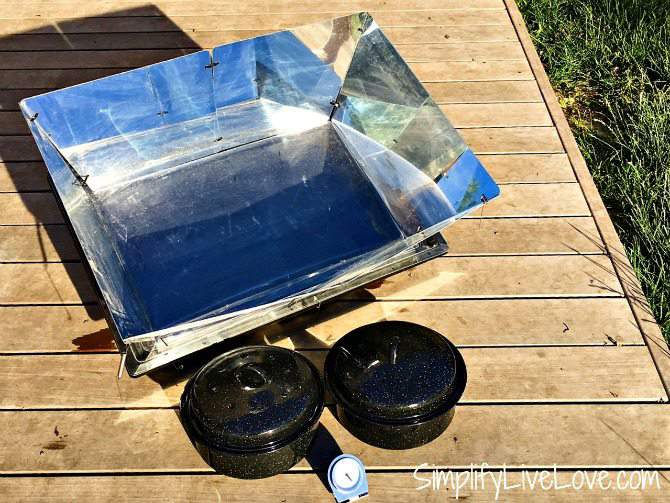 Solavore sent me their Solavore Sport Solar Oven with a reflector and carrying case. I also received two granite ware pots (3 quarts each) with lids, an oven thermometer, a water pasteurization indicator (WAPI), and a user manual with quick-start solar cooking recipes.
One thing I was worried about before I used the Solavore was my dogs. We have two beautiful Great Pyrenees and I was afraid they would disturb the solar oven and eat the food! Surprisingly, they left it alone. I thought I might have to find a way to put the oven up high so they'd leave it alone, but it didn't' matter if I had it on the ground or up a little. They didn't mess with it at all. Here are a few more things I've learned over the months of using my Solavore Sport solar oven!
11 Tips for Successful Cooking with your Solavore Solar Oven
Start early in the day – the sun is at its brightest around noon. I had the best luck with my solar oven if I had it set up and ready to go by 10:00 am. Do your prep work in the morning and have a meal ready to go in the evening with little effort!
Increase cooking time – just like a crockpot on low will take all day to cook, you should expect that your Solarvore will take longer to cook food too. I found most of my dishes cooked at between 225 and 250 degrees, so you'll need to make sure that you give your oven time to work.
You might have to move your Solavore Sport to keep it in direct sun. I didn't realize at first that I would need to move my oven a couple times during the day to keep it in the sun. Make sure you pay attention the first time you use it and watch what the sun does!
Use the reflector. I found that the reflector really helped get the sun into the oven even on bright sunny days. It's easy to put on and take off, so make sure you use it.
Use dark pots as they absorb the sun's rays better and heat well. It's possible to use shiny dishes, but make sure to cover them with a dark towel to help them absorb better.
You can stack dishes in your oven!
Keep the lid and reflective shield clean – you want all the sun possible getting inside the solar oven. Dirty lids and shields keep the sun from doing its job, so make sure to keep your Solavore clean.
Open the lid at your own discretion – the solar oven is kind of like a crock pot and opening the lid can really set cooking back. Resist the temptation to take the lid off too soon, or it might take you a long time to heat the oven back up again. However, you might want to stagger cooking times – add one dish that will take longer to cook first and then another one. That's fine, just realize that it will reduce the temperature of your solar oven for a while.
Make sure you put the temperature gauge in the oven so you can see how hot it gets. My solarvore never did get much hotter than 250 degrees, but since food cooks at 180, that is hot enough to cook. It just takes a little longer.
Start with an easy dish like roasted veg! The first dish I tried to make in my Solavore was a whole chicken and it didn't work. It was a cloudy day and I did not chase the sun. It was a sad waste of a whole chicken and I should have known better. I really recommend that you use something cheap and easy the first time you try out your solar oven to make sure you've got the hang of it! The Solavore website has a lot of recipes if you need some inspiration!
Don't expect crispy roasted veggies. While the solarvore does a nice job of cooking, it's not going to cook the same as other cooking methods. The veggies I've cooked in my solarvore turn out nice and fully cooked, but if I want them crispy, I have to finish them in a little fat on the stove.
Crispy Potatoes Cooked in the Solavore and Finished in Cast Iron
I love fried potatoes and thought they turned out especially well when the potatoes were first cooked in the Solavore. Sometimes I have a nasty habit of burning my potatoes when I fry them without pre-cooking them, and cooking them first in the solar oven actually resulted in a really nice dish. They were yummy finished on my stove in a bit of bacon fat and it didn't take long at all!
If you'd prefer not to use any fuel at all, you can cook this entire recipe in the Solavore. The potatoes just won't get crispy like I like. If you don't want to finish on the stove, omit the olive oil and put all ingredients directly in the Solavore pot.
Crispy Potatoes Cooked in the Solavore and Finished in Cast Iron Recipe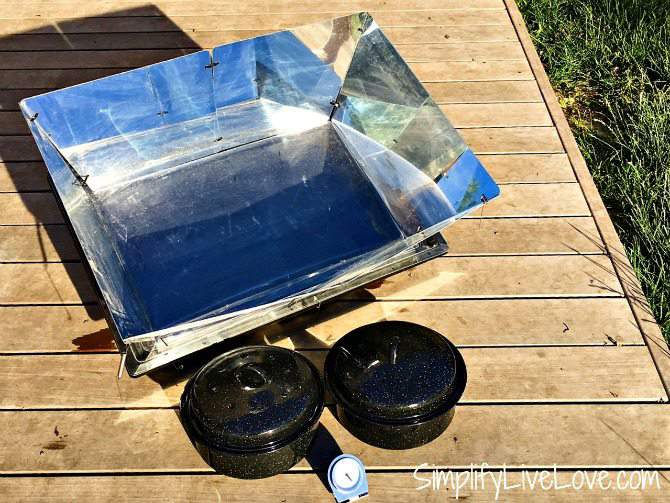 Ingredients
3 lbs of potatoes, cut into wedges (peel the potatoes if you want)
2 TBS olive oil
Salt and Pepper to taste
6 pieces of bacon, chopped into 1" pieces
1/2 red onion, finally chopped
3 cloves garlic, minced
Instructions
Put the potatoes, olive oil, salt and pepper in a dark 3 quart pot and then put it in the Solavore Sport.
Cook them in the sun for 4-5 hours.
In a cast iron skillet, fry chopped bacon then add onions and cook several minutes until fragrant. Add garlic and cook for 1-2 more minutes. Then add the potatoes.
Cook in the bacon grease for 5 minutes, or until desired crispyness has been reached.
Enjoy!
Nutrition Information:
Amount Per Serving:
Calories:

189
Total Fat:

7g
Carbohydrates:

29g
Protein:

3g
Many thanks to Solarvore for sending me their Solar Oven to experiment on. If you'd like to learn more about them, head over to the Solavore website and take a look.
Have you ever cooked in a solar oven? I'd love to hear your experience!