This recipe for muffin mixes for the freezer makes homebaked muffins that much faster! Spent 15 extra minutes making several mixes, and you can easily fill your freezer and feed your family at the same time!
*This post contains affiliate links. Thanks for supporting my site!*
Muffin Mixes for the Freezer + 15 Different Mix Ins
Quick, nutritious breakfasts make my life a lot easier. But sometimes I get in a rut so I'm always on the look-out for quick breakfast ideas. Not too long ago, I got the the idea for muffin baking mixes from Life As Mom's blog. She's got a lot of fabulous ideas. But, her Mix-and-Match Muffin recipe never really worked for me because it calls for yogurt. Yogurt in my house lasts all of about 4.5 seconds and I never had it when I needed it.
But I really like idea of muffin mixes in my freezer as I've done the same thing with scones for a while and wanted something different! So, I searched for an alternative in my handy handy Better Homes and Gardens New Cook Book, Limited Edition: Prizewinning Recipes (Better Homes & Gardens Plaid)
. Their basic muffin recipe is easy and delicious and works well for the freezer and I love to make a batch of muffins for breakfast on the weekend and also make a bunch of muffin mixes at the same time. It only takes 15-20 extra minutes and makes quick muffins easier on subsequent days.
My time saving spin:
Take out at least 5 large bowls and mix all of the dry ingredients into 5 separate bowls so you make 5 different mixes. I set this up assembly-line style, adding the flour to all the bowls, then the sugar, then the baking powder and so on. As long as you can keep track of what you've put in each bowl, it works like a charm.
Mix everything up, put the dry ingredients in freezer bags, and label like so. Then freeze for warm muffins on busy days.
To Make the Muffins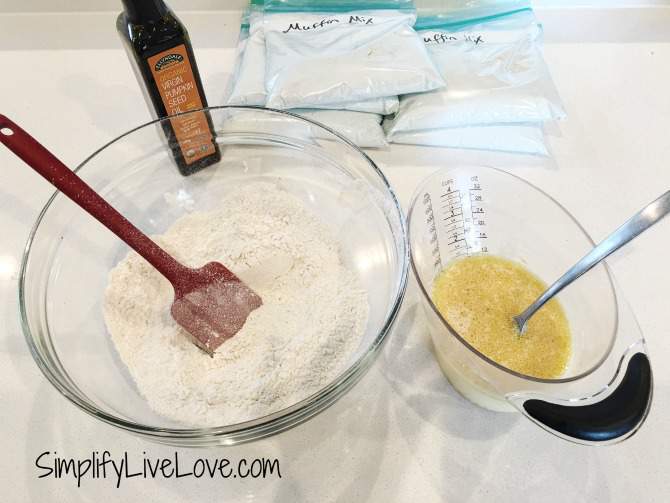 In the morning, simply pull out a bagged mix, combine the wet ingredients, add your mix-ins, and bake. Super quick, delicious muffins in a snap! I suggest the first time you make these to make the blueberry muffins so you can get a feel for the desired batter consistency. Our family favorite is Banana Chocolate Chip. I use organic pumpkin seed oil from Ellyndale Organics (I first tried this when I visited NOW Foods earlier in the summer and it's amazing!)
I also really love my angled measuring cups for measuring out liquids. I got mine from Pampered Chef, but you can order a similar set from OXO on Amazon. I like to use a big size and measure all of my wet ingredients and mix right inside it! Saves on clean up by messing up fewer dishes.
Muffin Mixes for the Freezer

Ingredients

1 3/4 cup flour (I use freshly milled hard white wheat)
1/3 cup sugar (I use raw sugar)
2 tsp baking powder
1/4 tsp salt
1 egg, beaten
3/4 cup milk
1/4 cup cooking oil
For blueberry muffins: add 3/4 cup blueberries.

Instructions

Preheat oven to 400F.
Mix dry ingredients.
Mix wet ingredients.
Stir wet ingredients into flour mix and stir just until moistened.
Add 3/4 cup mix-ins.
Bake at 400F for 18-20 minutes.
Let cool for 5 minutes on a wire rack.
Serve warm and enjoy!

Nutrition Information:

Serving Size: 1 Amount Per Serving:

Calories:

1034

Total Fat:

10g

Saturated Fat:

4g

Cholesterol:

18mg

Sodium:

1803mg

Carbohydrates:

216g

Sugar:

21g

Protein:

37g
Here are my 15 different types of mix-in ideas for unlimited muffin fun!
Rhubarb (increase sugar to 2/3 cup)
Blueberry
Apple Walnut
Banana Nut (reduce milk to 1/2 cup, add 3/4 cup banana and 1/4 cup chopped nuts)
Banana Chocolate Chip (reduce milk to 1/2 cup, add 3/4 cup banana and 1/4 cup mini chocolate chips)
Apple Carrot
Apple Cranberry
Apple Pear
Pumpkin (reduce milk to 1/2 cup, add 3/4 cup zucchini)
Pumpkin Chocolate Chip (reduce milk to 1/2 cup, add 3/4 cup pumpkin and 1/4 cup chopped nuts)
Zucchini
Zucchini Chocolate Chip
Cranberry (add 2 more tbs sugar and 1 cup coarsely chopped unsweetened cranberries)
Oatmeal (reduce flour to 1 1/3 cup and add 3/4 cup rolled oats)
Savory Cheese (add 1/2 cup shredded cheese)
You are limited only by your imagination!!
Which type of muffins would you make using this homemade mix?
*This post was first published in 2011 with horrible photography. I hope you enjoy the new and improved version.