We've been eating this super easy Pork Egg Roll in a Bowl Whole30 & Paleo Approved for a couple of years now. I love it because it comes together in under 30 minutes! Plus, even my picky kids love this bowl full of flavor!!
Pork Egg Roll in a Bowl Whole30 & Paleo Approved
This recipe is very versatile – it's dairy free, whole30, low carb, and paleo approved for all your dietary needs! You can also easily make it vegetarian by omitting the meat.
I especially like to make this egg roll in a bowl recipe in the early summer using garden fresh veggies! Full of garlic and ginger, ground pork, green cabbage, fresh peas, bean sprouts and more, this is a-one-dish meal that my entire family loves.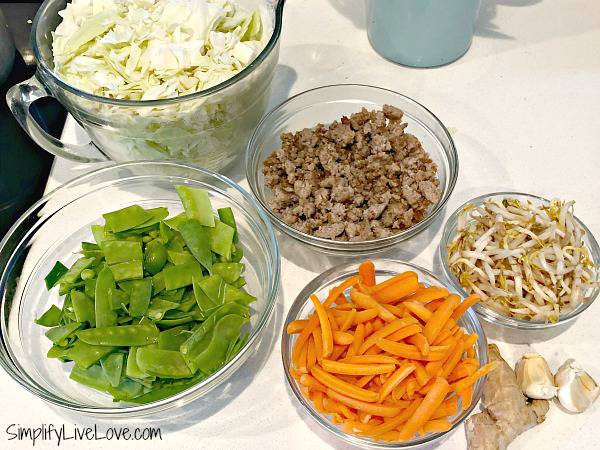 Prepping Egg Roll in a Bowl for Busy Nights
Another nice thing about this paleo whole30 approved recipe, is that it is an awesome recipe to add to your meal prep list and it makes fabulous leftovers. Prepping the veggies is the longest part of this recipe, but you can reduce the time it takes by purchasing coleslaw mix, shredded cabbage, or pre- shredded carrots.
While I don't mind shredding the cabbage, julienning the carrots is another story. I really don't enjoy that task all that much, so when I really don't feel like chopping carrots, I shred them in my food processor. Easy peasy!
I don't recommend a ton of kitchen appliances, but my food processor is one thing I really need, especially during garden season. It really helps simplify my time in the kitchen!
Paleo egg roll in a bowl is essentially a stir fry, and I made it with ground pork. You can also substitute ground beef or ground turkey. I also think finely chopped leftover chicken would probably be amazing in this recipe as well. If you want a vegetarian option, it is full of flavor, even without the meat. Simply omit.
Cooking tips for making this egg roll in a bowl whole30 / paleo approved
If you need a whole30 or paleo recipe, here are some options. Soy sauce is not whole30 approved or paleo, and I generally use tamari sauce instead. Some tamari sauce is whole30 and paleo approved, but you will need to be careful with this ingredient if you are on a strict diet. To make this egg roll in a bowl whole30 or paleo, you might consider using liquid aminos instead.
Liquid coconut aminos are approved and also very tasty in this dish. I also use fish oil in this recipe which is another ingredient you might want to omit or very carefully source if you're on a strict diet. Red Boat Fish sauce is whole30 approved, but other brands are not.
Cooking with Sesame Oil
A new cooking tip I learned, is that you need to be careful when cooking with sesame oil. I love using it for stir fry, but it has a low smoke point and can turn bitter if you heat it too high. It's most often added to enhance flavor at the end of cooking. So, wait to use the sesame oil until your dish is almost finished.
I saute the veggies in the grease from cooking pork, but if there is not enough there after removing the meat, you may need to add an additional tablespoon of oil. I recommend using avocado oil, which is has a high smoke point and a mild flavor.
Using fresh ginger and garlic
I always use fresh ginger and garlic in my Asian recipes. Ginger is super easy to store in the freezer and pull out as needed. When I need fresh ginger, I just grab it out of the freezer, use a knife to peel it, and then grate it using my trusty microplane. I've recommended this handy do-dad quite often and if you don't have one yet, I highly recommend that you get one.
I also grow a ton of fresh garlic in my garden every year so almost always have it on hand. Using my trusty garlic press is very easy. The stainless version I have is a little expensive, but it is worth every penny. It's so easy to use and clean. I don't even have to peel the garlic before pressing it and it cleans in the dishwasher!
Serving pork egg roll in a bowl
Top your delicious egg roll in a bowl with green onions and sesame seeds if desired. They add a lovely dimension to this recipe, so I highly recommend adding them. If you are on a strict diet, eat this with cooked cauliflower rice. But if rice is not a concern for you, serve it over hot cooked rice.
Yield: 8 servings
Pork Egg Roll in a Bowl Whole30 & Paleo Approved
Bowl full of flavor featuring lots of garden fresh veggies and ground pork.
Ingredients
1 pound ground pork. Ground beef, turkey, or chicken can also be used.
4 cloves garlic, finely chopped
1 tablespoon freshly grated ginger
8 cups shredded cabbage, about one small.
1/2 cup chopped onion, about 1/2 medium sized onion
2 cups shredded or julienne carrots
2 cups chopped sugar snap peas
8 ounces bean sprouts
2 tablespoons sesame oil
1/3 cup tamari sauce or liquid coconut aminos
1 tablespoon fish sauce
1/2 to 1 tablespoon siracha sauce, if desired
1/4 cup sliced green onions
2 tablespoons sesame seeds, if desired
Instructions
Fully cook ground pork and garlic in a large skillet over medium high heat. Add fresh ginger near the end of the cooking time. Then remove the pork from the skillet and set aside.
Stir fry the shredded cabbage, onion, and carrots in the same skilled you cooked the pork in for several minutes until the onion is fragrant. Then add snap peas and bean sprouts.
Mix together the sesame oil, tamari or coconut aminos, fish sauce, sirachi if desired, and pour over veggies when they are almost done.
Add the ground pork back to the veggies and stir until combined.
Serve over cooked rice or cauliflower rice and top with sliced green onion and sesame seeds if desired.
Notes
This recipe makes a lot of food! It easily serves my entire family of six with plenty of leftovers for the a couple lunchs for me.
Recommended Products
As an Amazon Associate and member of other affiliate programs, I earn from qualifying purchases.
Nutrition Information:
Yield:
8
Serving Size:
2 cups
Amount Per Serving:
Calories:

393
Total Fat:

21g
Saturated Fat:

7g
Trans Fat:

0g
Unsaturated Fat:

13g
Cholesterol:

91mg
Sodium:

1020mg
Carbohydrates:

20g
Fiber:

6g
Sugar:

10g
Protein:

31g
Nutrition information isn't always accurate.
If you liked this recipe, please consider sharing it on social media and giving it a rating in the recipe card!
Did you like this paleo egg bowl in a roll recipe?Here are some more you might like:
How to make homemade egg rolls
Keto Instant Pot Smothered Pork Chops
Better than Take Out Instant Pot Beef & Broccoli
Salmon & Asparagus Sheet Pan Dinner
SimplifyLiveLove is a participant in the Amazon Services LLC Associates Program, an affiliate advertising program designed to provide a means for sites to earn advertising fees by advertising and linking to amazon.com.