You'll love this delicious fruit and vegetable smoothie that's perfect for cold winter days. Featuring pineapple, banana, and orange and a secret veggie!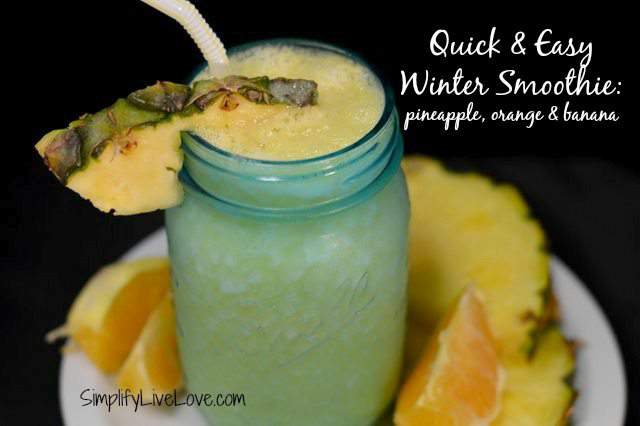 Fruit and Vegetable Smoothie – Perfect for All Weather
A smoothie is a great day to start the day off right to make sure you eat the recommended number of servings of fruits and veggies. I always listen to the debate about the cost of eating fresh fruits and veg being higher than eating a processed diet, but I'm not sure I agree. We do a lot of things to keep our grocery budget low, yet still eat a healthy diet.
I love this recipe for a Pineapple, Banana, and Orange Smoothie. It's a fabulous, quick, and easy smoothie using winter produce. Because it uses seasonal fruit, you can buy produce that's on sale and keep your costs down! Think about in season produce and how to incorporate it into delicious food and you can keep your budget lower too!

Yield: 4-6 nice sized servings
Quick & Easy Winter Smoothie – Pineapple, Banana, & Orange
Ingredients
1/2 pineapple, core included, cut into large chunks
1 banana
1 orange
1 cup orange juice
2-3 handfulls ice
Instructions
Place all ingredients in Vitamix or other heavy duty blender.
Whir on high for 1-2 minutes, until all combined and ready to eat.
Enjoy!
Nutrition Information:
Serving Size:
1
Amount Per Serving:
Calories:

310
Total Fat:

1g
Sodium:

2mg
Carbohydrates:

77g
Sugar:

59g
Protein:

3g
Tools for making Smoothies –
Following are affiliate links which means I earn a small commission on your purchase.
Vitamix – I got my vitamix a couple years ago. It is one of my favorite kitchen tools. It makes soups, smoothies, and grinds wheat berries! I believe it's worth every penny in the real food kitchen.
Stainless Steel Straws – we have these and LOVE them! They are an eco-friendly alternative to the disposable plastic straws.
Straw Cleaning Brush – great for cleaning out the stainlesss steel straws.
Looking for more smoothies and health posts?
5 Tips for Loving a Healthier You
Top 10 Tips for Saving at the Grocery Store
How to Order from Azure Standard
Pineapple Pomegranate Smoothie
It's Easy Being Green Smoothie
SimplifyLiveLove is a participant in the Amazon Services LLC Associates Program, an affiliate advertising program designed to provide a means for sites to earn advertising fees by advertising and linking to amazon.com.