Looking for an easy breakfast casserole that's not mushy but is still delicious? I think you will like this great recipe. Because it's prepared the night before, it's perfect for Christmas Morning, any brunch or even breakfast for dinner!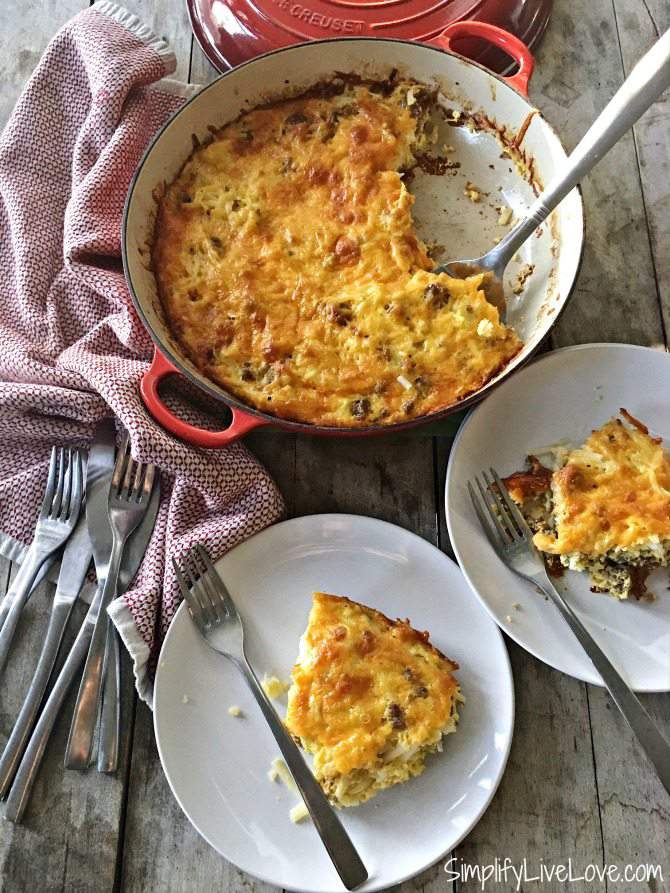 Overnight Breakfast Casserole That's Not Mushy!
I love the ease of breakfast casseroles, but was never satisfied with them before because I think they are "mushy." You know what I mean, right? I'm a texture gal. I can't stand mushy textured food.
I think anything that resembles oatmeal is gross…and I have really tried to like it because I know it is so healthy and frugal – but I. Just. Can't. Mushy stuff just doesn't go down right.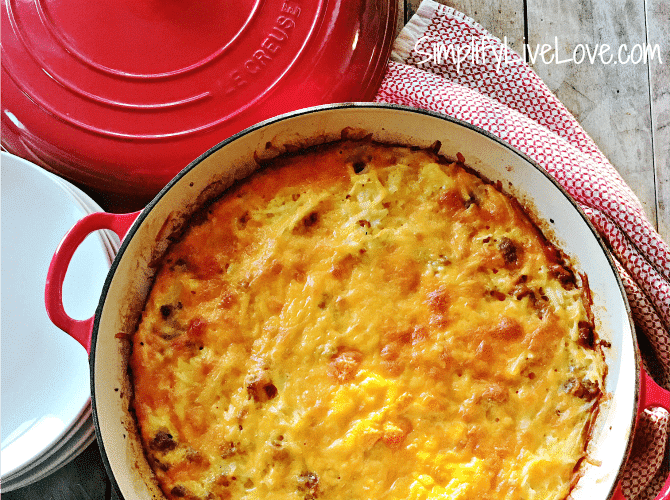 Normally, I am not a fan of the breakfast casserole because of the texture. But, I attended a baby shower where this egg casserole was served and I loved it. I'm convinced that the difference is using potatoes instead of white bread.
Have you had those breakfast casseroles made with bread? I always find them too mushy. I was originally skeptical about trying a new breakfast casserole, but potatoes make all the difference.
Overnight Breakfast Casserole with Hash Browns
Yes, potatoes! Every time I've used potatoes instead of bread, I am so happy with the resulting egg bake! So if you want an easy overnight breakfast casserole that's not mushy, this recipe is for you!
Using potatoes instead of bread was a huge aha moment for me, and I haven't looked back.
Here's how to make a breakfast casserole that's not mushy. It's perfect for Christmas morning, brunch, or quick weeknight dinner!
Brown sausage and spread in lightly greased 9 X 13 dish. I use my [easyazon_link identifier="B0076NOSOS" locale="US" tag="sililo-20″]Le Creuset 5 qt braiser[/easyazon_link]. It's nonstick, oven safe, and so pretty!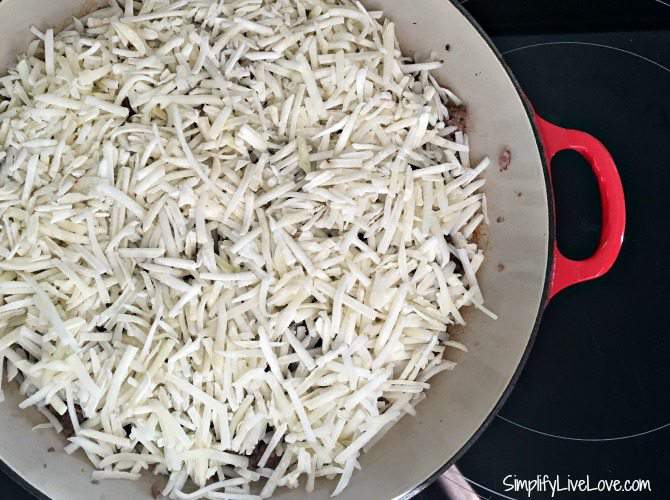 Spread potatoes over sausage. Put the shredded cheddar cheese on top of the potatoes. Then, combine eggs, milk, salt, pepper in a large bowl, and pour over hash browns, sausage, and cheese.
At this point, cover and refrigerate overnight. The next morning, preheat the oven to 350 degrees. Sprinkle a little extra cheese on top, and bake uncovered at 350 degrees for 35 minutes or up to 45 minutes. Or, you can go ahead and cook it immediately too! Your call.
These tools make this breakfast casserole a snap!
Questions about this Overnight Breakfast Casserole
Can I use ham or bacon instead of the sausage?
Absolutely! You can use any type of meat you want. We prefer sausage, but cooked crumbled bacon or 2 cups of leftover ham are also delicious in this egg casserole.
Do I have to refrigerate it overnight?
No, you don't. You can make it up and cook it right away, if you want. I like to have it made in advance, but you certainly don't have to.
Do I have to thaw the hash browns?
This comes down to personal preference. If you thaw your hash browns first, they won't be as soggy. If you'd like them to be even more crispy, you can cook them a little bit prior to adding the other ingredients, but I almost never do this.
How should I thaw the hash browns?
Ideally, you will thaw the hash browns by leaving them in your fridge overnight. The day you make up this casserole, dry them off a little bit with kitchen towels before adding them to the casserole dish. You can use paper towels if you prefer, but I eliminated paper towels from my kitchen years ago and haven't looked back. Kitchen towels work just fine.
Why don't you mix the cheese in with the eggs?
Adding the cheese to the casserole separate from the egg mixture helps insure a more equal distribution of cheese throughout the casserole. You can mix the cheese in with your eggs if you don't care about that. 🙂
What type of potatoes should I use in this easy breakfast casserole?
You can buy the pre-shredded bags of potatoes – plain potatoes or potatoes with peppers and onions are also delicious. Remember to thaw frozen hash brown potatoes before making this recipe. You can also shred your own potatoes to use in this recipe if you want. Since I grow a lot of potatoes in my garden I am always looking
for ways to use them. If you shred your own potatoes, I recommend rinsing them and squeezing as much water out of them as you can.
Grab your printable breakfast casserole recipe.
Yield: 12 servings
Egg Casserole that's not too Mushy
Quick and easy overnight egg casserole perfect for Christmas morning or when you have company. Made with sausage, hash browns, and farm fresh eggs, this egg bake is always a hit!
Ingredients
1 lb. regular sausage
1 lb. frozen cubed or shredded frozen potatoes
6 eggs
1 1/4 cup milk
1 tsp salt
1/2 tsp pepper
2 - 3 cups grated cheddar cheese
Instructions
Cook the sausage in an oven proof pan and drain the fat.
Combine the eggs, milk, salt, and pepper, and whisk well.
When the sausage is cooked, cover with the frozen potatoes, add 2 cups cheese, then pour the egg mixture on top. Stir well.
Cover the casserole and place in the fridge over night to cook in the morning.
Preheat the oven to 350 the morning you want to bake it.
Before you bake, add an additional cup shredded cheese, if desired.
Bake for 35-45 minutes.
Or, cook it immediately and enjoy!
Nutrition Information:
Yield:
12
Serving Size:
1
Amount Per Serving:
Calories:

429
Total Fat:

32g
Saturated Fat:

15g
Trans Fat:

1g
Unsaturated Fat:

13g
Cholesterol:

174mg
Sodium:

928mg
Carbohydrates:

12g
Fiber:

1g
Sugar:

1g
Protein:

22g
Nutritional information is not always correct.
Want more delicious make-ahead breakfast recipes? Try these.