If you're looking for a simple last minute Thanksgiving tablescape, I have just the idea for you. Combine it with my free printable, and your Thanksgiving table is set! Thank you to Halos for sponsoring this post. All opinions are mine.
Simple Last Minute Thanksgiving Tablescape + printable
Let's get real. I am not one of those people who sets her table hours before events. In fact, I'm lucky if the table is set before the food is done. I'm also pretty frugal and don't like to spend a lot of money things we don't really need. However, the kids really like fancy meals sometimes so I'm excited to share this fun Thanksgiving Tablescape made with fresh materials and lots of items that can serve many purposes.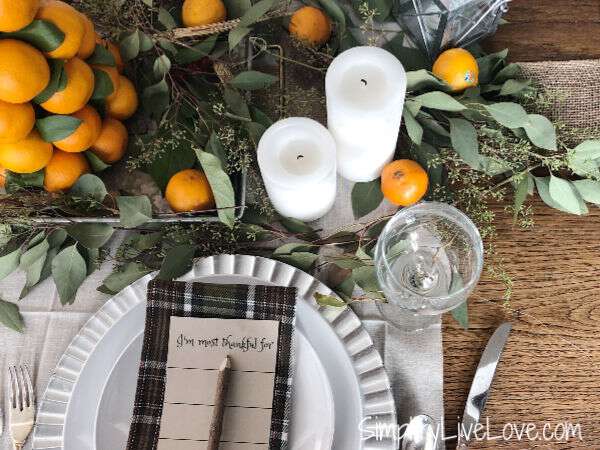 If you need a last minute Thanksgiving Tablescape idea, I think you'll like this one. Using all natural materials like fresh eucalyptus, Wonderful Halos, candles, burlap, and cheese cloth, you can set your table in no time! These ideas are perfect for Thanksgiving, Christmas, and even just a fancy dinner with the family!
Materials Needed for this Simple Thanksgiving Tablescape
Cheesecloth, found at the grocery store
Burlap ribbon, I picked this up at Michaels or the like
Fresh, seeded eucalyptus, found at a floral shop
Candles, various sizes
To make this gorgeous holiday tablescape, all you need to do is put down the cheesecloth and then top with the wide burlap ribbon. Then place Wonderful Halos, fresh eucalyptus, and candles in the middle of the table. You can use a serving tray if you like, or simply put the items directly on the table.
After you set the table, make sure to include the Thanksgiving Thankful Printable at each place setting so everyone can reflect on their blessings this year!
To If you have some extra time, go for the wow factor with a fun Halos Tower Table Centerpiece! You can find the easy tutorial here. Isn't it cute?? And the best part is, the kids can grab Halos mandarin for quick snack too.
About Wonderful Halos
We love Wonderful Halos at our house and they were recently named the number one most-loved healthy snack among both parents and kids in a 2018 Brand Love™ study. We love Halos mandarins because they are sweet, seedless and easy to peel – the perfect on the go quick snack. Wonderful Halos are available in produce aisles nationwide at grocery, mass and club retailers from November to May to grab some today!
Now that you have a simple Thanksgiving Tablescape, you'll need these recipes too!
Recipes to Complete your Thanksgiving Meal
If you need more recipes to complete your Thanksgiving meal, look no further!
What do you think of this great tablescape idea? I hope you like it!
SimplifyLiveLove is a participant in the Amazon Services LLC Associates Program, an affiliate advertising program designed to provide a means for sites to earn advertising fees by advertising and linking to amazon.com.