It's officially spring and you know what that means – it's time to get busy cleaning! Save a lot of time with these 18 Spring Cleaning Hacks and enjoy the free cleaning checklist printable we made for you. 🙂

18 Time Saving Spring Cleaning Hacks
The super painless way to wash walls – Life Should Cost Less
Pillow case as ceiling fan duster – Real Simple
Clean and freshen your mattress with this time-saving recipe – One Good thing by Jillee
Use this secret to twice a year cleaning shower doors – Ann's Entitled Life
Clean your showerhead in minutes – Pop Sugar
How to clean grout with a homemade grout cleaner – Practically Functional
Let the microwave clean itself – Angela Says
Just put everything in the dishwasher – Real Estate
Use the no scrub method to clean the stove burners – The V Spot
Use Coca-Cola to clean your toilet – Cha Ching Queen
Use two ingredients to clean the carpet – Clean Mama
Use lemons on the sink and in the garbage disposal – Kids Activities Blog
How to quickly clean mini blinds  – Creatively Southern
How to clean a lamp shade {without getting the vacuum out} – The Pin Junkie
How to clean window tracks FAST – "Cents"able Momma
Clean gunk off of kitchen cabinets in 20 minutes – One Good Thing
Clean all types of your kids toys with these ideas – Your Modern Family
Clean the oven that needed cleaning without toxic fumes {fast} – Craptastical
Other Green Living / Cleaning
You know you don't need to buy toxic cleaning supplies, right? Check out these posts I've written previously about ways you can green your cleaning supplies.
Do You Know What's in YOUR Home Cleaning Products? – Simplify Live Love
Decrease Toxins with 4 Frugal Cleaning Ingredients – Simplify Live Love
Green Carpet Cleaning – Simplify Live Love
DIY Fruit & Veggie Wash – Simplify Live Love
While you're here, get this Spring Cleaning Checklist!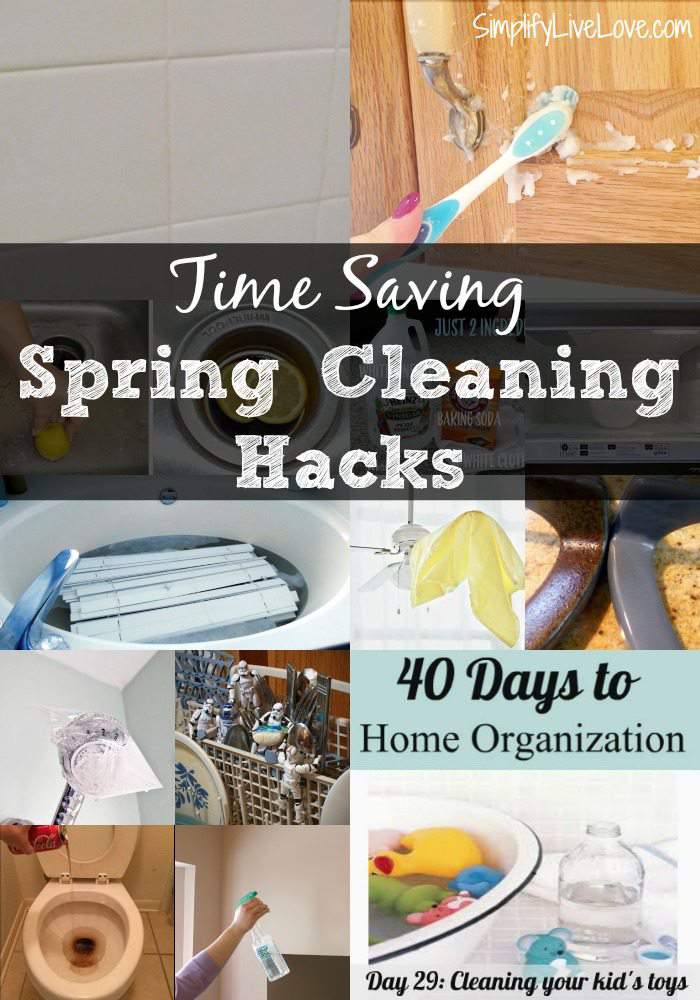 Are you ready for Spring Cleaning? What chore do you most dread?
SimplifyLiveLove is a participant in the Amazon Services LLC Associates Program, an affiliate advertising program designed to provide a means for sites to earn advertising fees by advertising and linking to amazon.com.