Clean Faster with These 15 Genius Speed Cleaning Tips
on Apr 07, 2022, Updated Aug 06, 2022
Prepare to be wowed with these speed cleaning tips! Some might also call them the lazy person's guide to cleaning – I call them 100% necessary for unexpected guests or whenever the house just gets a little out of hand.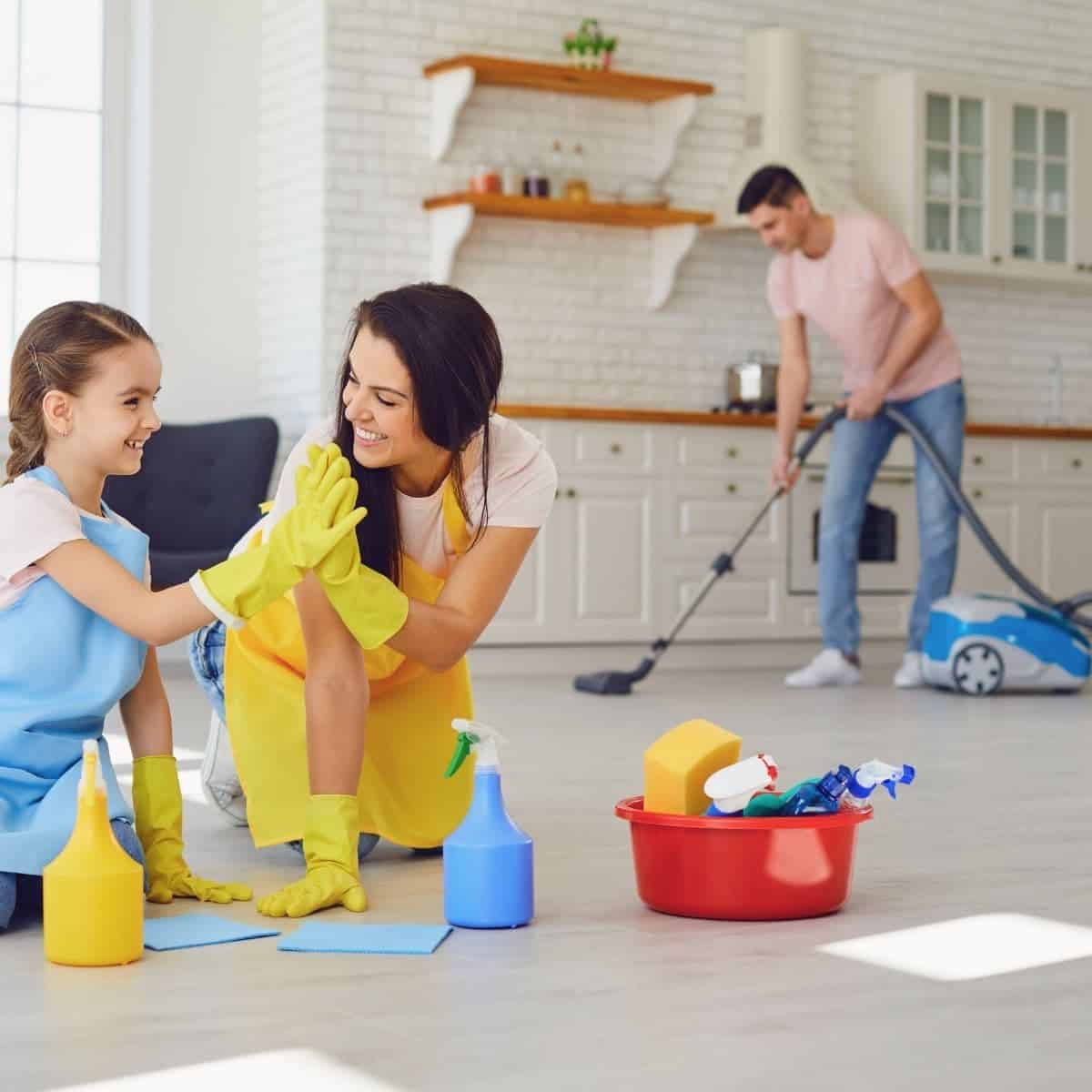 Clean Faster with These 15 Genius Speed Cleaning Tips
Do you ever feel like you get temporary ADHD when it comes to house cleaning? You start a project in one room, wander away to grab something, and forget to come back? Before you know it, your house is filled with half-started cleaning efforts and it looks like you never clean at all!
Rather than looking clean, it feels like you've made things worse instead of better. Your once a week cleaning session seems totally counter-productive! If this sounds all too familiar, it's time for you to start cleaning smarter rather than harder, and here's a system that's sure to help you have a clean home the moment you need it!
I admit it – I cheat when it comes to cleaning, and I'm pressed for time. Have I cheated on cleaning at two in the morning when I know the family will be over in the next few hours? Guilty.
I have cheated on cleaning when someone calls and asks if they can stop by in 10 minutes!
And I've cheated when I've spent the day writing when I should have been cleaning up the pigsty that the kids left from the night before.
The Basic Idea of Speed Cleaning – Tips & Tricks for Success
Here are speed cleaning tips from an experienced cheater – so you can also cheat on cleaning!
First, Pick ONE Room
It's best to start with the kitchen or a bathroom or an area that might be described as being one end of the house. At my house, the kitchen is the first thing people see, so I start there. It's right off the main door, and if I start there and work my way outwards, I can leave a trail of cleanliness behind me.
Commit to ONE Job
This might sound strange, but I'm serious. The biggest deterrent to getting anything accomplished is a lack of commitment to the task. If you have to, actually tell yourself, I am not letting go of this project until it is done! Gather your supplies and, like the old Nike ad says, 'Just do it!'
Finish ONE Job
Again this might seem obvious, but what I mean is let it be finished. Get it to the point where you can call it clean and move on. It does not have to withstand a white glove inspection every day. Shoot for a goal you can reach.
For instance, if you want the bathroom clean, that does not mean it's time to sort through everything under the bathroom sink and dust the baseboards and the pictures.
Connect the Dots
Now, move on to the next closest room and clean that one. If it's a bedroom, make the bed nicely, pick up laundry, put it in the laundry basket, and dust the furniture.
Pick It Up
Make a pile or use a laundry basket to toss in whatever doesn't belong in that room as you move. Drag the basket from room to room and when you're finished, take a few minutes to put things back where they go.
Now, Do It AGAIN
If you follow these steps, you should be able to clean your whole house in the same amount of time you sometimes spend in a distracted state of despair – all by remaining on task. You'll be able to finish what you start, and you'll be amazed at how fast your house transforms from visual noise to relaxing, calm, and quiet.
More Speed Cleaning Tips to Keep You Sane
Use Laundry Baskets to Quickly Banish Clutter
I don't know about you, but horizontal surfaces are the bane of my existence. Using laundry baskets to banish clutter for the '10 minute notice' guests is a great secret! You can clean up clutter so you look "clutter free" in under five minutes using baskets. Here's how.
Find your laundry baskets.
Dump dirty laundry onto the floor and close the door if you must. (The empty baskets are more important than the clothes right now.)
Run through your house and throw anything on the counters, floors, and tables into the baskets. Now you can stuff the full baskets back into a room where you can close the door.
Done. 😉
Make a Portable Cleaning Caddy
Having a portable cleaning supply caddy that you can carry from task to task means you can focus on the actual cleaning jobs so you won't waste time running after supplies. I recommend keeping the following items in a tote or basket that you carry with you as you move from room to room:
Your Cheat Speed Cleaning Tips for Cleaning Floors
My husband stood there looking at me with his mouth open when he caught me cheating on "mopping" the floor one night. Our entire first floor is huge gray tile and it shows every speck of dirt, mud smudge, and drink drop. It drives me bonkers trying to keep it clean, so I often cheat.
After I sweep the floor, I take a microfiber cloth and a spray bottle of cleaner (any cleaner will do if you're crunched for time). I spray the noticeable spots on the floor and wipe them clean with the cloth. Drying time is minimal and the obvious spots are gone!
My disclaimer: Not all cleaners are good for your specific floor. You might want to be more discerning about the cleaner you use on your floor. So, use this tip with caution.
How to Hide Dirty Dishes
Do you have a dishwasher or an oven? These places are great for hiding dirty dishes. You don't have to take the time to organize your dishwasher, just shove them in, being careful not to break anything.
If you get your dirty dishes in the dishwasher, go ahead and turn it on! Then you don't have to think about them again until they're clean.
You can do the same thing with your oven if you have to. Just hang a towel or two on the handle over your oven's window so anyone passing by won't discover your secret. And don't forget you left dishes in there, either!
All-Purpose Cleaning Wipes
All purpose wipes keep me sane. You can make your own and keep them in a large jar if you don't want to use disposable wipes. I keep a jar in my cleaning caddy and then simply toss it in the laundry.
These wipes are a godsend when I'm pressed for time. I can take an all-purpose wipe and run it over the counter, stove, glass table, and wood. They don't do a fantastic job on every surface, but they clean well enough on all surfaces.
How to Mask Smells
Sometimes you might need to mask the fishy smell from last night's dinner or the bathroom smell from kiddos who don't pay attention. You can use just about anything to help with odors.
I keep a diffuser and essential oils by my front door so I can get some going on a moment's notice, need be. I have also been known to pop in a pan of frozen cookie dough so my house smells delicious as well!
Speed Cleaning Tips Per Important Room
Sometimes, you just need to focus on the most important rooms – those rooms where visitors are liking to be or the rooms that you need to have picked up to feel calm. For me, that's three areas: the kitchen, the bathroom, and the living room. Here are specific tips for those three areas.
Kitchen Speed Cleaning Tips
My kitchen is either nice and clean, or it's a complete disaster. It's rarely in between. Here's how to do a quick tidy of the kitchen when you need it done fast!
Grab your portable cleaning caddy
Grab a laundry basket for quick decluttering if you have non-kitchen items in the kitchen
Get out the garbage can for easy access
Put all dirty dishes in the dishwasher
Spray and wipe down counters
Take out garbage and non-kitchen items
Sweep the floor / spot clean as needed
Speed Cleaning Tips for the Bathroom
I think it's important to have a clean bathroom for guests. If you have a powder room with only a toilet and a sink, cleaning time will be even quicker! Make sure to have fresh hand towels for guests!!
Grab your portable cleaning caddy
Pick up dirty laundry / towels
Scrub the toilet bowl + lid + outside of toilet
Clean the sinks
Change out the towels
Clean the bathtub
Sweep the floor / spot clean as needed
Grab the trash
Walk away!
Living Room Speed Cleaning Checklist
Need to speed clean the living room? Here are a few tips:
Grab your portable cleaning caddy
Grab a laundry basket to quickly declutter everything that doesn't belong
Plump up the sofa / chair cushions and pillows
Fold throw blankets
Dust around knick knacks – don't move anything
Straighten pictures
Spot clean floor or quickly vacuum
Done!
And friends, that's it! Speed cleaning at its finest so you don't feel overwhelmed and counter productive!
Quick clean-ups can be a lifesaver as long as you're prepared and have a strategy. You can clean three rooms in under ten minutes if you have to. Sorting through that laundry basket mess later is another story!!
Do you speed clean? I'd love to hear your tips!