Great Pyrenees are notoriously stubborn and strong-willed, but they can be trained. Here are 5 useful tips on how to train Great Pyrenees! We've learned these lessons over the last four years of owning this amazing breed.
This post is sponsored by Petmate® and the BlogPaws® Pet Influencer Network™. I am being compensated to help share information about Petmate's JW Hol-ee Gourmet™ line of interactive dog toys , but SimplifyLiveLove.com only shares information we feel is relevant to our readers. Petmate™ is not responsible for the content of this article.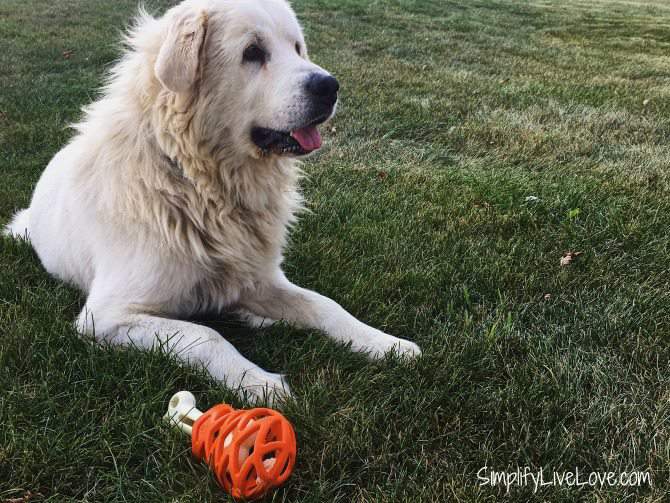 How to Train Great Pyrenees – 5 Useful Tips
1. Understand a Great Pyrenees' temperament
It's important to realize that Great Pyrenees are bred to guard livestock They want to have a purpose and many will do better if they have a job. The very first training tip is to consider your Pyr's aptitude before bringing her home! Some make better pets than others. They're also very loving and loyal, and bond fiercely to their pack. Keep this in mind as you're training your Pry for better success.
2. Your attitude matters
With all training, patience and consistency are key. Dog training can be very frustrating as dogs will pick up on your attitude and frustration. Both of our Pyrs went through a phase where they refused to walk on a leash. As frustrating as it was for us, we worked through it with gentle, positive reinforcement and eventually they didn't mind the leash anymore.
3. Use fun, positive reinforcement to train Great Pyrenees
Make dog training fun using positive reinforcement. Our Pyrs aren't overly motivated by food, so you may have to work to find a treat they go bananas for, but do find something they love. It could be a toy, food, or loving. Reward all good behavior as quickly and consistently as you can. Your Pry needs to enjoy training or he won't train. 🙂
4. Don't force them
It's important not to force your Pyrs to do anything as these stubborn giant dogs will double down and win. You'll need to find creative ways to trick Pyrs into doing what you want! So make sure you are very creative during training sessions.
5. Mental stimulation will help you train Great Pyrenees
Bored dogs get into trouble (especially if they're left in the house) so make sure your Pyr isn't bored. Dogs that are "on" are just easier to work with and train! One way to keep dogs engaged is to provide them with stimulating toys. While toys don't keep our Pyrs' attention for a super long time, they do enjoy toys for a while. Nora and Harry recently got a shipment of Hol-ee Gourmet ™ from Petmate®.
Hol-ee Gourmet is a two-in-one toy that encourages interactive and rewarding play. They help keep Pyrs mentally stimulated and come in three designs – a turkey leg, a steak, and a peanut. Harry and Nora like them because they can be filled with larger treats or smeared with peanut butter! These treats keep them engaged for about 15 minutes, which is a long time for a pyr! 🙂 Our dogs work better when they're happy, active, and mentally engaged. And that just makes for a much more rewarding training session.
Hol-ee Gourmet is giving away a set of toys!
Want to win a set of these fun dog toys? Enter the facebook giveaway for a full set of all three fun, flavorful toys! Head over here to enter today! Winner will be chosen September 15.
You can also get 15% off your purchase of Hol-ee Gourmet dog toys using code BLOGPAWS at Petmate! Head on over today to take advantage of this special offer. Follow Petmate on on Pinterest for lots of fun animal tips.
This is a sponsored conversation written by me on behalf of PetMate. The opinions and text are all mine.
Want more information on Great Pyrenees dogs?
What you need to know about feeding Great Pyrenees
What you need to know about grooming Great Pyrenees
Tips for introducing a new puppy to an adult dog
How to keep your dog happy