1.
Apple & Pear Scones with Whole Grains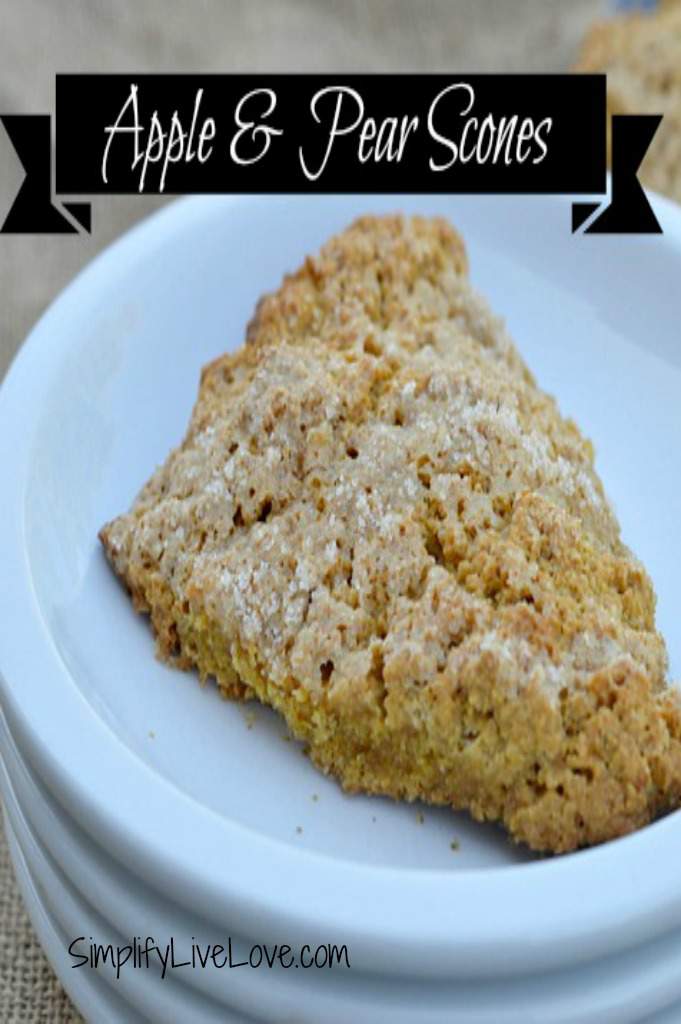 Ingredients
2 cups unbleached flour
? cup whole wheat flour
? tsp. baking soda
2 tsp. baking powder
? tsp. salt
? cup sugar
? cup packed brown sugar
1/2 cup cold butter
1/2 cup diced apple
1/2 cup diced pear
2/3 cup buttermilk
Instructions
Preheat oven to 375 degrees.
Combine all dry ingredients and cut in butter until the mix resembles small peas.
Add the diced fruit and then add milk.
Stir until combined.
Turn dough out onto a cooking stone.
Form a 9" circle.
Top with extra sugar if desired.
Cut circle into 8 pie shaped pieces.
Separate the pieces so they don't touch.
Bake for 22-28 minutes.
Enjoy!
Apple & Pear Scones made with Whole Grains
Simplify breakfast time by making scone packets for your freezer. I get out 5 different bowls, mix all of the dry ingredients together (one recipe per bowl), and then dump each bowl into a freezer bag. Then next time I want scones, instead of having to get all of the dry ingredients out again, I just pull a bag out of the freezer! I got this idea from Jessica over at
Life As Mom
and it works great for me.
Have you ever tried whole grain baking, like apple & pear scones?
SimplifyLiveLove is a participant in the Amazon Services LLC Associates Program, an affiliate advertising program designed to provide a means for sites to earn advertising fees by advertising and linking to amazon.com.