Chicken Oreganato: a Farm-to-Table, Freezer Friendly Recipe
on Jul 11, 2017, Updated Oct 24, 2023
Chicken Oreganato is a delicious farm to table and freezer friendly. It's a great way to use up summer produce including herbs, early potatoes, and tomatoes. With a quick prep and clean up, this recipe is sure to become a favorite at your house!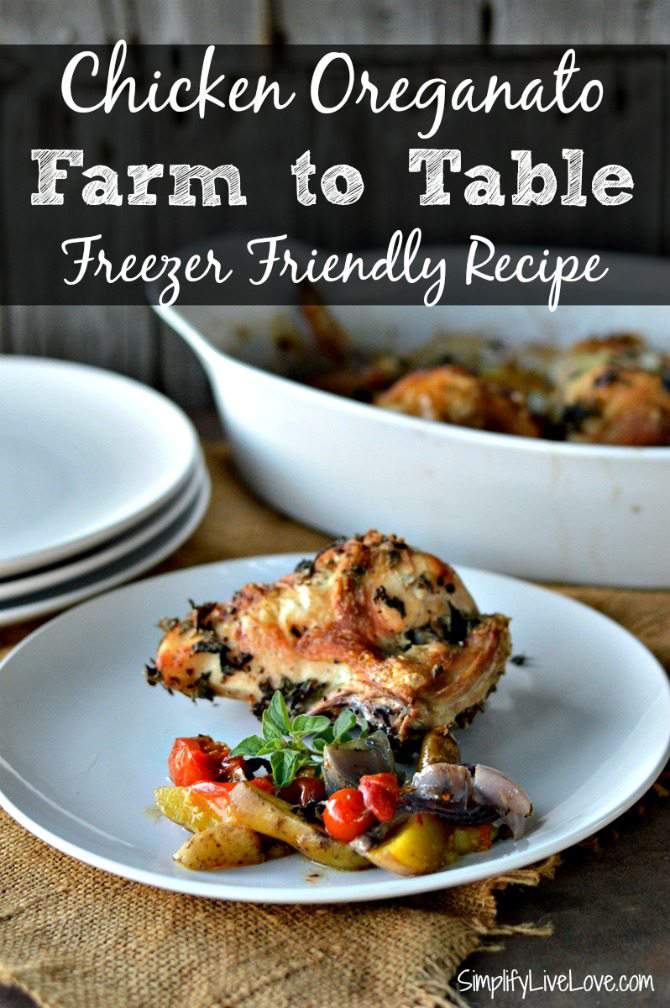 Welcome to another installation of Tuesdays in the Garden! This week, we're sharing summer gardening goodies: tours of beautiful summer gardens and delicious ways to use up the summer bounty! You can find links to all the beauty at the end of the post!
I've been making this Chicken Oreganato dish for a long time and love that I grow most of the ingredients it contains in my garden (I even raise my own meat chickens!) so this is a real farm to table recipe. It's quick to prep, but it does take a while to bake because of the skin, bone-in chicken pieces. If you know how to cut up a whole chicken, this recipe is also quite frugal even if you have to buy the chicken. I know a lot of people don't like to mess with whole chickens, but if you're looking to reduce your grocery budget, this is a good recipe to try. If you don't like all the various chicken pieces, just use 4-5 pounds of whatever bone-in pieces you like most and skip the whole chicken altogether.
I originally found a similar recipe in a great freezer cookbook – Don't Panic–More Dinner's in the Freezer: A Second Helping of Tasty Meals You Can Make Ahead. We've made it numerous times and have also frozen it as per the instructions in the book, which include freezing the potatoes. But here's the thing. Raw potatoes just don't freeze well. So if you make this for the freezer, I recommend leaving the potatoes out of the bag you plan to freeze. The, just add them on cooking day! Super simple.
Chicken Oreganato: a Farm-to-Table, Freezer Friendly Recipe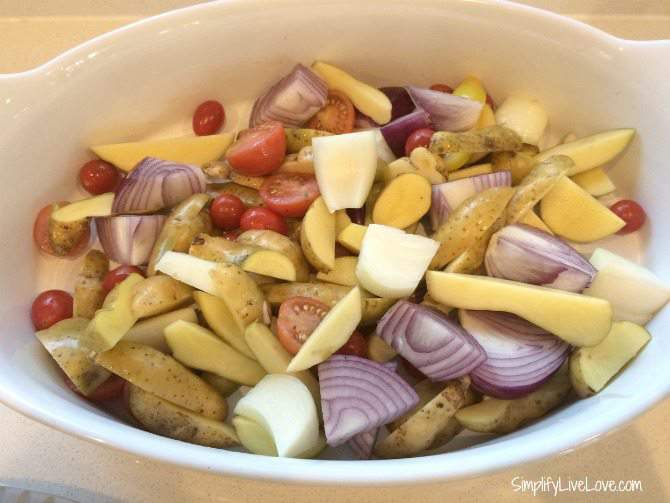 To make this easy, one dish meal, prep your veggies and put them in a 9 x 13 baking dish.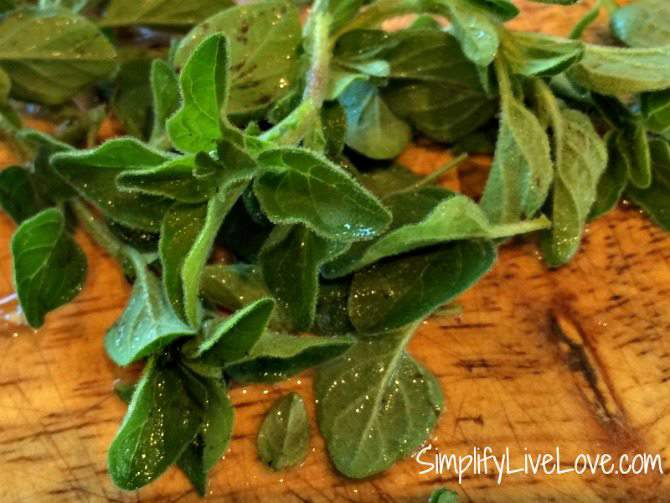 Mix fresh oregano with olive oil, salt and pepper.

Top with chicken and pour the olive oil and herbs on top. Bake at 375 degrees until the chicken is cooked, 40-60 minutes for bone in chicken pieces.
Yield: 4-6 servings
Chicken Oreganato for the Freezer
Ingredients
3 lbs cut chicken pieces
4 medium potatoes, cut into medium chunks
4 Roma or plum tomatoes, quartered
1 large onion, cut into medium chunks
1/3 c olive oil
1/4 c fresh oregano, coarsely chopped (or 2 tsp dried)
1 tsp salt, I recommend Real Salt
1/2 tsp. freshly ground pepper
To make for the freezer just mix everything in a large bowl. Stir until it's all coated. Place chicken and veggies in a freezer bag. Freeze.
Instructions
Preheat oven to 450 degrees.
Place chicken and veggies in a large roasting pan - put the chicken on top of the veggies (skin side up, if your meat has skin).
Mix herbs and olive oil and pour over chicken and veggies.
Roast until chicken juices run clear, about 1 1/2 hours for skinned chicken pieces, or less for boneless, skinless meat.
Notes
You can freeze this meal. I'm not crazy about freezing potatoes because they turn an awful shade of black, but everything else freezes quite nicely. If you'd like to freeze this meal, I recommend mixing everything together (except the potatoes) in a gallon ziplock.
To cook, thaw., add fresh potatoes, and follow the baking instructions above.
If you don't like bone-in chicken, you can also use skinless chicken breasts or thigh fillets. I've made it with fillets too and it's also delicious. If you make it with the fillet pieces, cook the veggies for 20 minutes and then add the meat at the end so everything is cooked through and nothing is undercooked.
Tuesdays in the Garden
I hope you'll pop around to see what's going on in the Tuesdays in the Garden blogger's summer gardens! Unfortunately, I don't have much of a garden this year so I have to live vicariously through them! Between working to transistion to raised beds and too much travel, my poor garden has really suffered this year. I'll have to give fall gardening a real go because my summer garden has pretty much been not much at all. 🙁 Here's what's going on around the blogosphere though!
The Ultimate Blueberry Guide from Jami at An Oregon Cottage
A Tour Through Angie at The Freckled Rose's July Garden
Make Homemade Sun Dried Tomatoes with Diane from Homemade Food Junkie's Recipe
Take a tour through Patti's Summer Garden at Hearth & Vine
See what Shelly at Frugal Family Home is harvesting in her July Garden
Looking for more freezer meals? Here are some of my favorites!