I've been making this recipe for Ground Beef Stroganoff for many years. You might call it one of our family's staple recipes. For some reason, my kids (who claim to hate mushrooms) LOVE this stroganoff. And I love that they love it, because it really is quite tasty and easy to get on the table. So if your kids hate mushrooms as much as mine, you NEED to try this recipe and tell me what they think!
Ground Beef Stroganoff for the Freezer
I often quadruple this recipe when fresh mushrooms are on sale. We eat it for dinner one night and then I package it into three different containers and I've got 3 more meals just waiting in my freezer! I love it because it's another sneaky way to get my kids to eat something they claim to hate – even though I don't hide the mushrooms anymore. If your kids (or spouse) hate mushrooms, I recommed that you chop them fine so you can't tell they're there. After you've done that a while and they finally catch on, you can say, see? I told you that you can't taste the mushrooms! And maybe you'll get away with it like I did.
I also like that you can also stretch this meal by adding more sour cream and more noodles if you happen to have any leftovers. If you don't like ground beef, you can omit, or sub your favorite ground meat or meat substitute. It's a very versatile recipe, and prepared correctly, can also be quite frugal. Win-Win!
Ground Beef Stroganoff for the Freezer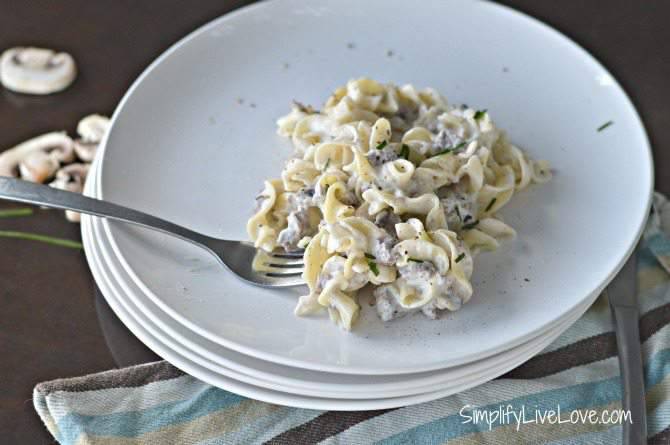 Ingredients
12-16 ounces egg noodles, or whatever noodles you prefer
1/4 c butter
1/4 c chopped onions
1 clove minced garlic
1/2 lb fresh, sliced mushrooms
1 lb lean ground beef
3 TBS burgundy or red wine
3 TBS lemon juice
10.5 ounces beef broth
1 tsp salt
1/4 tsp pepper
noodles
1 c sour cream
Instructions
Cook the noodles per package instructions. Use whatever type of noodles you want!
Saute the mushrooms, onions, and garlic in butter until lightly browned. Add meat. Cook until red disappears.
Stir in burgundy, lemon juice, broth, salt, and pepper. Simmer uncovered for 15 minutes.
** Add the noodles.
Remove from heat and add the sour cream.
Heat slightly, but do not boil.
Enjoy!
Remember I said this recipe freezes well!? It really does! To turn this stroganoff into a freezer meal, just follow directions to the ** (but don't pre-cook any noodles or add the sour cream) . Let the mix cool completely, bag, label and freeze. When you want to prepare the frozen stroganoff, thaw the mix completely in the fridge or microwave. Cook noodles. Heat the mix on the stove and follow the rest of the directions! Viola! Another way dinner is served on busy nights.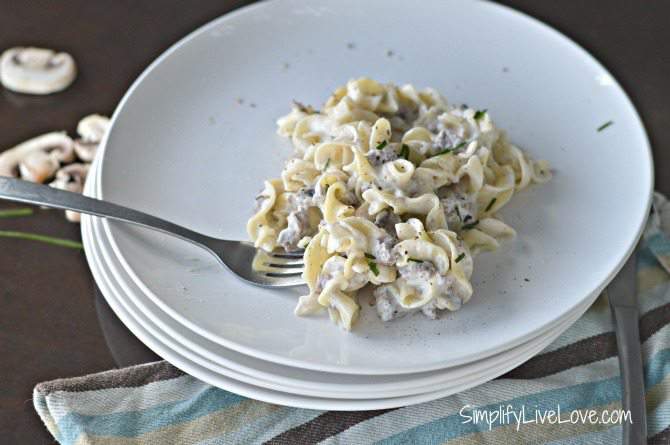 For more freezer friendly recipes, check out these tried and true favorites:
Does you family like mushrooms? I'd love to hear!