If you like Greek flavors and delicious meals, this easy Greek Marinated Pork Loin recipe is for you. Marinate and roast one pork loin, and then enjoy quick and delicious pita sandwiches all week long! I could eat this for lunch every. single. day. Enjoy!
Easy Greek Marinated Pork Loin Recipe
A few weeks ago, I picked up some organic tzatziki from Costco at the recommendation of my friend Robin. She's often my inspiration for the recipes I share on this blog and in fact, she wrote the recipe for the Homemade Shrimp Lo Mein I shared recently. I had intended to eat the tzatziki with marinated chicken, but I didn't have anything other than whole chickens on hand, so I decided to use a pork tenderloin I had in my freezer instead.
I was inspired by Bobby Flay's marinade recipe when I decided to try to make Greek pork. I combined fresh garlic, oregano and lemon with grapeseed oil and marinated my pork loin in the fridge for several hours. By the way, the Microplane Zester/Grater in the picture above is my new most favorite kitchen tool. It is awesome for zesting lemons, grating hard cheese and grating fresh ginger! My sister gave it to me for Christmas and it rocks!!
Then I seared the marinated pork loin on medium-high heat in an oven safe braiser for three minutes on each side. I really love my Le Creuset braisers – I may have a slight obsession with them – because they go so easily from stove-top to oven and they're just so darn pretty. I'm working on a rainbow collection of Le Creuset, but it's slow going because they are expensive.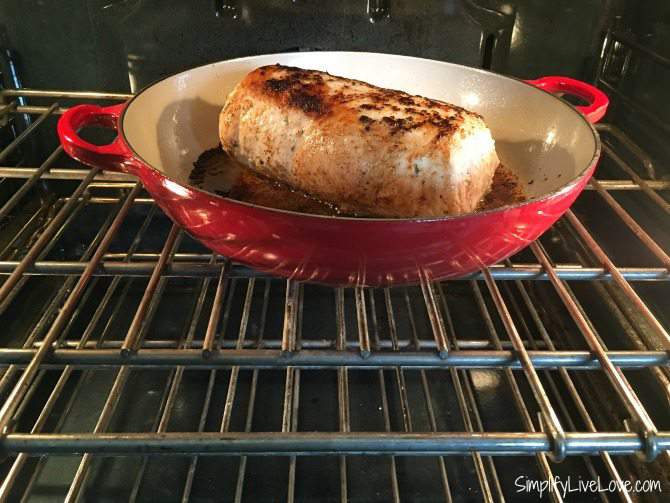 Anyway, after the pork is seared, roast it in the oven at 400 degrees until the internal temperature reaches 145 degrees. This took about 45 minutes in my oven, but may take more or less time in yours. It's important to verify the temperature of your pork before eating it. An easy way to verify the temperature is to invest in a good oven-safe meat thermometer that will alert you when your meat is ready. After the pork has reached 145 degrees, remove it from the oven and let it rest for at least three minutes before slicing.
At this point, you can eat the pork for dinner, slice it for pita sandwiches, or eat it on a Greek Salad too. I will admit that we ate it in pitas until I ran out of pitas and then I actually used the rest of the pork in a Chinese stir fry, so it's a really versatile recipe.
Assembling the pitas is really easy. If you have time, heat up the pitas, but if you're pressed for time you can skip this step. I warm them in a pan on the stove because we don't have a microwave. Then, add in order: tzatziki, lettuce, tomato, and red onion and pork slivers to taste, top with another dollop of tzatziki and feta cheese! Sprinkle with a little dried oregano. Then dig in. It's delicious and because you'll have lots of cooked pork, it's seriously a snap to make yourself a quick sandwich for lunch or add a few side dishes for a quick dinner.
Besides the pork, there are a couple other ingredients that make this pita sandwich, as far as I'm concerned: the tzatziki and the feta cheese. You can make your own tzatziki if you want, but I think the organic tzatziki at Costco is quite delicious. It has a fresh taste and chunks of cucumber. I like it a lot. I also love a good moist feta cheese, one that is stored in liquid. I order my feta in 4 lb tubs from Azure Standard and we don't have a problem eating it as it stays fresh in the brine for a long time.

Greek Marinated Pork Tenderloin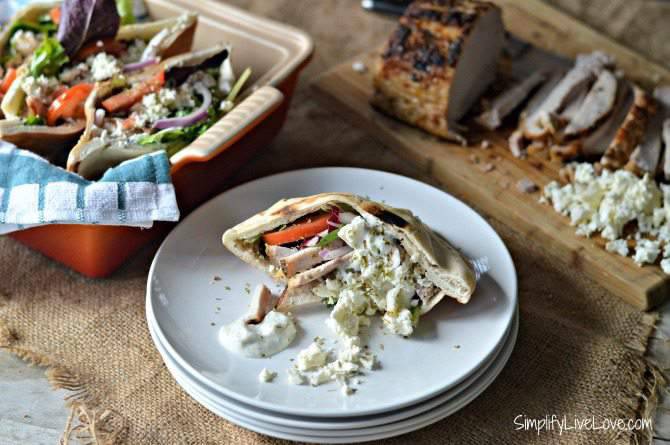 Total Time
1 hour
10 minutes
Ingredients
For the Marinade
4 cloves garlic, crushed
1 lemon, zested and juiced
1/4 cup fresh oregano, finely chopped
1/2 cup grapeseed oil (or other high heat safe oil)
1 1/2 lb pork tenderloin
Salt & pepper to taste
For the Pita Sandwiches
Pita bread, heated if you'd like
Fresh lettuce
Chopped tomatoes
Slivered red onion
Several slices of cooked pork
Tzatziki to taste (I used a heapting spoon full per pita and then added another dollop on the top)
Feta cheese to taste (the more the better in my opinion)
Instructions
Combine the marinade ingredients and marinate pork in fridge for at least one hour.
Preheat oven to 400 degrees.
Remove pork from marinade and season with salt and freshly ground pepper.
On medium-high heat, sear the pork on all sides in an oven-safe pan, about 2-3 minutes per side. You may have to use a fork to hold the pork on its side to sear.
Once the pork is seared, insert an oven-safe thermometer and place in the preheated oven.
When the internal temperature reaches 145 degrees, remove the pork from the oven and let it rest for at least three minutes before cutting. Slice the pork in thin strips for the pita sandwiches, or you can also slice and enjoy on a nice salad.
To Assemble the Pita Sandwiches
Warm the pitas in a pan or microwave and add toppings of your choice. I like a lot tzatziki, lettuce, tomatoes, red onion, pork and feta cheese.
What do you think of Greek marinated pork loin? Would you eat it in a pita, on a salad, or even in Chinese stir-fry? Let me know what you think!