If you're looking for ideas for a healthier Easter Basket, you've come to the right place! Make some of these swaps this year and skip the artificial food colors, flavors, and high fructose corn syrup. You can also make some easy choices to reduce plastic waste too. Here's to a Healthier Easter this year!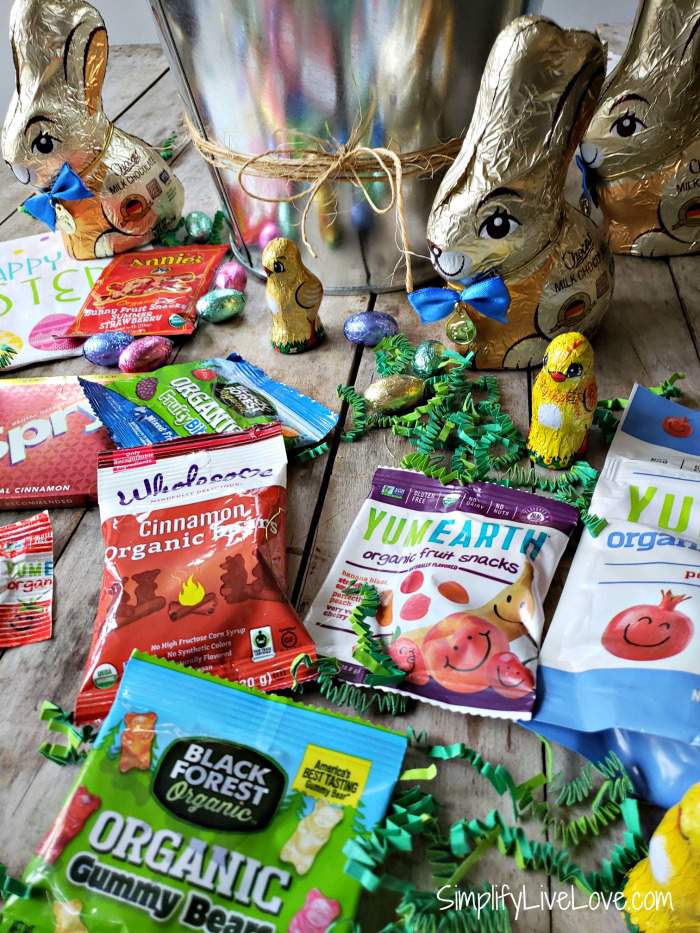 *This post contains affiliate links which means I earn a small commission on your purchase.*
Green Your Easter with these Healthier Easter Basket Swaps
I'm so glad that more food companies are starting to listen to consumers. When my kids were little, I had to look far and wide to find find treats without all the junk. Holidays focused on candy and unhealthy crap like Easter really made my head spin. Luckily, it's easy than ever to make healthier choices for Easter and on candy in general.
Good reasons to avoid artificial food colors, flavors and high fructose corn syrup.
There are many good reasons to avoid artificial food colors, flavors and high fructose corn syrup too. Did you know that artificial food colors and flavors are linked to ADHD in children – not necessarily causing the ADHD, but rather causing problems in all children. You can read about it in medical journals. The topic has been widely studied. Some food dyes are carcinogenic and have been banned in cosmetics, yet still show up in food! Why are we feeding this crap to our kids and eating it ourselves?
High fructose corn syrup is everywhere – not only has our intake of sugar skyrocketed in recent years, but it's also full of chemical contaminants that are harmful to our bodies as well. Dr. Mark Hyman explains on Huffington Post why cutting HFCS out of our diet could be the single best thing we do for our health. You should read this article. It's really good.
I challenge you to make a healthier swaps this Easter.
Take a look at ingredient lists and see if you can't find better options to give your children. Here are a few healthier Easter Swaps I found for you this year. I tried many of these items at Expo West recently and was happy to bring home samples for my kids to taste test too.
YumEarth Candy – YumEarth candy was the first healthier candy I ever found for my kids. They've been making lollipops for years, but their line is a lot bigger. Their candy contains no high fructose corn syrup, no artificial dyes or flavors, and is also made with no soy, no egg, and no dairy.
Spry Gum & Mints – Most sugar-free gum contains aspartame, another ingredient I like to avoid. Spry gum is made with xylitol and is also free of dyes and artificial flavors. Do you look for xylitol in your toothpaste and gum too?
Wholesome Candy – more organic candy options! My kids live the Wholesome fish and also the Wholesome cinnamon gummy bears. I brought back samples from Expo West that they were only too happy to devour.
Black Forest Candy –  More candy from Expo West that my kids were only too happy to sample. They liked the gummy bears and the sour candy I brought home so I'm added it to this list of healthier swaps as well!
Justin's Peanut Butter Cups – I've long loved the Justin's dark peanut butter cups. They also have white chocolate, milk chocolate, and they're coming out with an almond butter cup in June as well! Justin products are currently being certified by Project NonGMO and they are also free of high fructose corn syrup, and artificial food dyes and flavors as well. You can find Justin's in the health food aisle at HyVee or order them online at Amazon.
Surf Sweets Organic Jelly Beans – Want organic jelly jeans? Surf Sweet's got you covered! These yummy little candies are free from artificial dyes, flavors, and high fructose corn syrup, so they get my vote of approval too.
Lovely Organic Candy – The Lovely Company is excited to announce the launch of their new organic line! My kids recently tried their Organic Lollipops and they were a huge hit! Featuring Mango, Grape, Strawberry & Pomegranate flavors, these organic pops are also VEGAN, GLUTEN-FREE, NON-GMO, Certified KOSHER, Cruelty-Free. They are also free from high fructose corn syrup, soy and other artificial ingredients!
Chocolates from ALDI –  If you're a long time blog reader, you know I really like ALDI. We're big fans of the seasonal items they come out with ever year. I always buy a milk chocolate bunny for each of my kids, and usually get a few other fun chocolate items from them as well. Their cocoa is responsibly sourced and ALDI quit adding artificial food dyes and artificial flavors to their food several years ago.

Reduce plastic with these Healthier Easter Basket Ideas
Another way you can make healthier choices this Easter is to reduce the amount of plastic you buy. Instead of using plastic grass that gets thrown away, grow your own this year! You only need a week, so there's still time to do this fun activity with your kids. Or if growing your own Easter basket grass isn't for you, buy recyclable paper grass instead. You can find it on Amazon and also at Walmart.
I'm also a big fan of using multi-purpose containers for Easter Baskets. We've used terracotta pots before and then turned them into pretty spring planters, and I'm a big fan of these steel buckets too. You can find them at Menards, farm supply stories, or order one on Amazon and have it delivered directly to your door.
These are a few ways we're enjoying a healthier Easter this year. I hope they inspire you to make a few positive changes as well.
What are you doing to make your Easter a little healthier this year?
If you liked this post on Healthier Easter Basket Swaps, you might like these too:
Grow your own Easter Basket Grass
SimplifyLiveLove is a participant in the Amazon Services LLC Associates Program, an affiliate advertising program designed to provide a means for sites to earn advertising fees by advertising and linking to amazon.com.