Baby carriers can be such fabulous help to moms! I've had so many different carriers in my 8 1/2 year career as a mother. But not all carriers are created equal. I didn't know this until after I had a baby with hip dysplasia, but a lot the run of the mill baby carriers can actually make hip dysplasia worse because they hold the hips steady at unnatural angles. Here's what you need to know about Hip Dysplasia and Baby Carriers.
*This post contains affiliate links which means I earn a commission on your purchase.*
They're Not All Equal. What You Need to Know about Hip Dysplasia Baby Carriers
The reality is, a lot of babies are born with unstable hips. Most of them develop normally with no interventions, but some babies' hips, like my fourth child, never develop properly and they need massive amounts of interventions later in life to correct a real problem.
One thing you can do to encourage proper hip development is to use good baby carriers! I cringe whenever I see people using Baby Bjorns – for instance. These types of carriers – called crotch danglers – are really BAD for proper hip development.
For more information from the International Hip Dyslpasia Institute on baby carries, carseats, jumpers, etc., please visit here.
I was so pleased today to see Hip2Save share an Amazon link for an ERGObaby Original Baby Carrier in Camel
for only $77.55! They normally cost $115 so this is a great deal! I have heard that you need to be careful when ordering Ergo from Amazon as there are some not so fabulous imitations also for sale. This one looks to be legit, though.
You can see from this image that the baby's hips are held way out. According to the IHDI, this is the proper angle for normal hip development.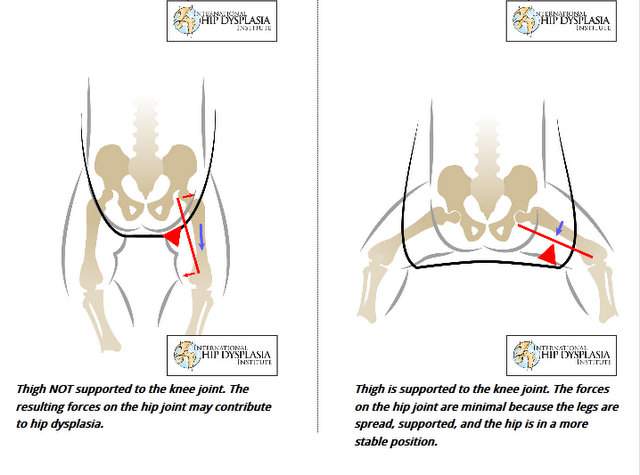 Other fabulous carriers are the Boba 3G Baby Carrier
– my personal favorite!
And the Maya Wrap Baby Sling
. See on Amazon how this sling also holds baby's hips out?
Please do me a favor. When shopping for baby carriers – remember this important information from the IDHI and consider the potential impact on hip development. I can tell you from very personal experience, hip dysplasia is no fun. Baby Bjorns aren't cheap and neither are the other types I've shared here. But for similar money to other carriers, it is possible to get many baby carriers that encourage proper hip development. I hope you will pass this information along to expectant mothers! I don't know for sure that crotch danglers make hip dysplasia worse, but the IHDI recommends avoiding them. And I want to shout this information from the roof top!!
If you liked this post on hip dysplasia baby carries, you might like these posts too:
Preparing for your baby's hip surgery
Entertaining a toddler in a spica cast
Must have supplies for spica cast life