Must Know Tips About Caring For & Feeding Sourdough Starter 
on Jul 03, 2023, Updated Nov 05, 2023
Congratulations! You got your first sourdough starter. Now what the heck do you do with it? Feeding sourdough starter doesn't have to be complicated, but there are a few tips and tricks that will help you be more successful!
Beginner's Guide to Caring for & Feeding Sourdough Starter
Here's the good news! Making a delicious sourdough bread will turn you into your family's hero. There is nothing better than freshly baked bread, and sourdough is particularly delicious.
The best part – all you need to bake the most delicious bread is sourdough starter, water, flour, and salt. That's it!!
And here's the bad news. Sourdough can take over your life. Oh the feeding! It's always hungry. Always wants something. Sourdough starters are like children…always want something!!
But the best part about sourdough starter – unlike children – you can just put it away anytime it gets to be too much by storing it in your fridge!
This post has been on my mind for many months, ever since I got my first sourdough starter in the mail over a year ago and had to figure out how to feed and maintain it. Learning about sourdough can take a long time.
Since then, I've made about every error you can make with sourdough, but somehow my starter lives on. I'd like you to learn from my mistakes, so here's what you need to know about feeding your starter, how to store your starter, and what to do with the remaining starter as well. If you want to master that starter, these tips are exactly what you need!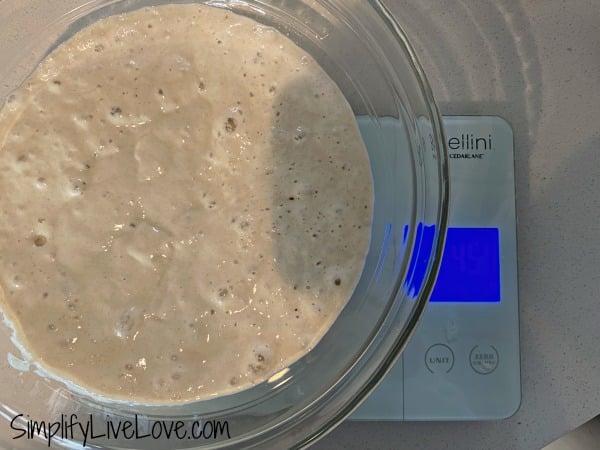 Sourdough Starter Feeding Tips & Tricks
Pin this now to find it later
Pin It
Feeding your starter is easiest if you use a kitchen scale. I resisted using my scale for many months, but it really yields the best result if you measure in grams versus using measuring cups. Not only do measuring cups yield very different results in my experience, but they also get sticky and are a pain to clean.
Must Have Sourdough Starter Supplies
Digital scale – this is my favorite scale!
Measuring bowl – my favorite, durable glass nesting bowl set
Two jars (one for the active starter and one for the discard), I recommend 1/2 gallon, wide mouth jars

Rubberbands
Easiest Way to Feed Starter
To feed your starter, always start with it at room temperature. It usually takes one to two hours at room temperature to reach room temperature, so take it out of the fridge a couple of hours before you plan to feed it.
Place a bowl on the scale and zero out the measurements. You don't need a larger starter in the beginning, you will grow it as you feed it. Measure out starter – you may have around 50 grams starter.
Once you've added 50 grams of starter, zero the scale again and add 50 grams water. Now zero the scale one more time and add 50 grams flour.
You'll want to make sure your container is large enough so you can thoroughly stir it without getting starter all over everything.
If you don't have a scale and want to use measuring cups:
measure out ¼ cup starter

add ¼ cup water

add

½ cup flour

stir well
Technically, the feeding process goes by weight. Since starter and water are heavier than flour, if you're using measuring cups, you will need more flour to reach the same weight.
Watch the Starter Expand
After you've measured all three ingredients, mix well with a spatula or a wooden spoon, then transfer to a jar and cover with a piece of cheesecloth held in place with a rubber band. Draw a mark on the jar to note the level of the starter or place another rubber band at this level. This will make it easier for you to assess when your starter has doubled in volume and is ready for use.
Put the jar in a warm spot. Ideally the temperature will be between 70-85 degrees, and watch as it activates, bubbles, and rises. Feed it every 12 hours until it has doubled in volume. Depending on how vigorous your starter is, this can take as few as one feeding or as long as several days.
If you're using measuring cups and are having a hard time getting your starter to double, try using a food scale. Seriously, switching to a food scale made all the difference for me.
For the second (and all subsequent) feedings, repeat the above process. You'll want to discard about half of the starter and feed again. Measure out the remaining starter and feed the same weight of flour and water.
Fun fact: don't actually discard the discard between feedings. Keep it in a different jar and store in your fridge. You can use it for all kinds of baking later on, or feed it again and turn it into an active starter.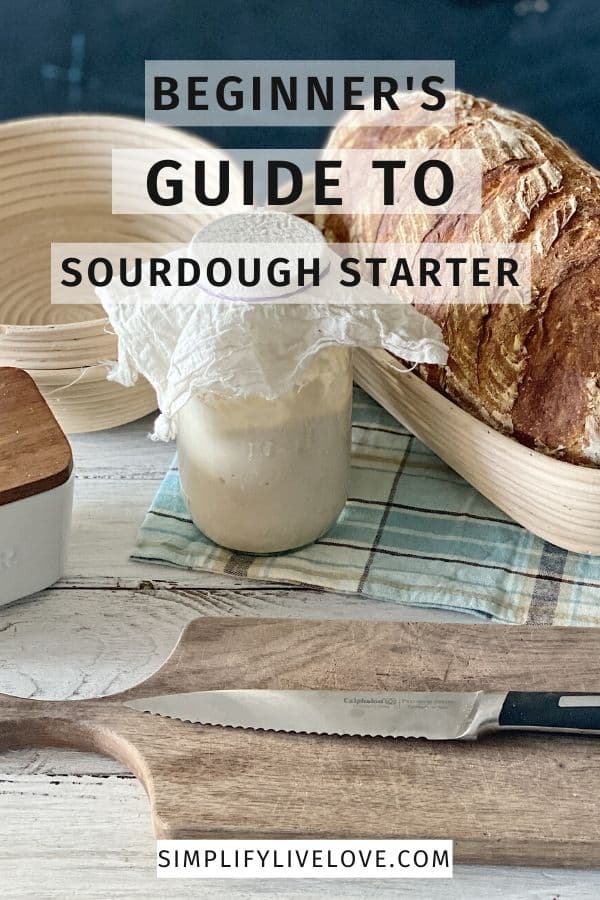 How to Store Fed / Unfed Starter
With a little care, a vigorous starter, and a good routine, baking sourdough bread can become second nature. Here's what you need to know.
Store Unfed Starter (discard) in the Refrigerator
To maintain your starter, It's best to store it in the fridge until you're ready to use it. Then a c
ouple days before you want to bake, take the starter out of the fridge and let it come to room temperature. It generally takes about one to two hours to come to room temperature. Depending on how vigorous the starter is, it can one to three feedings (or more) to get it ready to bake.
Store Fed Starter at Room Temperature While You're Feeding It
While you're feeding it to get it ready for baking, you'll want to store the starter at room
temperature the entire time. After you're done baking, put the starter back in the fridge to keep it until the next time you're ready to bake. Then start the process over again.
If you're baking every week, you don't have to do anything to maintain your refrigerated starter. But if you intend to keep it in the fridge for a long time before baking, you should feed it once a week.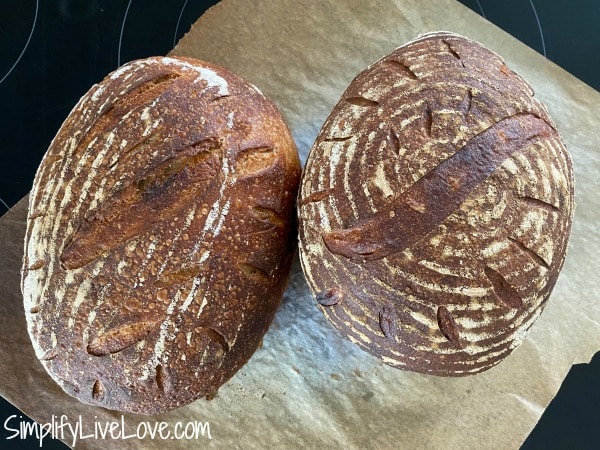 When to Bake with Your Starter
I like to keep my working starter in a ½ gallon mason jar. Store it in a warm spot and watch it rise. When your starter is bubbly and has doubled within the 12 hour feeding period, it's time to bake!
Most sourdough recipes call for at least once cup of fed starter, but I prefer to bake multiple loaves at a time, so I generally start feeding about 225 grams of starter when I'm preparing to bake. The end goal is to get your starter to double in volume and once it has doubled, you can bake!
Make sure to save at least ¼ cup of starter every time so you have enough to get going again. After you've baked, put a tight lid on the remaining starter and store in the fridge until you're ready to start the process all over again.
Frequently Asked Questions about Sourdough Starter
What is Sourdough Discard?
You may notice that some recipes call for sourdough discard, and other recipes call for fed starter. The fed starter is what you need to bake bread. The discard can be used for many other purposes including cakes, muffins, corn bread, waffles, biscuits and more.
When you're measuring out starter to feed, any leftovers become discard. The discard becomes fed starter when you start feeding it. Store your discard in the fridge.
What kind of flour should I use?
You can use about any type of flour you want: all purpose flour, wheat flour, rye flour, einkorn flour etc. My family prefers white flour, so I use a high quality unbleached all-purpose flour, preferable organic. I also really like a rye mix sourdough, so I usually have two starters going at any one time – one white and one wheat. You can switch back and form the two simply by changing the type of flour you use to feed.
Can I stir my starter with a metal spoon?
It's recommended that you stir your sourdough with nonreactive spoons in non-reactive bowls. That means, use spatulas or wooden spoons and store the starter in glass bowls or jars. The reason for this is that sourdough is made of acid and acid reacts with metal. I wouldn't make a habit of using metal bowls or spoons, but don't despair if you do once or twice.
What is that brown liquid on top of my starter?
When your starter is hungry, it will form a liquid called hooch which collects on top of the starter. You can dump the hooch off or stir it into your starter. It doesn't mean anything is wrong with your starter, but does indicate that the starter is hungry.
I haven't fed my starter in months. Is it dead?
A good feeding schedule means feeding your starter at least once a week. But I will admit that sometimes I don't feed my starter for months at a time and have been able to resurrect it. If you have a completely neglected starter it's possible to bring it back to life.
First dump off the hooch, then feed every 12 hours in the manner described above. It may take multiple days of feeding to get it back to good health, but it's totally possible. That said, if your starter is moldy or smells really bad, you will want to dump it and start over with a new starter.
Should I put my starter in a sunny window?
You want to keep your starter in a warm spot, but yeast and sun don't mix well. So if you
put in a sunny window, it's a good idea to place the jar in a box or other opaque container to keep it out of direct sunlight.
And that's pretty much the basics of feeding and maintaining a sourdough starter! Now that you have the basic how to, you can get started and soon you'll be enjoying homemade sourdough bread.
What to do with Your Sourdough Starter
Simple & Delicious Sourdough Bread Recipe with Sample Timelines
Fluffy, Flaky Sourdough Discard Biscuits
Delicious Sourdough Dinner Rolls Made with Sourdough Discard
Sourdough Blueberry Crumb Cake
Sourdough Stuffing Recipe with Roasted Red Onion, Kale, and Sausage
Yield: 1 cup fed starter
Beginner's Guide to Caring for & Feeding Sourdough Starter 
The easy guide to feeding sourdough starter
Ingredients
50 grams unfed sourdough starter
50 grams water
50 grams flour
Instructions
Measure out your starter on a digital scale. You want equal weights of starter, flour, water.
Note the weight of your starter and zero out the scale.
Add the same weight of water and zero out the scale.
Add the same weight of flour.
Stir well to combine then place the fed starter in a jar. Cover with a piece of cheesecloth secured by a rubber band.
Note the level of starter by drawing a line on your jar or by placing a piece of colored tape at the starter level.
Put the jar in a warm spot. If it doubles in 12 hours, you're reading to bake. If it doesn't double, you'll need to feed it again.
To feed again, discard half the starter, weigh the remaining starter, and begin the process over again.
Keep the discard in a covered jar in the fridge.
Notes
If you don't have a kitchen scale, a good rule of the thumb is to use measure out double the flour since flour is not as heavy as water or starter:
1/4 cup starter, 1/4 cup water, 1/2 cup flour.
Nutrition Information:
Yield:
1
Serving Size:
1
Amount Per Serving:
Calories:

272
Total Fat:

1g
Saturated Fat:

0g
Trans Fat:

0g
Unsaturated Fat:

1g
Cholesterol:

0mg
Sodium:

4mg
Carbohydrates:

57g
Fiber:

3g
Sugar:

0g
Protein:

8g
Nutritional data is provided as a courtesy, but is not always correct.