Looking for a good breakfast casserole that's not mushy but is still delicious? I think you will like this recipe. With a 10 minute prep, it's really easy and perfect for brunch or breakfast for dinner!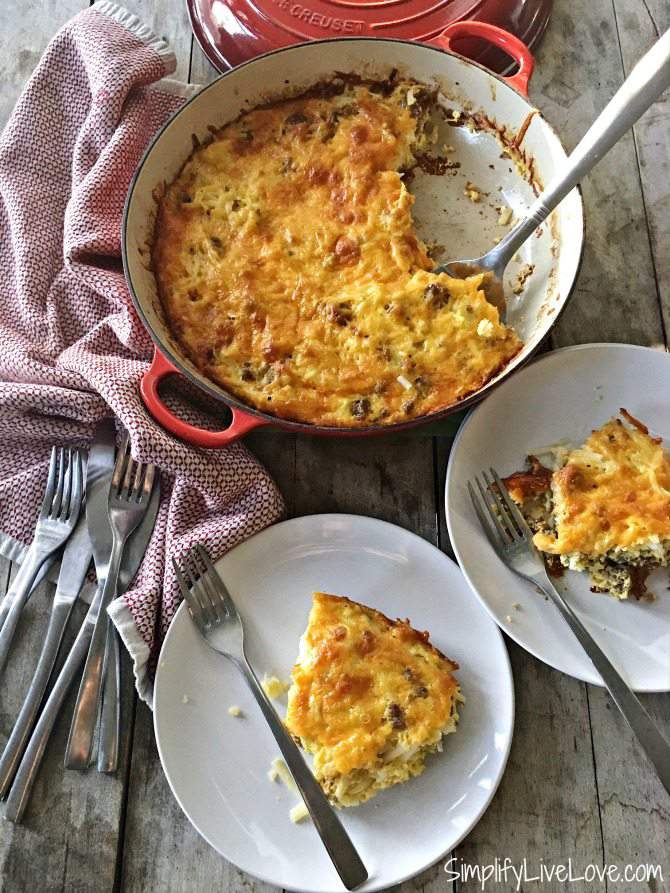 *This post contains affiliate links. Thank you for supporting my site.*
Make Ahead Breakfast Casserole That's Not Mushy!
I love the ease of breakfast casseroles, but was never satisfied with them before because I think they are "mushy." You know what I mean, right? I'm a texture gal. I can't stand mushy textured food. I think anything that resembles oatmeal is gross…and I have really tried to like it because I know it can be so healthy and frugal – but I. Just. Can't.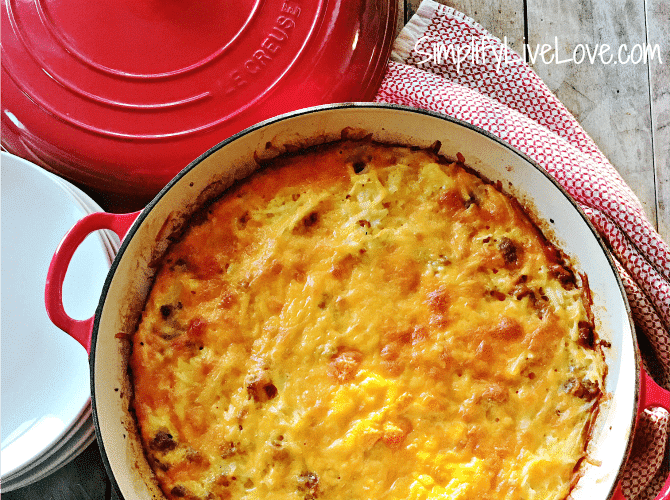 So normally, I am not a fan of the breakfast casserole, But, I attended a baby shower where this egg casserole was served and I loved it. I'm convinced that the difference is using potatoes instead of bread. Bread is mushy and potatoes are not! So if you want a make-ahead breakfast casserole that's not mushy, this recipe is for you!
Here's how to make a breakfast casserole that's not mushy. It's perfect for brunch or quick weeknight dinner!
Brown sausage and spread in lightly greased 9 X 13 dish. I use my Le Creuset 5 qt braiser. It's nonstick, oven safe, and so pretty!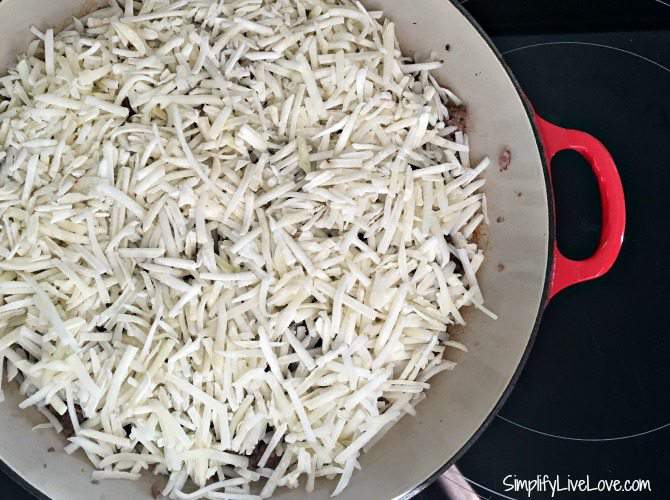 Spread potatoes over sausage. Combine eggs, milk, salt, pepper and pour over hash browns.
At this point, you can cover and refrigerate overnight. Then sprinkle with cheese and bake uncovered at 350 degrees 35-45 minutes. Or, you can go ahead and cook it immediately too! Your call.
These tools make this breakfast casserole a snap!
Grab your printable breakfast casserole recipe.
Egg Casserole that's not too Mushy
Ingredients
1 lb. regular sausage
1 lb. frozen cubed or shredded frozen potatoes
6 eggs
1 1/4 cup milk
1 tsp salt
1/2 tsp pepper
1/2  to 1 lb. grated cheddar cheese
Instructions
Cook the sausage in an oven proof pan and drain the fat.
Combine the eggs, milk, salt, and pepper, and whisk well.
When the sausage is cooked, cover with the frozen potatoes, then pour the egg mixture on top. Stir well.
At this point, you can place the casserole in the fridge over night and cook in the morning.
Before you cook it, add the shredded cheese.
Cook at 350 for 35-40 minutes.
Or, cook it immediately and enjoy!
Nutrition Information:
Amount Per Serving:
Calories:

2478
Total Fat:

162g
Carbohydrates:

110g
Protein:

146g
Want more delicious make-ahead breakfast recipes? Try these.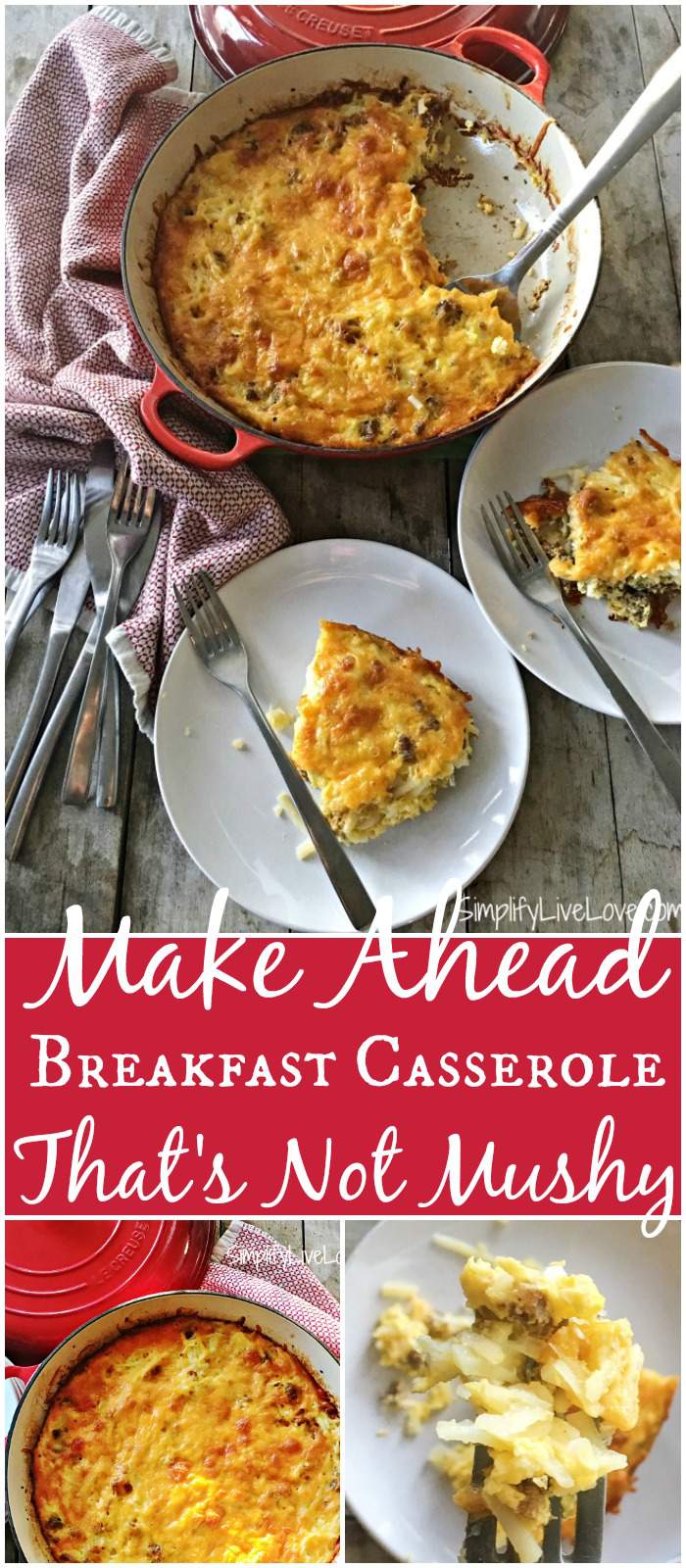 SimplifyLiveLove is a participant in the Amazon Services LLC Associates Program, an affiliate advertising program designed to provide a means for sites to earn advertising fees by advertising and linking to amazon.com.