Keep the mess and heat out of your kitchen with this quick and easy way to freeze corn!
I love freshly frozen corn for use in taco soup, vegetable soups, and other recipes as well. We (me, hubby, father-in-law, kiddos) froze 50 quarts of corn a while back in fewer than 3 1/2 hours! Total cost – $1.25 and time! Three and a half hours of time was the biggest cost, but that's all the time it took to shuck it, clean it, boil it, cut it off the cobs, bag it, and store it! I was shocked we got it done so quickly, especially since it's usually all day affair featuring me and other female relatives. Turns out men are very hard workers and pretty industrious! Here's how we did it!
How to Freeze Corn
We've been pretty lucky the last couple of years to have awesome neighbors who grow the corn for us. We just have to show up and pick it out of the field near our little homestead. We brought the corn home in our tractor and then involved the whole family in shucking and cleaning in the shade of the garage. While the water came to a boil in the outdoor cooker, everyone was busy in the garage.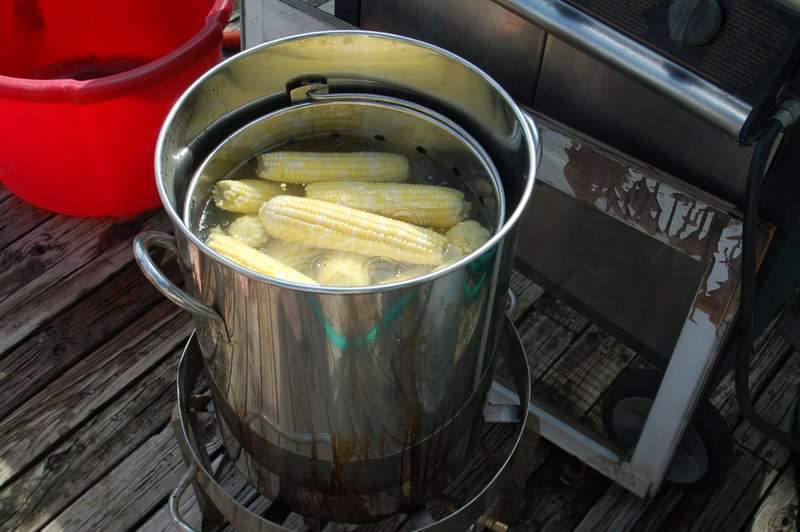 The real secret to keeping the mess out of your kitchen is to clean and cook the corn outdoors in an outdoor cooker. Seriously, if you freeze a lot of corn, invest in an outdoor cooker! For real! Boiling the corn outdoors keeps my kitchen so much cooler and cleaner, plus the pot is so big I can cook so much more corn at once. I love using the outdoor cooker for freezing corn. Boil for 4-5 minutes (after you've shucked and cleaned it).
Cool in a big, clean tub until you can handle it. It's helpful to use ice to cool the corn more quickly.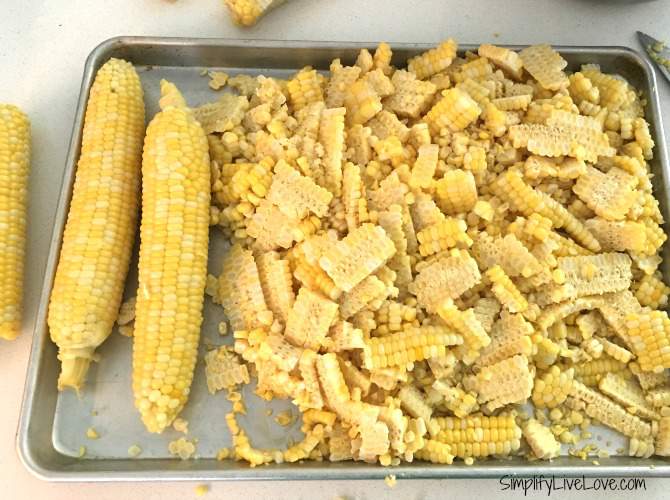 Take it inside to cut off the cobs. I've used a Pampered Chef Corn Slicer in the past and also a knife to cut the corn off the cobs. Cutting the corn off the cobs is the worst part I'm excited to try out the Kuhn Rikon Corn Zipper next time I freeze corn. Have you tried any special corn cutters?
Bag it up, clean off the bags, label them and freeze! I use quart bags because I have a large family. But you can use whatever size baggies you'd like.

Quick & Easy Way to Freeze Corn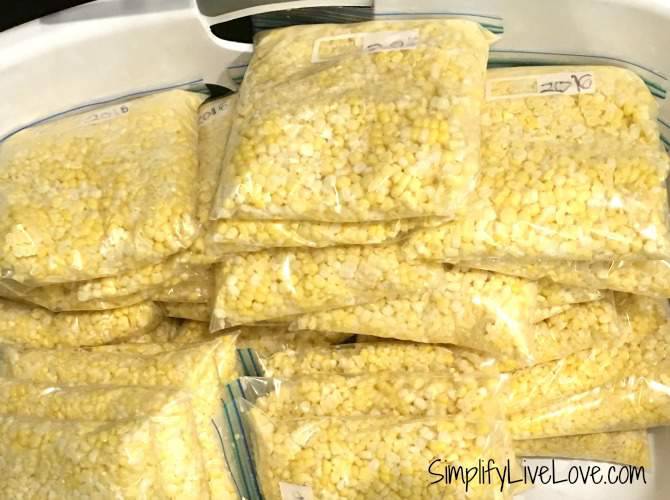 Keep the mess outside with this quick and easy way to freeze corn
Instructions
Bring water to boil in the largest pot you have.
Shuck, clean, and cut off any bad spots.
Once the water is boiling hard, add corn and let the water return to a boil. Once the water is boiling again, boil the corn for 4-5 minutes.
Cool the corn in a large pot using cold water and ice until the corn is cool enough to handle.
Cut the corn off the cobs and bag the corn. Flatten the bags, clean, and label then.
Freeze!
Total cost for 50 quarts of corn: $1.25 for the freezer bags because I scored a super sweet deal. 30 minutes to pick. 3 1/2 hours to process. 15 minutes to tidy my kitchen. Those numbers make me happy. And my father-in-law's sweet corn isn't even ready yet. If we can keep the raccoons out, we may have more. 🙂
Do you freeze corn? Have you ever used an outdoor cooker? This is our go-to method for freezing corn.
SimplifyLiveLove is a participant in the Amazon Services LLC Associates Program, an affiliate advertising program designed to provide a means for sites to earn advertising fees by advertising and linking to amazon.com.