Are you looking for easy summer fruit snack ideas that your kids will LOVE? Make them Fresh Fruit Waffle Cones and check out this the other great ideas to make eating fruit fun this summer!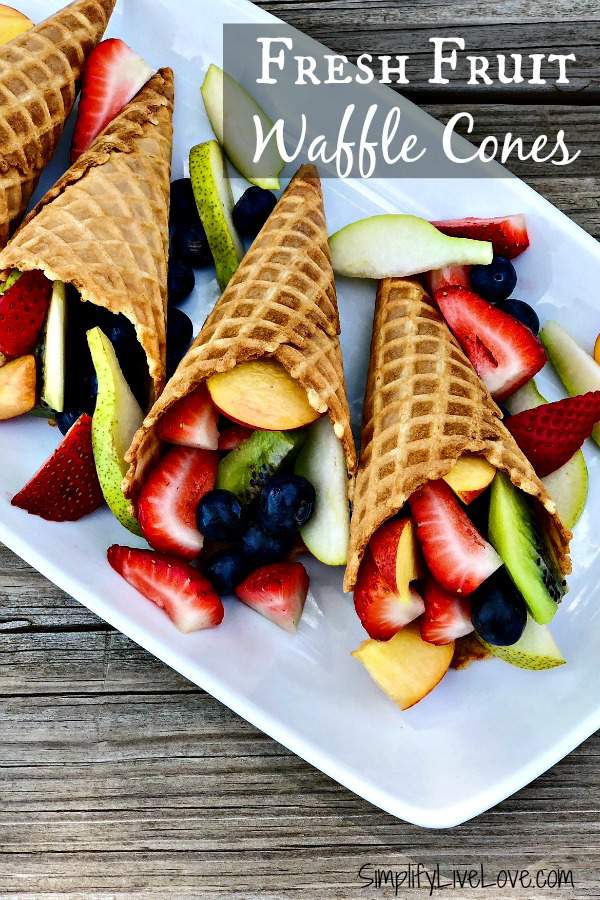 Fresh Fruit Waffle Cones Make an Easy Summer Fruit Snack
Does anyone really have trouble getting kids to eat fruit? I sure don't. In fact, I have to sometimes yell at my kids for eating too much fruit. They're eating me out of house and home right now! It's hard to get upset over eating too much fruit, but sometimes, enough is enough already.
That's one reason I love these fresh fruit cones. It stretches the fruit a little bit further! Instead of each kid eating one peach, one apple, a quart of blueberries, and a bunch of grapes, I can cut up a reasonable amount of everything and serve them a little bit less. They really don't need to eat all day long!
My kids love fruit in waffle cones. Waffle cones make everything better, don't you think? Maybe if I was a really nice mom I would get all fancy and dip the cone in chocolate and sprinkles, but I'm not really all that nice. 😉
Aren't they pretty? To make these, I just filled medium-sized waffle cones with blueberries, blackberries, grapes, strawberries, and peaches, kiwis, and apples.  Then we ate them with fresh whipped cream. So tasty! the sky's the limit as far of what you can put in these fun fruit cones – and instead of whipped cream, you could also add ice cream. These fresh fruit filled waffle cones are totally easy and versatile.
I'm sure you don't really need a recipe to learn how to make fresh fruit waffle cones, but just in case, here you go!
Ingredients
1 cup grapes
1 cup berries
1 cup strawberries
1 cup apple, sliced
1 cup peaches, sliced
Waffle cones
Fresh whipped cream, optional
Instructions
Clean and prep all fruits.
Add to waffle cones.
Serve with fresh whipping cream, if desired.
Enjoy!
Nutrition Information:
Serving Size:
1
Amount Per Serving:
Calories:

533
Total Fat:

22g
Sodium:

1001mg
Carbohydrates:

84g
Sugar:

53g
Protein:

6g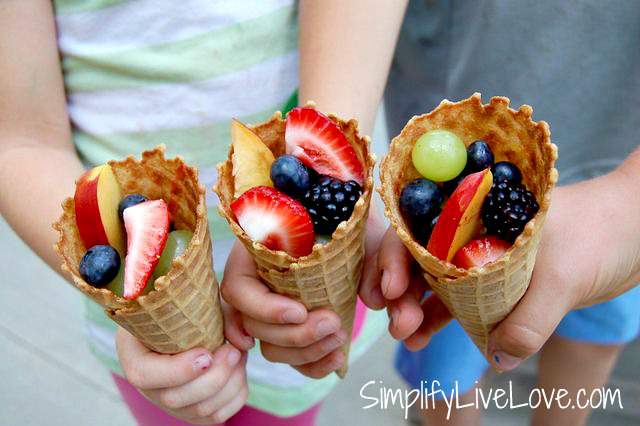 Looking for more summer fruit snack ideas? Here are several to enjoy!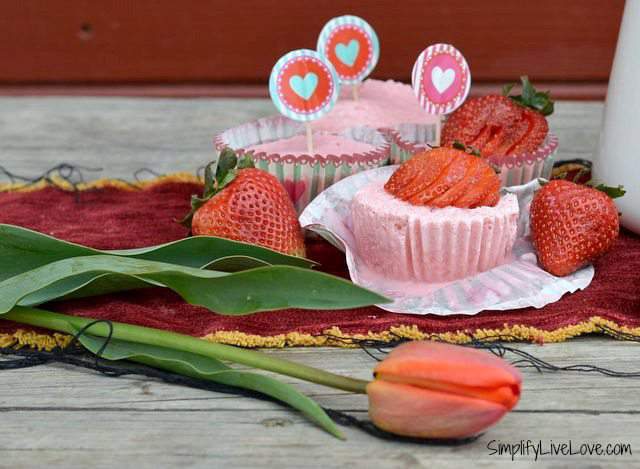 Healthy 4 Ingredient Fruit Dip
What fruits would you put in these delightful fresh fruit waffle cones?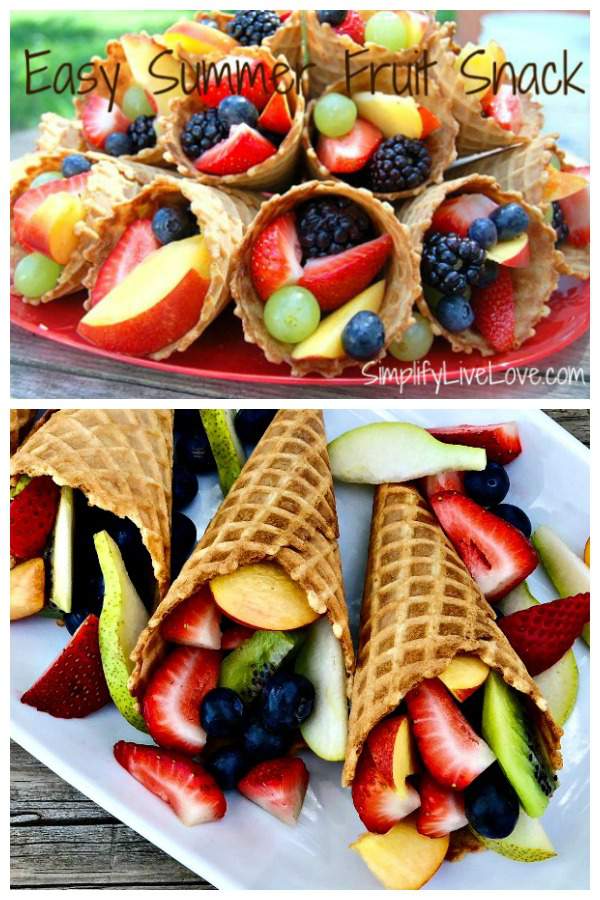 SimplifyLiveLove is a participant in the Amazon Services LLC Associates Program, an affiliate advertising program designed to provide a means for sites to earn advertising fees by advertising and linking to amazon.com.