Are you wondering how to kill the Colorado Potato Beetle organically? If you have Colorado Potato Beetles on your potato plants, you will want to follow this advice to get rid of them before they decimate your potato crop!
The Colorado Potato Beetle

I'm having a lot of trouble with bugs in my garden this year. So far, I'm battling the Cucumber Beetle, the Colorado Potato Beetle, and I'm also working on Squash Bugs and Japanese Beetles. It's a bad, bad year for beetles. I really try hard to maintain organic methods in my garden. I don't want to smell the chemicals, ingest the chemicals, or feed them to my kids. I also don't want to kill all the good bugs that are working in my favor. Luckily, it doesn't seem that hard to kill the Colorado Potato Beetle organically, provided you find them early and strike hard!
How to Kill the Colorado Potato Beetle Organically
Left unchecked, the Colorado Potato Beetle can be deadly to your potato crop. They also like tomatoes and eggplants so watch for them there, too. Here are a few things I did to kill the Colorado Potato Beetle organically.
First, I covered my potatoes with straw mulch – mulch encourages good bugs to move in – bugs that eat the Colorado Potato Beetle. Straw mulch is also good at covering the potatoes and helps to control moisture too!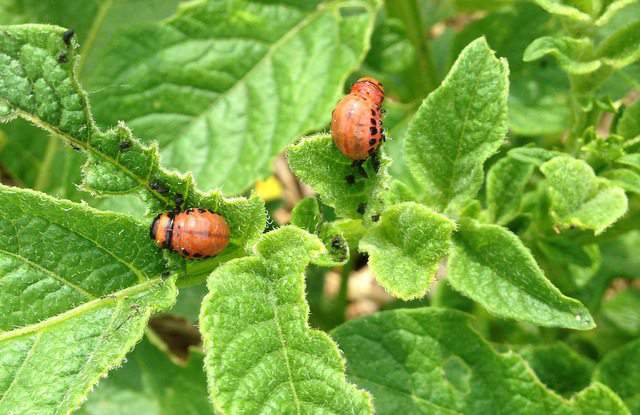 Next, I paid attention! I had never heard of the Colorado Potato Beetle until my friend told me that SOMETHING was eating her potatoes. Once she told me that, I took a long, slow walk through my potato plants and found the beetle larvae. I still have not seen an adult Colorado Potato Beetle, but for days I walked through my potatoes and killed every single larvae I could find.
Some were bigger, like the fatter larvae in the pictures above, and some were smaller – like this tiny one pictured here.
To kill them, I handpicked them. Some, like this teeny one, I squished between a leaf.
Others, I drowned in a bucket of soapy water. Since I didn't want to touch some of them, I just removed the entire leaf and dropped it all in the water. Then, I made sure to remove the leaf from the bucket, so they would be sure to drown. Aren't they nasty looking?
Next year, I will rotate my potato crop at least 200 feet from its current location. I'm also thinking seriously about introducing some parasitic nematodes
to my garden to help with bug control as well. I have read that they will help with all kinds of garden pests – cucumber beetles, Colorado beetles, and even Japanese beetles! I need these nematodes in my garden for sure.
I haven't seen a Colorado Potato Beetle or Larvae in a couple of weeks. I am still patrolling daily with eagle eyes to make sure they stay away. I'm pleased that they seemed relatively easy to get rid of and thankful that my friend made me look for them. If they had matured and laid more eggs, I'm sure they would have been much harder to destroy. And who knows, next week, I may be singing a different song, but today, I am happy that I haven't seen any evidence of these nasty bugs for many days!!
And look what I harvested from my garden today! Oh yum! I'm looking forward to fried potatoes tonight!
For a more in depth discussion of the Colorado Potato Beetle, head over to the Vegetable Gardener's website. They discuss other fun methods for destroying this nasty pest.
Fro more gardening and homesteading posts, start here:
How to Kill Cucumber Beetles Organically
How to Plant Potatoes using the No-Dig Method
Have you dealt with Colorado Potato Beetles? What did you do to kill them?
Linking up: