Need a quick breakfast idea? This German Pancakes recipe has long been a staple in our house. We almost always have the ingredients on hand and my kids love it every time. If you're looking for an easy recipe that's perfect almost every time, try it!
German Pancakes Recipe Perfect for Breakfast, Brunch & Dinner!
I was drawn to this recipe because it's quick, easy, and frugal. You really only need eggs, milk, and flour to make these pancakes, though vanilla and salt make a nice addition too.
This recipe quickly became a family favorite. My kids love watching the pancake puff up in the oven and they also love any excuse to eat pure maple syrup. When I first started serving this recipe, I made my own buttermilk syrup which was also super delicious!
What is a German Pancake
I originally got the recipe for German pancakes from my dear friend Stacee. You may have heard of a Dutch baby pancake, and honestly, I think they're pretty much the same thing. It's kind of a custardy popover that we all love.
Making this recipe is really easy! Although I have shared it many times, I've adapted the recipe somewhat as I learned a few things over the years.
One thing I learned recently is that preheating the oven is not necessary! I've found they rise better when they are placed in a cold oven that slowly comes to temperature. So, don't preheat your oven, and do use room temperature ingredients to get the most rise out of this recipe!
How to Make German Pancakes
First, using warm melted butter in your pan is key as it helps them rise in the oven. I like to melt 3 tablespoons of butter in a cast iron skillet over low heat while I whisk the eggs and prepare the other ingredients.
In a medium bowl, whisk 6 large eggs. I've seen recipes that call for fewer eggs, but using 6 eggs really gives this recipe a nice custardy texture. Mix in milk and pure vanilla extract too.
Since we have backyard chickens, ducks, and more who lay us eggs, we always have eggs on hand. Duck eggs are especially tasty in this recipe too, if you have them!
In a large bowl, combine flour and salt. If you'd like to add a bit of sugar, you can, but I usually omit. Add about ⅔ of the egg mixture and whisk well to combine. Then add remaining egg mixture and whisk it in too, trying to get all the lumps out of the batter.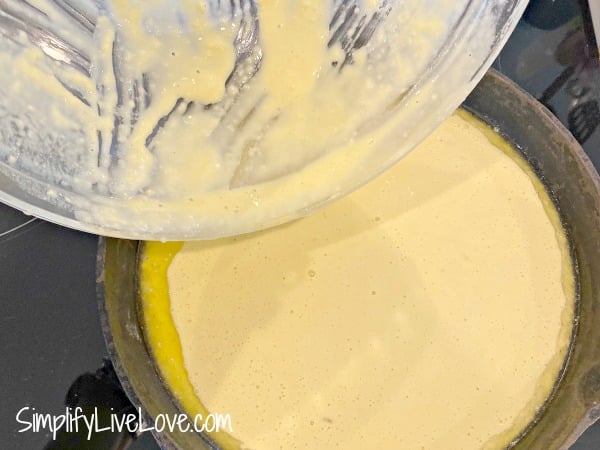 Be careful pouring the batter in the hot pan you melted the butter in, place it on the bottom rack of your oven, and then turn your oven on and let it slowly heat to 375 degrees. Depending on how long it takes your oven to heat up, this recipe could take anywhere from 30-40 minutes to bake.
Once the pancake is really poofy and a lovely golden brown color, remove it from the oven. Cut into slices, top with powdered sugar, and serve warm with your choice of toppings.
Here are answers to a few questions people have asked me over the years about this recipe:
Are German Pancakes really German?
Having spent almost ten years in Germany, I can tell you that I never had a recipe like this. German pancakes are pretty identical to Dutch baby pancakes – perhaps being called Dutch baby because of the similarity of Dutch to Deutsch (the German word for German).
Upon research, I learned that German Pancakes originated in the 1900s in a restaurant in Seattle called Manca's Cafe. Wikipedia has the story, if you'd like to read more about it.
Can you freeze German Pancakes?
You can absolutely freeze German pancakes. They don't normally last that long at my house, but feel free to wrap and freeze. When you want to eat them, just pop them on a baking tray and bake at 350 until heated through. Of, you can heat them in the microwave if you prefer.
Why won't my German Pancakes rise?
If you're having trouble getting your German pancakes to rise, make sure that your ingredients are at room temperature before baking (including your eggs). Whisk the eggs before combining with other ingredients, and make sure your batter is well mixed before pouring it into the baking dish.
Unfortunately, whole wheat flour will not rise as nicely as all-purpose flour. I've also found that melting the butter ahead of time produces a better rise than simply dotting a 9×13 pan with cold butter and then adding the batter.
How to know when the German Pancakes are done
Your German pancakes will be done when they are really poofy and nicely golden brown. Sometimes you may see melted butter on the top, and that's ok, as long as the center is set. Do know that they will deflate pretty quickly when you take them out of the oven – perfectly normal!
What to put on German Pancakes
Lots of toppings are fabulous for this recipe! We love all of the following toppings:
Maple syrup

Homemade buttermilk syrup

Jelly

Sweet apples

Berries, fresh lemon juice, whipped cream

Nutella

Pie filling

Apple sauce
What to serve with German Pancakes
We generally serve our German pancakes with fruit like the caramelized apples in the photo above, but bacon always makes everything taste better, amiright?
Yield: 8 slices
German Pancakes
A deliciously perfect recipe for breaksfast, brunch, lunch, or dinner! It also makes a great after-school snack. Baked "pancake" - custardy popover.
Ingredients
3 tablespoons butter, melted in an oven safe skilled over medium-low heat
6 eggs, whisked
1 1/2 cups milk
1 1/2 teaspoon pure vanilla extract
1 3/4 cups flour
1/2 teaspoon salt
Instructions
Melt butter in cast iron skilled over medium-low heat. Remove from heat.
In medium bowl, whisk eggs, them combine with milk and vanilla extract.
In a large bowl, combine dry ingredients.
Carefully pour 2/3 of egg mixture into dry ingredients and whisk to combine. Add the remaining egg mixture and whisk until lumps are gone.
Pour mixture in cast iron skillet over the butter and place in a cold oven.
Turn the oven on to 375 degrees and bake 30-40 minutes, or until the pancake is very poofy and golden brown.
Remove from oven, cut into slices, and serve with toppings of choice.
Recommended Products
As an Amazon Associate and member of other affiliate programs, I earn from qualifying purchases.
Nutrition Information:
Yield:
8
Serving Size:
1
Amount Per Serving:
Calories:

235
Total Fat:

9g
Saturated Fat:

4g
Trans Fat:

0g
Unsaturated Fat:

4g
Cholesterol:

155mg
Sodium:

244mg
Carbohydrates:

28g
Fiber:

1g
Sugar:

5g
Protein:

9g
Nutritional data is not always correct.
Want some more quick breakfast ideas? You might like these posts too: