Make Breakfast Fun with Kid-Friendly Granola Fruit Pizza
on Oct 27, 2017, Updated Oct 25, 2023
Make breakfast fun with this kid-friendly granola fruit pizza recipe. Bake the granola "pizza" crust ahead of time, then add Stonyfield® Organic YoKids® yogurt, and fresh fruit! Quick, easy, and delicious!
*Many thanks to Stonyfield® Organic YoKids® yogurt for sponsoring this kid-friendly granola fruit pizza recipe! All opinions are mine.*
Make Breakfast Fun with Kid-Friendly Granola Fruit Pizza
Stonyfield® Organic YoKids® yogurt is something my kids eat almost each and every day. They pack frozen yogurt squeezers in their lunch, and eat Stonyfield® Organic YoKids® yogurt for snacks and breakfast too. We love Stonyfield because it is Non GMO Project Verified, contains no high fructose corn syrup, and has 25-40% less sugar than other kid yogurt. Since we take many steps to reduce sugar consumption at home, I'm happy Stonyfield is reducing sugar as well! (If you haven't heard, Stonyfield recently reduced the amount of sugar in YoKids® cups, smoothies, and Squeezers and their pouches will have up to 35% less sugar in December 2017).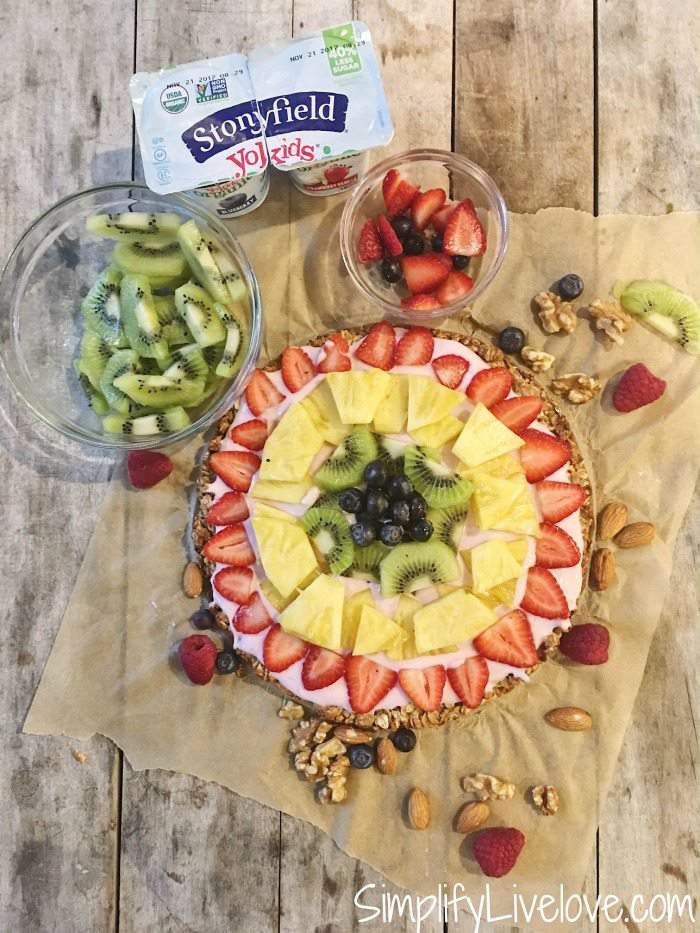 It's almost November and we've entered the dreaded RUT. Eat. School. Eat. After school activities. Eat. Sleep. Repeat. Do you know that rut too?! In an attempt to break out of the breakfast rut, we made this fun granola fruit pizza recently. It's topped with Stonyfield® Organic YoKids® yogurt and my kids' favorite fruit. They think it's delicious! And I think it's a winner because I can bake up the "pizza" crust the day before and the kids top it quickly themselves in the morning. It's also beautiful enough for brunches and parties too (If you do the topping yourself)!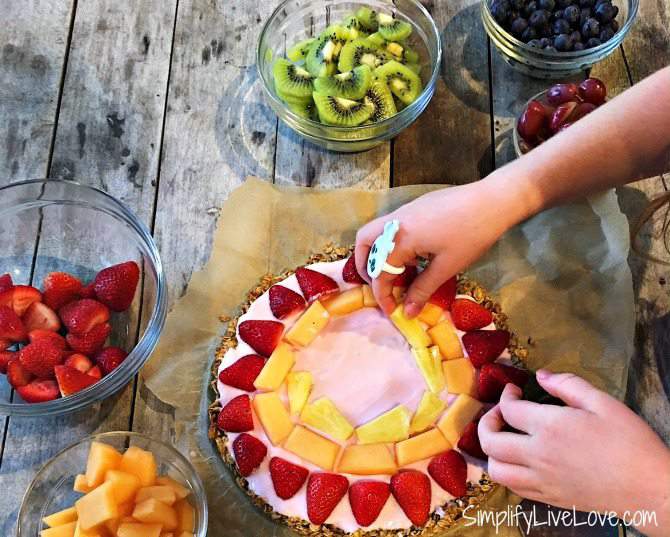 Organic certification means something. When food is certified organic, you can rest assured that no GMO crops touch what you're eating. Organic certification is especially important for dairy and meat products because, to be certified organic, the animals must also be feed NON GMO feed. You know the saying "You are what you eat?" Well, animals are what they eat too. Don't be fooled by Natural, All Natural, etc claims! They don't usually mean anything.
Stonyfield is a Certified B Corporation. That means Stonyfield is concerned about society and the environment, public transparency, and legal accountability. As a B Corp™, Stonyfield uses the power of the food markets to solve social and environmental problems. You can help by voting with your food dollars and buying from companies that practice what they preach.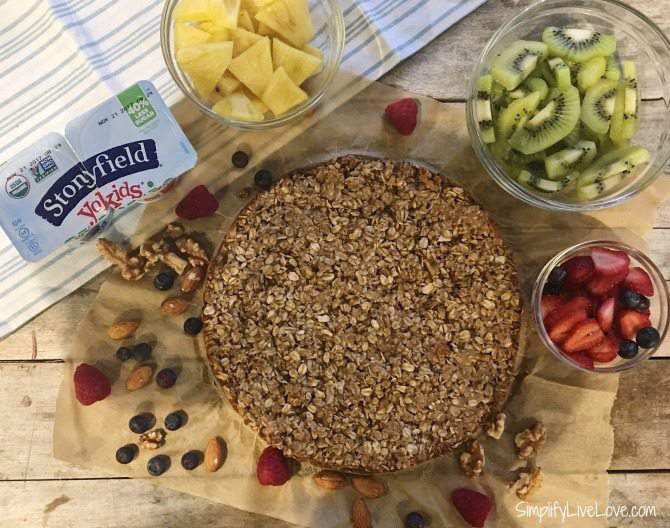 How to Make Kid-Friendly Granola Fruit Pizza
Now that you know why it's important to feed your kids organic food when you can, let's make this yummy breakfast! To make mornings go more smoothly, I recommend baking the homemade granola crust the night before. It doesn't take long, but having it prepared ahead of time just makes busy morning easier.
To make the granola crust, simply mix the dried ingredients (oats, flour, nuts if you want them, cinnamon) together in a medium sized bowl.
Whisk the wet ingredients (coconut oil and honey) together and fold into the dry ingredients.
Press the crust out on a 8-9″ spring-form pan and bake for 12-15 minutes until golden. Then cool completely.
Now, spread the yogurt out on the granola crust and add fruit. Slice and serve!
Make Breakfast Fun with Kid-Friendly Granola Fruit Pizza
Ingredients
1 1/2 cups old fashioned rolled oats
1/2 cup white whole wheat flour
1/2 cup chopped nuts (walnuts & almonds) optional
2 TBS melted coconut oil
1/2 cup raw honey
1/2 tsp ground cinnamon
8 ounces Stonyfield® Organic YoKids® yogurt
sliced fruit
Instructions
Preheat oven to 350 degrees.
Combine oats, flour, nuts (if desired) and cinnamon in a medium bowl and stir to combine.
Whisk together honey and coconut oil, then add to dry ingredients.
Mix well.
Press granola mixture on 8-9 inch springform pan lined with parchment paper.
Bake at 350 for 12-15 minutes, until golden brown.
Cool completely on counter, in fridge or freezer.
Spread yogurt on the granola.
Top with fruit of your choice.
Enjoy!
Nutrition Information:
Amount Per Serving:
Calories:

1402
Total Fat:

43g
Carbohydrates:

231g
Protein:

37g
To learn more about Stonyfield® Organic YoKids® yogurt and their dedication to food and the environment, head over to the Stonyfield website!
This is a sponsored post written by me on behalf of Stonyfield® Organic YoKids®.