Quick & Easy Homemade Ranch Dressing Makes Life Taste Better
on Jun 28, 2019, Updated Oct 25, 2023
A great salad dressing recipe will take your kitchen to the next level and this healthy ranch dressing made with Greek yogurt is just you need! It's true that this Greek Yogurt Ranch Dressing makes everything taste better.
This post is sponsored by Kalona SuperNatural Organics. All opinions are mine.
Healthy Ranch Salad Dressing Makes Life Taste Better
I often hear from people who want to start cooking from scratch or eat organic without breaking the bank. It's easy to get overwhelmed and not know where to start. Today, I'm excited to share this fabulous dressing from scratch to show you how easy it is to start from-scratch cooking and also share our money saving tips for eating organic without going broke.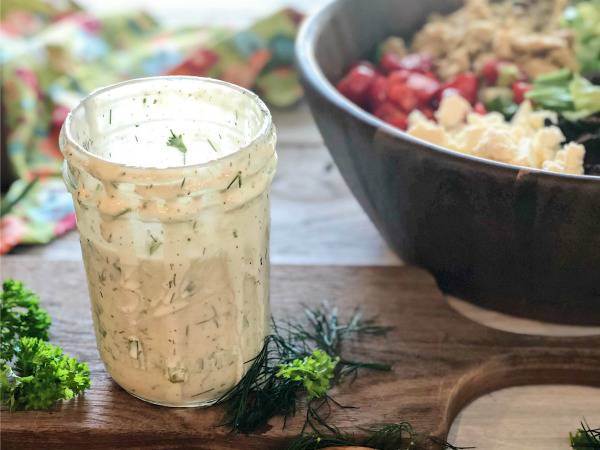 This Homemade Salad Dressing Recipe is the Gateway to From-Scratch Cooking
If you're overwhelmed at the thought of cooking from scratch, I recommend starting with something easy. Recipes that don't require a lot of equipment or ingredients are easy to tackle. Admittedly, this dressing will be easier if you have a food processor, but you can make it with only a lidded jar, knife, and cutting board.
I also recommend starting with a recipe that you know your family will love. And who doesn't love Ranch Dressing? Perfect for salads, dipping vegetables, wings, burgers, French Fries, and more, this flavorful dressing is a huge hit at my house.
Why Make Whole Milk Greek Yogurt Ranch Dressing?
You might be wondering why I use Kalona SuperNatural Organic Whole Milk Greek Yogurt in my Ranch Dressing. Have you ever noticed how hard it is to find whole milk Greek Yogurt? Almost everything at the grocery stores around here is non-fat! Blech!
According to Mario Kratz, Ph.D., associate member of the Fred Hutchinson Cancer Research Center and co-author of research published in the European Journal of Nutrition, "consumption of full-fat dairy products is pretty consistently associated with lower body weight, less weight gain over time, and a lower risk of obesity." It fills me up more and tastes better too.
I am a big fan of Kalona SuperNatural's organic whole milk dairy products. Not only are they made locally with milk from small Amish farmers, but they are also non-homogenized and pasteurized at a lower temperature than other dairy products. I think they are a great compromise between raw milk and ultra-pasteurized.
I prefer to use whole milk greek yogurt instead of mayonnaise and sour cream. We're not big fans of mayonnaise and I think the yogurt is healthier. It also tastes better, so sign me up!
Store Bought Salad Dressing
Have you ever looked at the ingredients on store bought dressing? If not, you should. A popular brand of ranch dressing contains MSG and artificial flavors, has 240 calories, 14 grams of fat, and only 1 gram of protein per serving.
To compare, my recipe contains 28 calories, 1 gram of fat, and 3 grams of protein! You guys, there are only 224 calories in the ENTIRE recipe, so EAT UP!
Okay, I'm sold. Tell me how to make Homemade Ranch Dressing!
I promised this recipe is easy to make, and it is. If you have a food processor, start with the fresh herbs and garlic. Pulse them a few times to mince the garlic and easily chop the herbs. Then add remaining ingredients and pulse to combine.
If you don't have a food processor, that's ok! Get out a cutting board and knife. Finely chop your fresh herbs, put all ingredients in a jar, and shake to combine. Done!
If you prefer to use dried herbs, that works too! Then you don't need to chop anything at all and it still tastes great.
How Long Can I Store this Healthy Ranch Dressing?
Store your homemade ranch dressing in an airtight jar in the fridge for up to two weeks. It never lasts that long in my house, but it will keep for a while!
How We Eat Organic without Breaking the Bank
My tips for eating organic without breaking the bank are pretty simple, but not without effort. I'm a firm believer that you can do it if you want! Here's how we save money on an organic diet for my family of six.
Grow a garden – it can be as complex as

my 2400 sq ft garden

, or as simple as a herbs in your kitchen!

Reduce the amount of meat you eat. I think it's really important to eat organic meat, but it's so expensive. To make it more affordable, I find creative ways to

stretch organic meat

. Adding beans or mushrooms or lots of veggies are great ways to use less meat! I also get multiple meals out of one single chicken instead of buying much more expensive boneless chicken pieces.

Obviously, cook from scratch! My husband complains that we have a lot of ingredients, but no food. Cooking from scratch is more work for me, but a win for the family.

Cook in bulk, and always try to have a ready

to-go meal in the freezer

for busy days when you just can't be bothered.

Keep a well stocked pantry / kitchen / freezer so you have what it takes! You can find detailed lists of what I always try to have on hand here –

Time & Money Saving Kitchen Essentials

.

Invest in a few quality kitchen tools. It's true that cooking is easier with the right tools. I don't think you need every appliance under the sun, but there are

13 Time Saving Kitchen Utensils

that make my kitchen time more productive.

Prioritize organic based on the

Clean 15 / Dirty Dozen list

. While it would be wonderful to buy only organic, that's sometimes not possible. Instead, I make sure to buy the dirty dozen organic and don't sweat the clean 15.
Yield: 1 cup
Quick & Easy Ranch Salad Dressing Makes Life Taste Better
A fresh and flavorful garden-to-table salad dressing that will take your kitchen to the next level!
Ingredients
1 cup Kalona SuperNatural Organic Plain Greek Yogurt
1 tablespoon fresh parsley, minced (or 1 teaspoon dried)
1 tablespoon fresh chives, minced (or 1 teaspoon dried)
1 tablespoon fresh dill, minced (or 1 teaspoon dried)
1 teaspoon dried onion powder
1 garlic clove, minced (or 1/2 teaspoon garlic powder)
1/2 teaspoon salt
1/2 teaspoon black pepper
1 teaspoon dijon mustard
1 teaspoon fresh lemon juice
3 tablespoons Kalona SuperNatural Organic Whole Milk, or to desired consistency
Instructions
If using a food processor, pulse the fresh herbs and garlic several times until well chopped. Add the remaining ingredients and pulse to combine. A slightly mounded palmful of unchopped fresh herbs should equal about one tablespoon chopped. I eyeball it.
Add one tablespoon of milk at a time, until you reach the desired consistency. I added about 3 tablespoons for a runnier salad dressing, but would add none to turn this into a creamier dip.
Store in the fridge for up to one week.
To make without a food processor, combine everything in a jar. Mix well or shake to thoroughly combine.
Notes
Feel free to use dried spices in place of the fresh spices in this recipe, but growing your own herbs is a really easy and fun undertaking! I highly recommend growing your own.
Nutrition Information:
Yield:
8
Serving Size:
2 tbs
Amount Per Serving:
Calories:

28
Total Fat:

1g
Saturated Fat:

0g
Trans Fat:

0g
Unsaturated Fat:

0g
Cholesterol:

3mg
Sodium:

127mg
Carbohydrates:

3g
Fiber:

0g
Sugar:

1g
Protein:

3g
Nutrition information isn't always accurate.
I'd love to hear what you think of this Greek Yogurt Ranch Dressing! If you liked the recipe, please share on social media and give me feedback!
Many thanks to my sponsor, Kalona SuperNatural. Please head here to learn all about this wonderful company! How do you eat organic without breaking the bank? I'd love to hear your tips too!