If you're looking for a delicious way to preserve the garden bounty in your garden, try my favorite homemade salsa for canning! I've been making this homemade salsa for years. It's a safe, tried and true recipe, a perfect fresh or canned! Today I'm sharing the easy way to make huge batch of salsa for your garden pantry!
*This post contains affiliate links which means I earn a small commission on your purchase.*
My Favorite Homemade Salsa for Canning – Made Easy!
Welcome to the last Tuesdays in the Garden for the 2018 garden season. I hope you've enjoyed this gardening season and the posts! Today, the TITG gang has some yummy recipes – perfect for helping you put up the last of the garden hauls. Make sure you hop on over to everyone's blog. I know I'm looking forward to all of the recipes!
My contribution this week is my favorite homemade salsa for canning. I've been making this salsa for years and used to really dread it because it can be so time consuming. Chopping, chopping, chopping for hours! A couple years ago, I finally figured out a way to make this salsa recipe so much easier! I'm excited to share that in today's canning tutorial. Enjoy this wonderful homemade salsa – safe for water bath canning and delicious for all uses from cooking to tailgating to parties.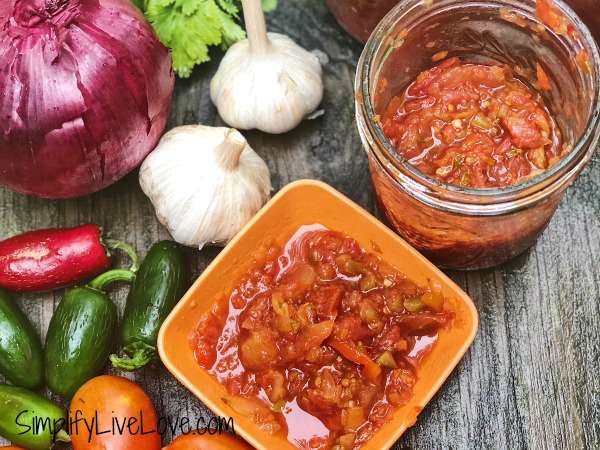 The secret to this easy salsa recipe for canning?
Two things: first, use a food processor! Second, paste tomatoes. I'm a fan of a minimalist kitchen, but when it comes to making homemade salsa for my pantry, I'm all about the time saving devices. My trusty food processor is a life saver for this recipe.
The second secret is to use paste tomatoes – a high quality firm paste tomato that's not watery or full of seeds means I can skip many of the tomato prep steps and just chop the whole tomato. No blanching, no seeding. I use the whole tomato, skin, seeds, and all. Some people might not like the idea of using the skin, but I don't mind. If I see big skin chunks in the salsa, I pick them out, but for the most part, I just use the entire tomato. And that's that!
Here's how to make this yummy homemade salsa
1. Prep the tomatoes, bell peppers, onions, and hot peppers by washing and removing any bad spots. Then use a food processor to quickly and easy cut them up! Use the bottom blade to cut them to a more consistent size. I got this recipe from my Ball Canning Blue Book of Preserving which means it's been tested for the proper acidity.


**NOTE: While I'm always tempted to change up ingredients, it's really important in canning recipes to use the exact ratio of fresh ingredients and vinegar. Otherwise, it's possible to change acidity ratio which can make the recipe unsafe to store. So make sure to follow this recipe exactly.
2. Put all chopped ingredients in a large pot, add cilantro, garlic, and apple cider vinegar. Bring to a boil, then reduce heat and simmer for ten minutes.
While the salsa is boiling prepare you jars. You can either heat them in hot water, or run them through a dish cycle and keep them warm. Also bring water to boil in a water bath canner.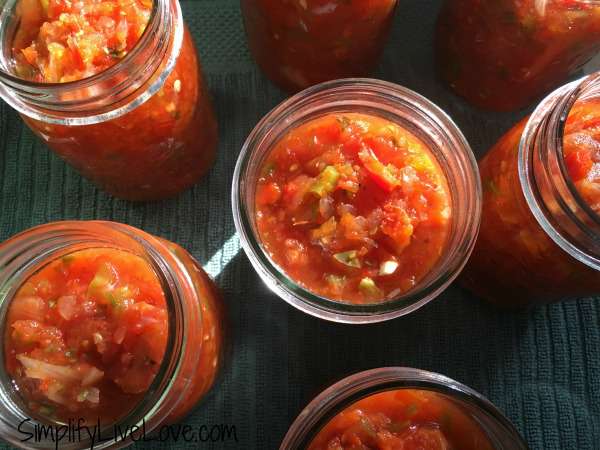 3. Ladle salsa into hot jars keeping 1/4″ headspace. Wipe the jars, add lids and tighten.
4. Process in a water bath canner – 15 minutes for pints or 20 minutes for quarts. Make sure the water covers the jars completely. When the time is up, turn off the heat. Leave the jars in the hot water for five minutes, then remove them from the canner, placing the jars on a towel. Leave enough room between jars so they aren't touching. Resist temptation to check the seal – leave them alone for 24 hours.
5. After 24 hours, check the seal on the jars, remove rings, wipe the jar, label and store!
Yield: 6 pints
My Favorite Homemade Salsa for Canning – Made Easy!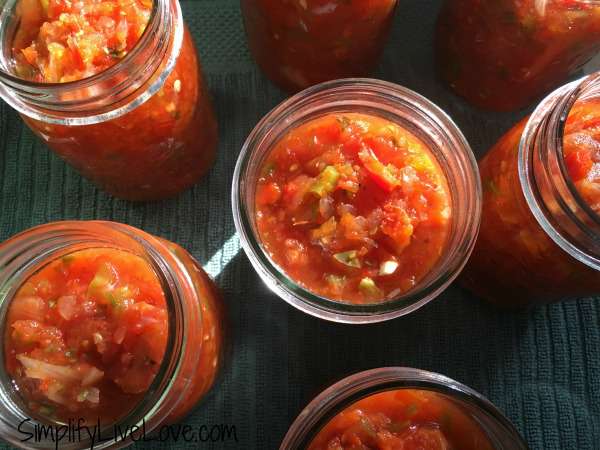 Ingredients
10 cups chopped tomatoes (about 6 pounds)
5 cups chopped and seeded bell peppers (about 2 pounds)
5 cups chopped onions (about 1 1/2 pounds)
2 1/2 cups chopped and seeded hot peppers (about 1 pound)
3 cloves garlic, minced
2 tbs cilantro, minced
1 1/4 cups apple cider vinegar
Instructions
Chop all ingredients in a food processor for quicker chopping. If you're using juicy tomatoes you may want to seed, peel, and core them. I skip this step because I use Roma or other paste tomatoes.
Combine all ingredients in a large pot and bring to a boil. Reduce heat and simmer for ten minutes.
Ladle hot salsa into hot jars making sure to leave a 1/4 inch head space.
Place lids and rings on jars and tighten.
Process pints for 15 minutes in a water bath canner, or quarts for 20 minutes.
Notes
Make sure to wear gloves when cutting and seeding the hot peppers!
This salsa is great with chips and in any recipe that calls for salsa! It's a hit in our house.
Looking for more ways to preserve your garden bounty? Check out these posts:
Crushed Tomatoes the Quick & Easy Way
Grandma's Secret Dill Pickle Canning Tutorial
Homemade Herbed Gourmet Vinegars to Keep or Give
Strawberry Syrup Canning Tutorial
And here are more fall preserving posts from the Tuesdays in the Garden Gang!
Enjoy this deliciousness as we close Tuesdays in the Garden for 2018. I always love these posts and I hope you have enjoyed them too. I'm always sad to see the gardening season close.
Homemade Applesauce from Hearth and Stone
Pear Jam for the Freezer from Frugal Family Home
Bruschetta Topping from An Oregon Cottage
Marina Sauce for Freezing or Canning from Homemade Food Junkie
SimplifyLiveLove is a participant in the Amazon Services LLC Associates Program, an affiliate advertising program designed to provide a means for sites to earn advertising fees by advertising and linking to amazon.com.