How to Cover a Raised Garden Bed to Extend Your Growing Season
on Sep 19, 2017, Updated Oct 28, 2023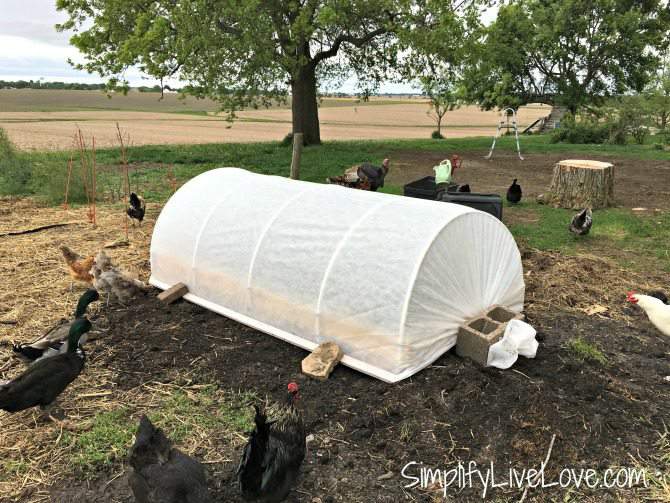 Today, Dan and I are going to show you how to cover a raised garden bed. It's not too hard to do, and since winter will be on us before we know it, now's the perfect time to get to work!
*This post contains affiliate links. Thank you for supporting my site!*
This post is the final installment of Tuesdays in the Garden 2017! I hope you have enjoyed these posts. I know I enjoy writing them. Hopefully, we'll be back in the early spring with more useful posts to help you have the most successful garden ever!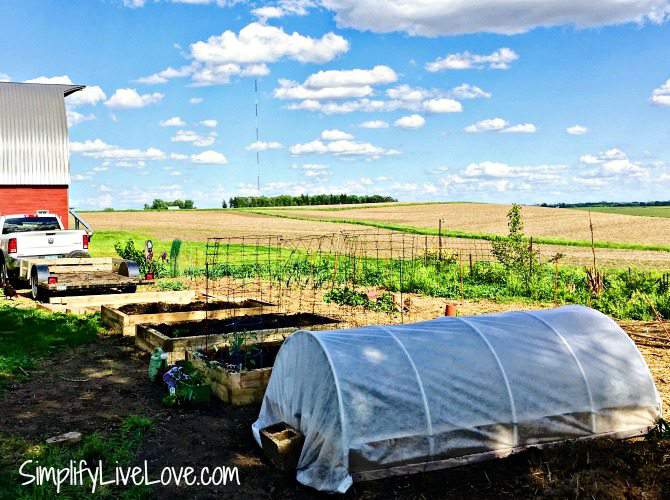 How to Cover a Raised Garden Bed to Extend Your Growing Season
Benefits of Covering Your Garden Beds
There are several good reasons to cover your garden beds – one is to keep off unwanted critters which is the reason I first covered one garden bed this spring. Garden bed covers are a really effective way to keep cucumber beetles off your cucurbit crop and cabbage worms off your cabbages. But another great reason to cover a garden bed is to extend your growing season. Covered beds are an effective way to provide frost and wind protection. You can use them to extend your growing season in the fall and also to give you a jump on planting in the spring!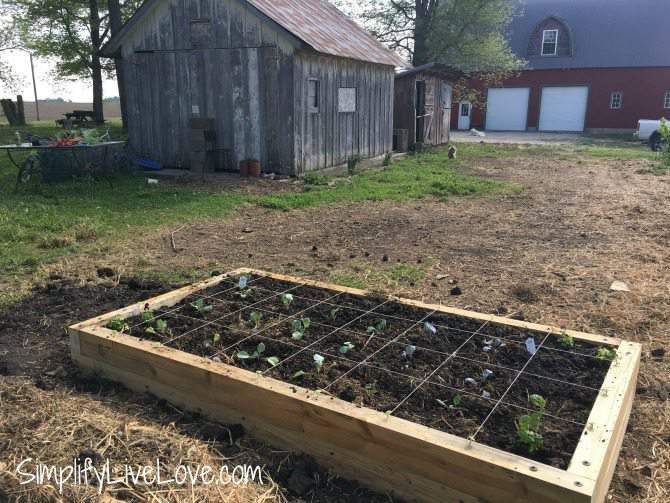 Materials You'll Need to Cover a Raised Garden Bed
2 – 1″x 2″ boards cut the same length as your raised bed
1/2″ pvc pipe that will become your cover – 5 hoops for a 4′ x 8′ bed
10 plastic two-hole pipe straps to attach the pvc pipe to the bed
Frost blanket large enough to cover your bed (we actually used Owens Corning loose fill insulation fabric that we hand on hand for our Oak Tree Homes construction company. It shredded in our first major storm so I'm not sure how it compares in durability to a cover specifically made for a garden.) This 25″ [easyazon_link identifier="B00LB3SC0A" locale="US" tag="sililo-20″]frost blanket by Agribon[/easyazon_link] costs $17 on Amazon and would be enough to cover 2- 4′ x 8′ raised beds.
Staples for the fabric and screws for the pipe straps
You'll also need something to hold the cover in place. We screwed one long side to the bed and then used rocks to hold the other sides in place.
Let's get to it! How to Cover a Raised Garden Bed
Attach 5 pvc pipes to raised garden beds with plastic pipe straps. I had my helpful hubby screw them on with his cordless impact driver. Actually, I didn't have him do anything. He's the genius of this operation. He knew exactly what to do. 😉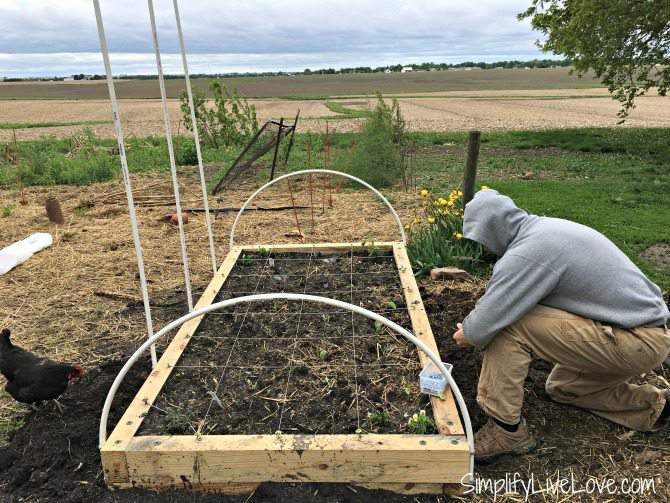 Next, bend the pipes over the garden bed and attach the other ends with straps.
Continue bending pipes until they're all bent. 😉 Now, you'll need to measure your loops to see how big your fabric needs to be. We added an extra foot to make sure we had enough after we finished stapling it to the boards.
Measure and cut two boards (we used 1″ by 2″ scrap lumber we had around the barn shop) to the length of your garden bed. We stapled the fabric on one side of the board and then we rolled the board and stapled it again to make sure it would stay in place. Stapling the fabric to the board twice helped secure it better to keep out bugs etc.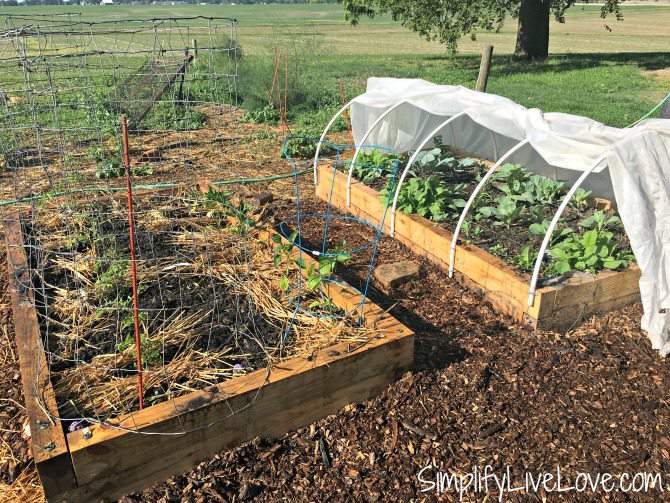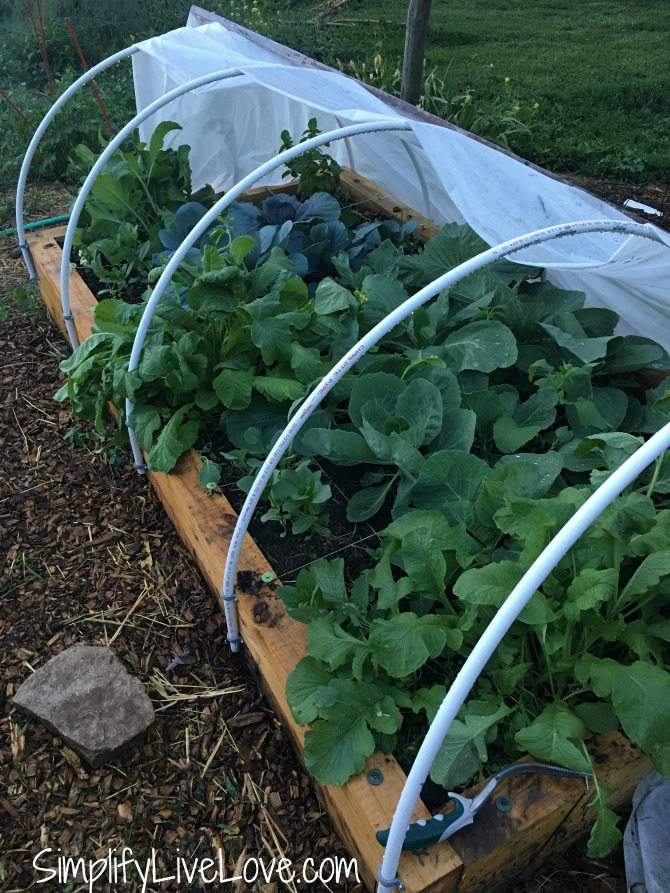 The last thing to do is screw one of the boards with the fabric attached to it to one side of the raised bed. Then you'll open and close it from the other side. It's pretty slick! It just slides right on down the pipes and falls into place. Make sure you tighten any extra fabric on the short sides of the beds to hold them securely in place. Twisting the fabric like a bread wrapper and setting a rock on it worked well. You don't want the wind whipping it around. When you want to open it, remove the rocks and roll up the fabric on the loose 1×2 board to keep it tidy.
And that's all there is to it! See what a nice job the cover also did keeping bugs off my cabbages? I love my covered raised garden bed!
We did some rough math on what it would cost to build this bed, and think if you have to buy all supplies, it would cost around $25-$30 per bed, but don't hold me to that as prices will vary! 😀
More posts on gardening in the fall / winter
How to start a fall vegetable garden
15 Fall garden tasks that I still need to do!
5 Tips for decorating for fall with natural objects
Winter garden chores you can do even when there's snow on the ground
Tuesdays in the Garden
Winter prep is the theme of this last Tuesdays in the Garden of 2017! Check out all of the helpful information from the Tuesdays in the Garden gang by clicking on the links or the pictures. We sure do hope you've enjoyed this year's Tuesdays in the Garden as much as we have! Please go ahead and click on the links to check out all of the helpful information!
Tasks to do before it snows from Shelly at FrugalFamilyHome
Fall / Winter garden prep from Jami at An Oregon Cottage
Tips for planning next year's garden from Patti at Hearth & Vine
Taking stock of your garden for better planning from Diane at Homemade Food Junkie
Planning ahead for next year's garden – Angie the Freckled Rose
Well, have you covered a raised garden bed? I'd love to hear if you used the same methods we did!