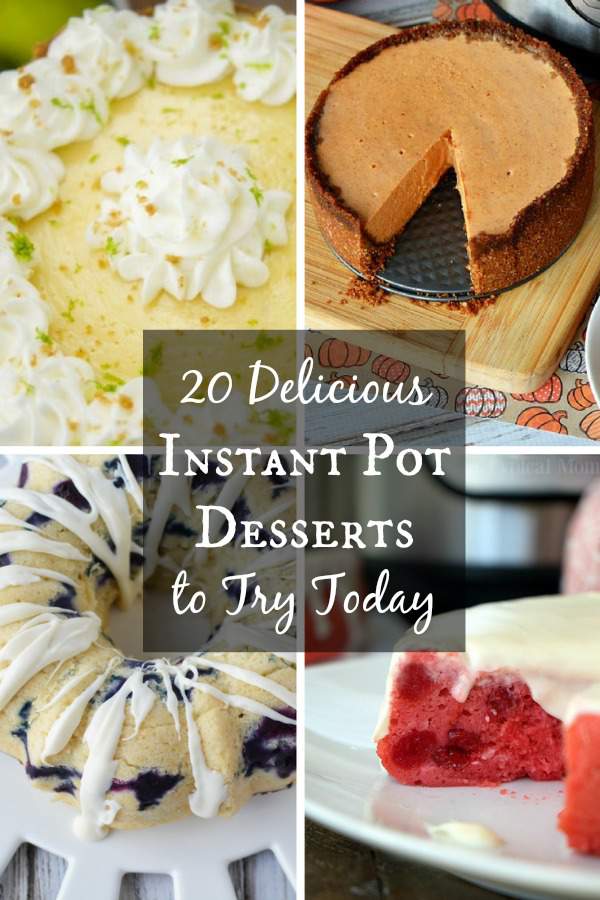 The Instant Pot is a very versatile kitchen appliance. Not only can it make quick dinners on the double, but it's also great for making desserts. If you really want to put your Instant Pot to great use, try these twenty Instant Pot desserts (with gluten free options) and add a few handy Instant Pot Accessories to help you up your game! Your family will thank you.
20 Delicious Instant Pot Desserts You Need in Your Life!
Have you ever had those nights when dinner just isn't quite enough? You want to make a quick dessert, or maybe you've been craving cake all day, but don't want to spend another hour in the kitchen baking. If you are looking for something delicious, quick, and easy to make for your next dessert, you are going to love these instant pot recipes! All of them are a delectable sweet treat that will leave you wanting more every single time! Here are 20 of the best Instant Pot desserts for a sweet treat.


Instant Pot Accessories you'll need to Make these IP Dessert Recipes
Before we get to the dessert recipes, let's talk Instant Pot Accessories for a minute. In addition to your Instant Pot, you'll also need the right sized pans to fit inside your IP. A good rule of thumb is 6″ and 7″ pans will fit inside 6 qt Instant Pots and 8″ pans will fit inside 8 qt Instant Pots. Make sure your pans fit your instant Pot before you try these recipes. 🙂
The other Instant Pot accessory you may want to invest in, is a set of colored sealing rings. One of my favorite things to cook in my Instant Pot is unsoaked dried beans. If you've used your instant pot a lot, you probably noticed that it retains an odor that can transfer to other dishes. If I don't want my lovely flourless cake to taste like the dried beans I love to cook, all I have to do is switch out the rings. You can get a set of three different colored sealing rings on Amazon for $15 or less. Here's a set for a 6 qt Instant Pot, and here's a set for an 8 qt Instant Pot.
Let's see the 20 Delicious Instant Pot Dessert Recipes!
Now that you've checked your instant pot accessories, it's time to chose your favorite recipe and get cooking! From cheesecake to coffeecake, to brownies and cobbler, one of the next fourteen recipes is sure to pique your interest. And if you're looking for gluten-free options, scroll on down to see the next six options. Enjoy
Pumpkin Chocolate Chip Bundt Cake

Gluten Free Instant Pot Desserts
Looking for gluten-free options? All of the following recipes are gluten-free, or can be with careful ingredient selection.
If you liked this post on Instant Pot Desserts, you'll like these dinner recipes too
Instant Pot Chicken and Rice with Lemon & Feta
IP Pork Roast w/ Rosemary & Garlic
I'd love to hear from you! What type of instant pot dessert recipe have you made before? Or what would you like to make?