Want to feed your family a fun dessert that's as healthy as it is delicious? If so, check out this fun Instant Pot Chocolate Pudding with Fresh Berries and Extra Omega 3s! With this recipe, you don't have to feel guilty about serving dessert.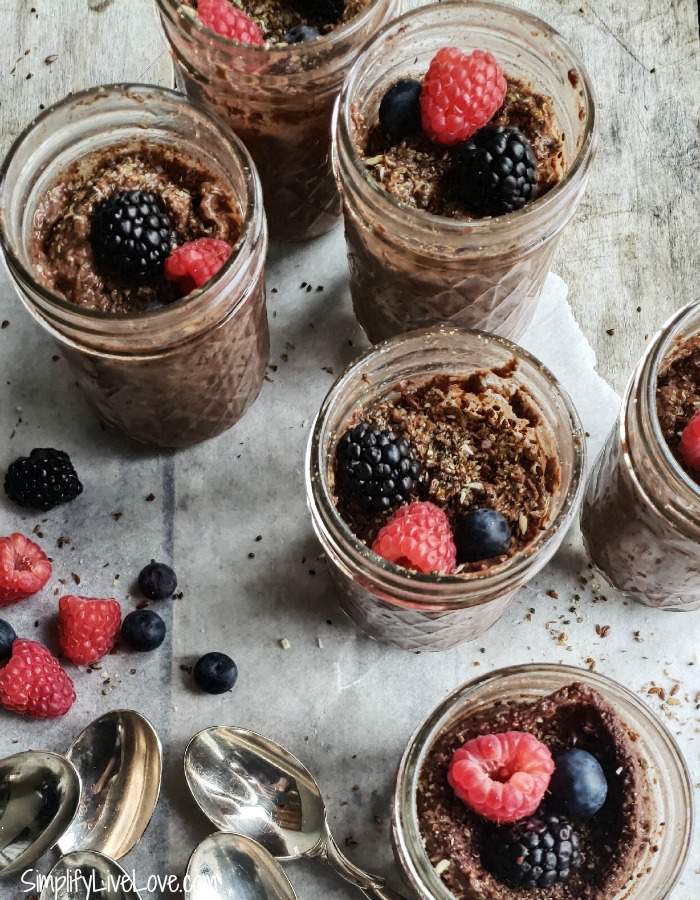 *Many thanks to Barleans for sponsoring this Instant Pot Chocolate Pudding recipe post. All opinions are mine.*
Instant Pot Chocolate Pudding with Fresh Berries
My family often calls me the anti-sweet mom because I rarely serve dessert. First of all, I don't want to cook it. Second, I try to stay away from added sugar and other unhealthy ingredients. Luckily, with this recipe, you don't have to feel guilty. Refined sugar free, we also make it dairy free by using almond milk. I'm getting serious about cutting dairy out of my eldest daughter's diet. She has had eczema her whole life and it is just not going away. We're trying a lot of new things this year, and one is to significantly reduce her dairy intake. But don't worry, if you don't like almond milk, you can also use regular ole cow's milk instead. I recommend organic, grass-fed, whole milk in this recipe too.
Wondering how to make chocolate pudding in the Instant Pot Electric Pressure Cooker?
It's not that hard and it doesn't take much active effort on your part. You will need to cool it for at least six hours in the fridge to get it to set right, though, so keep that in mind if you want to make this recipe. It's best made the day before you want to serve it. By the way, links in this post are affiliate links which means I'll earn a small commission on your purchase.


You'll need a blender and an Instant Pot, of course. I recently upgraded to an 8 quart Instant Pot and love it even more than I loved my 6 quart version. The 8 quart gives me the ability to cook slightly larger portions, and with six hungry people in the family, that's pretty important! If you have a 6 quart electric pressure cooker this recipe will still work just fine.
To make chocolate pudding in an Instant Pot Electric Pressure Cooker all you have to do is blend the ingredients in a blender, then pour into 8 ounce glass jelly jars. Put the lids and rings on the jars.
Then, place the jars on a trivet inside your instant pot. Pour one cup of water in the instant pot and cook on high pressure for 5 minutes. After it's finished cooking, manually release the pressure and use tongs to remove the jars. They'll be hot so be careful when you remove them. Also, the jars might seal during cooking, so you might have to remove the lids with a knife.
Cool in the fridge for at least six hours, or overnight. Before serving, give the jars a good shake, then serve with fresh berries and a sprinkle of  Barleans Flax, Chia, Coconut Blend. This Barleans Raw Energy blend is a great way to add extra protein, fiber, and omega-3s to your diet. We love adding it to smoothies and our morning yogurt parfaits.  You'll also use Barleans Butter Flavored Organic Coconut oil in this recipe. The coconut oil is a dairy free alternative to butter and we love using it in all sorts of recipes too.
Michelle Marine
Yields 6 servings
Instant Pot Chocolate Pudding with Fresh Berries
Delicious and healthy homemade pudding made right in your Instant Pot!
10 minPrep Time
5 minCook Time
15 minTotal Time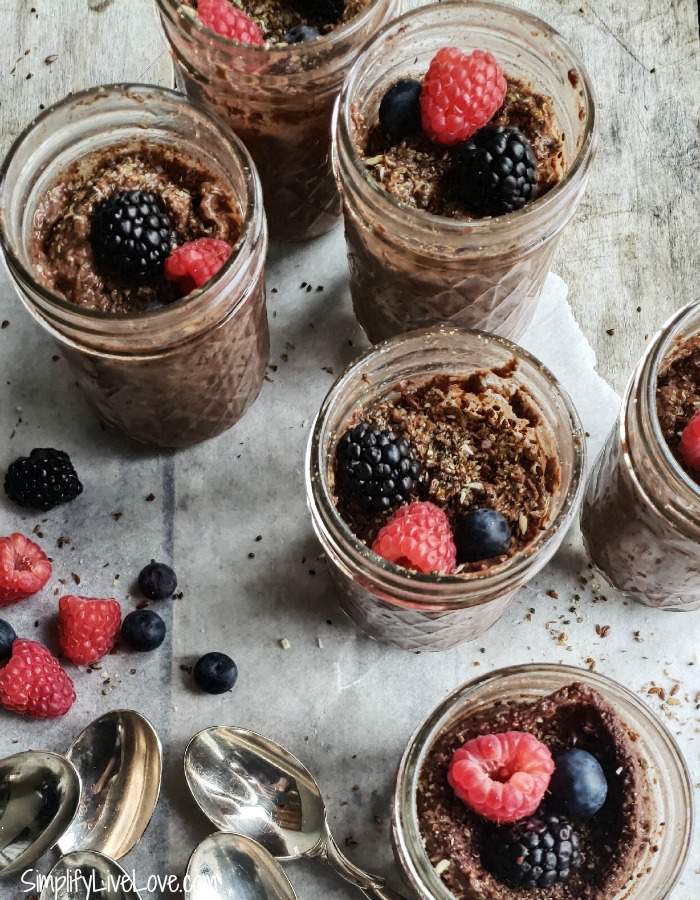 Ingredients
3 1/4 cups milk (almond milk or whole grass-fed organic milk are our favorites)
3 eggs, preferably farm fresh from pastured chickens
1/3 cup Pure maple syrup
1 1/2 tbsp Organic Vanilla Extract
4 tbsp cocoa
1/4 cup Barleans Flax, Chia, Coconut Blend Optional. If you don't mind a little texture in your pudding, add it. If you prefer perfectly smooth pudding, omit this ingredient and add more as a garnish after serving.
1 TBS + 2 tsp Grass Fed Gelatin

For toppings:

Fresh organic berries
Instructions
Blend milk, eggs, honey, vanilla, melted coconut oil, cocoa, gelatin, and flax seed blend for about a minute until nicely combined.
Pour the pudding mixture evenly into 6 half pint jars and put the lids on the jars.
Put the trivet in your Instant Pot and add 1 cup water. Then place the jars of pudding on the trivet. Lock the Instant Pot and cook on High Manual for 5 minutes.
Once the Instant Pot beeps, turn the machine off and unplug. Manually release the pressure by carefully venting the machine.
Once it has depressurized, open the Instant Pot and carefully remove the jars - they will be hot!
Cool in the fridge for at least 6 hours, shaking occasionally to help them set.
Top with fresh berries and a another sprinkle of Barlean's Flax, Chia, Coconut blend.
Enjoy!
7.8.1.2
316
https://simplifylivelove.com/instant-pot-chocolate-pudding/
If you liked this Instant Pot Chocolate Pudding recipe, you might like these recipes too:
Old Fashioned Instant Pot Chicken Noodle Soup
How to Cook Dried Beans in the Instant Pot {soaked or unsoaked}
Instant Pot Beef Roast with Rigatoni
Company Worthy Pork Roast with Garlic & Rosemary