You don't have to spend all day in the kitchen to prepare a healthy meal. These 25 genius meal prep ideas will make cooking from scratch a lot faster to save you time and money in the kitchen!
*This post contains affiliate links. Thank you for supporting my site.*
Save Time in the Kitchen with 25 Genius Meal Prep Ideas
There are so many ways things you can do ahead to save yourself lots of time! Think about what you can do in two spare minutes to make a from-scratch meal that much easier during the busy meal time. I've learned a lot of these tricks from my super smart friend, Robin. She's awesome at making delicious meals come together really quickly at dinner time – primarily because does as much as she can during the day. Here are 25 tips to help you save time in the kitchen too.
1. Cook noodles – you can reheat noodles by running hot or boiling water over them
2. Cook rice – you can reheat covered rice (add a little extra water) in the microwave, oven, or stir-fry cold rice
3. Hard boil eggs – cooked eggs are great to have on hand for salads, quick snacks or breakfasts
4. Pop popcorn – We might be weird, but we like leftover popcorn. I add it to kids lunches or pull it out for quick snack after school. Since I don't add butter to the popped corn, it's safe to leave on the counter.
5. Peel potatoes and keep in cold water – make sure you keep them in cold water to prevent them from turning brown. Storing them in cold water also has the added bonus of removing starch.
6. Chop veggies – peel and chop carrots, wash broccoli and chop, celery, peppers, onions, prep veggies once for using all week. Store in airtight containers, adding wet towels to the carrots.
7. Shred cheese – I rarely buy pre-shredded cheese as I don't like the additives (wood pulp? no thanks). Instead, I buy big blocks of cheese, shred in my food processor, and freeze in 2 cup portions.
8. Batch bake bacon – and then freeze for use in quick morning breakfast sandwiches or recipes that call for bacon. Don't forget to save the grease and use it too!
9. Prep a salad – just don't add the dressing as the salad will not last long after the dressing has been added.
10. Scramble a bunch of eggs – then re-purpose as breakfast burritos, or simply reheat for quick breakfasting later in the week.
11. Make a quick salad dressing – salad dressing is a great thing to make ahead and it keeps for a long time in the fridge! You don't even need a seasoning packets. Just mix up your favorite vinegar and oil dressing and store in a mason jar!
12. Brown meat – instead of browning one pound of meat, brown a bunch! You can store it in the fridge or freezer it too.
13. Make smoothie mixes for the freezer – combine all ingredients except liquid, and freeze in mason jars of ziplock bags.
14. Prepare meat marinades – meat marinades can be made several days ahead of time and stored in the fridge. You don't want to marinate most meats for days on end, but you can prepare the marinade and have it ready when you need it.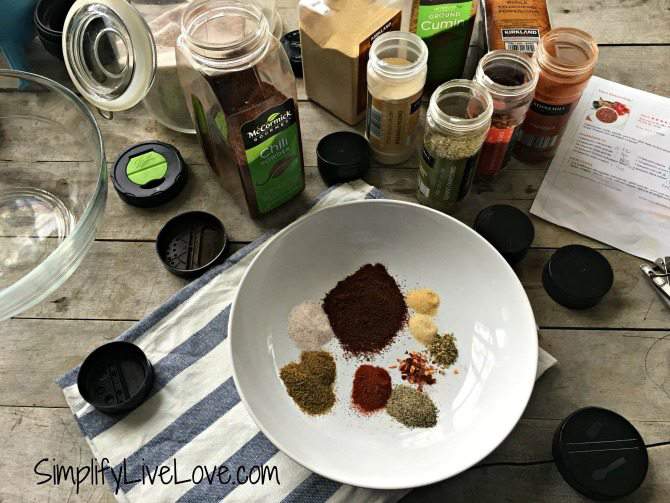 15. Make seasoning mixes and store in an airtight container for up to 6 months. I make huge portions of taco seasoning and also a versatile rotisserie chicken spice rub mix.
16. Cook dried beans and freeze – this comes in especially handy when I make one of our go-to meals, taco soup!
17. Premake muffin mixes and all kinds of baking mixes – then store in the freezer. Check out this post with over 30 different types of baking mixes you can make ahead!
18. Make bone broth – You're missing out if you don't use chicken bones, ham bones, and beef soup bones to make broth! It's really easy to make, very nutritious, and freezes well too.
19. Make bread dough – I haven't done this recently, but I used to do it often and I need to start again. When you make pie dough or pizza dough, make extras, throw in a ziplock bag, label, and store in the freezer! The next time you want a pie or pizza, you'll save yourself a lot of time.
20. Make bread crumbs – run leftover bread through your food processor, store in an airtight container in the freezer.
21. Make herbed butter – simply add your favorite herbs to butter and next time you want to make garlic bread or oven sandwiches for the freezer!
22. Make DIY fruit dip or veg dips – I have found that dips encourage my kids to eat more veggies. They eat the fruit either way, but a dip always seems to make the veggies go down a little easier. It's pretty easy to make dips ahead of time and store in the fridge in an airtight container.
23. Freeze fresh herbs in olive oil – use ice cube trays to make the perfect size and freeze. Simply pull out an ice cube the next time you need fresh herbs!
24. Mince or press garlic and store in olive oil – You can also batch mince fresh garlic and store it in olive oil. Make sure you store it in the fridge though, and not at room temperature.
25. Double your dinner recipe and freeze the extra! – The ultimate in batch cooking – double or quadruple a recipe and and freeze the rest. I do this with meatloaf, chicken, spaghetti sauce, lasagna, and more! You can find my freezer friendly recipes here.
What do you prep ahead of time that I didn't cover? Please share in the comments!
More Kitchen Tip Posts you may like!
How to Start Cooking from Scratch
5 Simple Tips for Making Quick & Healthy Meals