Growing a fall vegetable garden is a great way to keep on enjoying fresh produce during cold weather. Here are 7 fast growing fall vegetables to plant before winter plus must know tips for growing the best fall garden yet!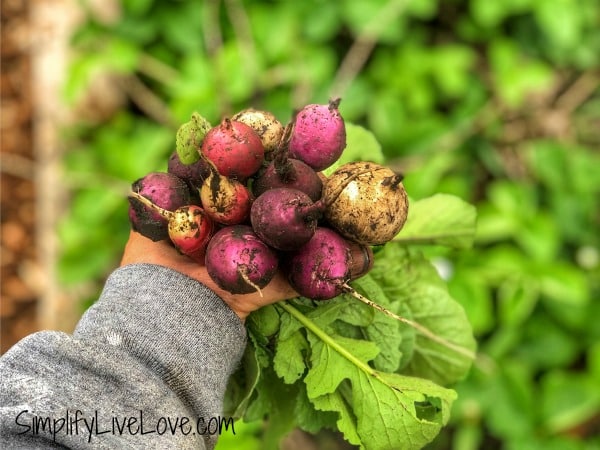 7 Fast Growing Fall Vegetables to Plant Before Winter
Normally, I am done with gardening by the time fall rolls around. After so much work in the heat, killing all the bugs, and then all preserving all the summer garden bounty, I'm ready to take a break from garden tasks.
This year, however, I did not get much of a summer harvest. From the super cold and wet spring, to the hot and dry July, but mostly because my new geese and turkeys just ate everything they could, I got pretty much nothing other than herbs, potatoes, and garlic.
This year, it's time to finally grow fall crops! Fall is a lovely time to grow food.There are fewer garden pests to worry about and cooler weather is much nicer to work in outside compared to the heat of the summer.
The only negative to fall gardening is that you are limited in what you can grow. As fall comes along, the temperatures get cooler and the diminishing sunlight causes summer plants to slow down their growth making the summer crops start to wind down.
Summer plants that need a long time to mature are not possible to grow in the fall garden, but that doesn't mean gardening has to end!
Thankfully, there are some quick growing fall garden vegetables you can grow during fall and harvest just before winter. By choosing plant varieties with fast days to maturity, you can still sow seeds in the late summer or early fall for lovely and delicious fall harvests.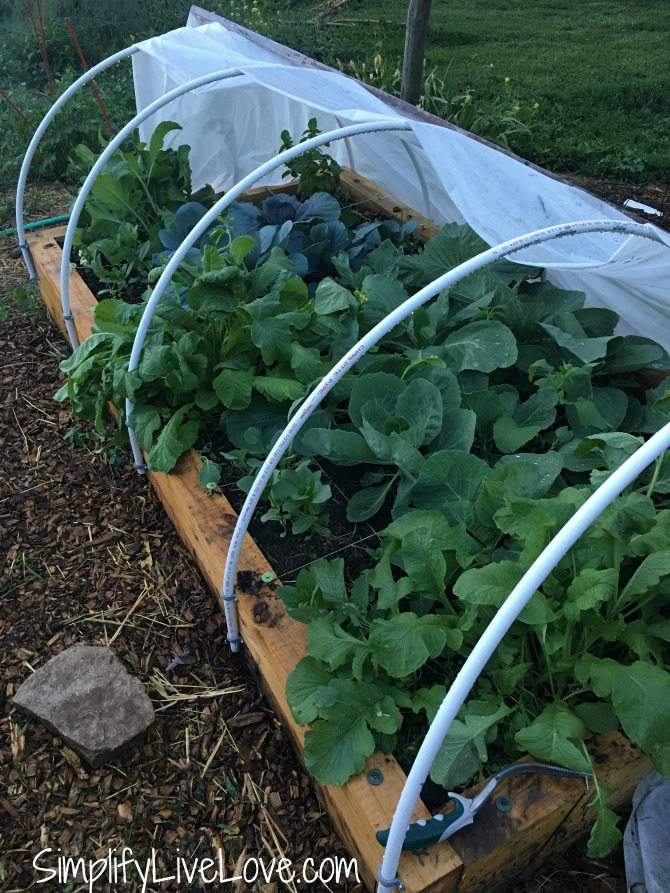 How to Get Started on a Fall Garden
There are two main ways to grow a fall garden. You can plant seedlings or you can direct sow quick growing seeds. I find direct sowing seeds the easiest way to grow a fall garden, especially since I am a procrastinator and not usually prepared early enough in the season to plant seedlings.
The first thing you need to know as you consider cool season crops are your frost dates. Every gardener should know when to expect the first frost of the fall and when to expect the last frost in the spring.
Of course, it's impossible to predict with 100% accuracy when it will frost, but there are some established guidelines to follow. As the frost dates approach, keep an eye on the weather forecast. That way, you can cover any crops to protect them if you should happen to have frost outside the established dates.
Understanding Frost Dates
The frost dates for my zone 5 garden in Eastern Iowa are October 12 and April 22. I can be reasonably assured that we'll have frost between those two dates. To calculate your own frost dates, head over to the Old Farmer's Almanac and simply plug in your zip code.
For fall garden planting, it's important that any vegetables you plant will be ready to harvest before the first frost, unless you plan to use row covers or cold frames. Using row covers or cold frames can extend you fall garden into a winter garden – and you might want to consider that exciting possibility!
Knowing that frost is likely in my area around October 12, I'll want to sow seeds with a quick 30 – 45 days to harvest if intend to start seeding in late August to early September.
Using my approximate first date frost date of October 12, I can count backwards to determine the last possible planting date. For quick plants, I can continue to directly sow seeds with a 30-day maturity until around September 12. Your dates will change based on the first possible frost dates in your area.

Fortunately, there are several options for seeds with quick growing times! Here are several of my favorite seeds to sow directly in the fall garden.
Arugula
One of the easiest plants you can grow during this time of the year is arugula. This is a spicy green that will only require 30 days to harvest. You can use arugula for your hearty winter soups. I also love adding arugula to fresh salads.
Consider planting different varieties such as Dragon's Tongue, Salad Rocket, and Wild Rocky. Make sure to harvest arugula before it flowers or it will get very bitter.
Bok Choy
Another plant that you can grow and harvest in 30 days is Bok Choy. During this time, you can also use the baby stage of the plant for cooking.
You can use this for soups, salads, and stir-fry. Just make sure to snip the lower, older leaves so that the plants can continue to produce more.
Depending on the variety of Bok Choy you choose, days to harvest can be anywhere from 30-60. A fun variety to try if you like colored vegetables is Dark Purple Leaf Bok Choy.
Radishes
To give a peppery flavor to your soups and salads, you can add some radishes. Thankfully, you can harvest radish in as little as 15- 30 days, or when the radish has grown to about an inch in diameter.
The good news about growing radishes is that you can also eat the greens they produce. You can try Easter Egg, French Breakfast, Watermelon Mantanghong, and Cherry Belle varieties. I love this multi-pack of different radish varieties on Amazon!
Baby Carrots
Carrots are able to withstand even light frosts and some light snow. But you need to harvest them before the ground freezes.
When planting baby carrots, make sure to choose the early maturing varieties like Little Finger, Thumbelina, and Tonda Di Parigi. These will be ready in around 60 days.
Lettuce
If you're fond of eating salads, you'll want to plant lettuce in your garden. The good news is that these plants mature within 30 days.
You can choose from the many different leaf shapes and colors to include in your garden. The cooler weather can even intensify the reddish hues.
Consider Mesclun Mix and Oak Leaf Blend to make the most out of your plant. Lettuces are also excellent plants to keep growing under row covers or cold frames!
Kale
You can plant kale and see it ready to harvest in as little as 30 days. Kale makes a nice addition to a fall salad mix. Just remember to snip the bottom, older leaves so that the plant can continue producing more.
Opt for Red Winter, Dwarf Blue Curled, and Redbor varieties.
Spinach
Spinach is also good for salads and winter soups. You can harvest this leafy green at the baby stage within 30 days. To get mature leaves, you'll need about 45 days.
Try out Space, Tyee, and Bloomsdale varieties.
Setting out Transplants
If you can find fall seedlings at your local garden center, you can plant even more fall plants like broccoli, cabbage, cauliflower, swiss chard, and kohlrabi. Unfortunately, I find it difficult to find fall seedlings at my local garden center. I have seen them at the farmer's market, though, so check there if you'd like to find seedlings!
It's also important that broccoli and cabbage seedlings are set out before the temperature starts to cool or they won't grow quickly enough to produce a crop. Usually the end of July is the deadline for setting out cabbage and broccoli transplants in my area.
Starting your own fall garden seedlings
You can also start your own seedlings at home, but that takes a little more time and effort. You'll want to start those seeds 12 to 14 weeks before your first frost. Once they're three weeks old, you can set them out in the garden on a cloudy day.
Using my first frost date of October 12, I would need to start seeds by early to mid July to have them ready for transplant. Honestly, that just never happens in my world! But if you have time to start your own seedlings, set a reminder to do that in the summer!
Other important fall gardening tasks
Not only is fall a great time to sow quick growing cool loving vegetables, it's also time to do a few other important garden tasks.
You'll want to plant garlic, shallots, and flowering bulbs for spring blooms in the fall.
Fall is also time to prep your garden garden for spring. If a raised bed needs repairs or attention, doing that in fall can make garden prep easier. It's also a great time to cover your garden to kill off weeds or establish a new garden bed for spring! Read all about fall garden tasks here.
Now is the perfect time to start a new crop of easy to grow cool weather vegetables! Make the most of your fall planting with these quick growing, cold tolerant vegetables. Now that you know how to grow a fall garden, do you think you might want to grow a winter garden too?
More Posts About Fall Gardening
Want more information on growing a fall garden? Here are several posts that might be helpful. From fall garden tasks to planting garlic, here's what you need to do in the fall garden.
SimplifyLiveLove is a participant in the Amazon Services LLC Associates Program, an affiliate advertising program designed to provide a means for sites to earn advertising fees by advertising and linking to amazon.com.