This is a sponsored post for Socialstars and Poise. The opinions are all mine. #LadiesWithPoise
There are all sorts of healthy new years resolution ideas – from getting more sleep, to reducing stress, to losing weight. Wanting to improve overall health is a lofty goal and one many people should strive to achieve. The problem is actually achieving news years resolutions is harder than it sounds. According to Forbes, only 8% of people who set new years resolutions actually achieve them! If you're interested in improving your overall health this year, here are a few ideas for you, as well as tips so you can actually achieve your goals and make getting healthier a priority in 2016!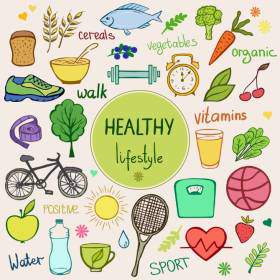 Healthy New Years Resolution Ideas
Here's a list of twelve things you can do in the new year to improve your health. Some of them might seem pretty easy to accomplish (but I know it's not as easy as it might seem), and others will take a little more effort. I highly recommend you add one or two (or more of these items) to your New Years Goals list!
1. Regular work-outs
2. Increase flexibility
3. Get more sleep
4. Drink more water
5. Increase fruit and veggie consumption
6. Decrease meat consumption
7. Quit smoking
8. Cut back on alcohol
9. Lose weight
10. Reduce stress
11. Take vitamins
12. And my personal favorite – Take a vacation!
My Personal Fitness Goals for 2016
Get more active with my family – We could do a lot better with active activities. We try to do seasonally appropriate activities together as a family, but instead of sitting while the kids bounce at the trampoline park, for instance, maybe I should actually get up and bounce with them!
2-3 CrossFit workouts per week – I've been doing CrossFit on and off for over a year now, and I'm not really improving because my attendance is sporadic and haphazard. In part, my sporadic attendance has to do with traveling a lot. But I'm also the queen of finding excuses for not going! The excuses can't continue this year.
Increase flexibility – I'm getting more flexible, but for a long time I couldn't even sit criss-cross-applesauce – that's how tight my hip flexors have been. It's really not good to be that inflexible (I'm convinced it plays a role in the lower back problems I've had) and I've incorporated more stretching into my daily routine.
Reduce stress – My primary sources of stress right now are living in an unfinished house and homeschooling my kids. I think the stress of homeschooling has to do with not having a homeschool room put together. Fortunately, we've got a plan for that, so hopefully that huge stressor is gone in the next few weeks. If it's not, I need to seriously consider a different form of education for my kids because this much stress is not healthy.
Cut back on alcohol – The longest living populations in the world all drink moderate amounts of alcohol (1-2 drinks per day). I'm on par with that, as I have a real love affair with my red wine. I've been feeling like I need to cut back on wine for a long time though, so I'm going to figure out how to make that happen in 2016.
How To Achieve Your Healthy New Years Resolutions
Set SMART goals – (specific, measurable, attainable, rewarding, trackable). Think long and hard about what you want to do and why. Do you want to go off a specific medication? Fit into a beloved pair of jeans? Reduce your cholesterol level? Think about why you want to get healthy and then write down a plan for doing so.
Add a timeline – You've probably heard that it takes 21 days to form a new habit. I'm not convinced that 21 is the magical number, but three weeks is a doable time frame! Committing to a new routine for three weeks, doesn't sound so bad, does it? And if after 21 days you need more time to accomplish your goal, add three more weeks!
Track Progress – There are lots of ways to track your progress, from using apps to planners, to fitbits – find some way to track your own progress so you can see just how far you've come when you need motivation!
Involve friends and family – My husband has been going to 5:30 am CrosFfit for a long time. I personally think he's insane, because that means leaving the house by 5:07, which means getting out of bed BEFORE 5 AM!!! But you know what? I started going to 5:30 am classes with him about three weeks ago because my evening schedule does not make it possible for me to go any other time. I finally decided that if I'm serious about getting in 2-3 workouts a week, then 5:30 am it has to be. Involving my husband is the only way I will ever make it to CrossFit at 5:30 AM. If he didn't kick me out of bed, there is no way I would get there on my own. So involve friends and family, and get their help!
Stop Making Excuses – I'm the queen of excuses – among them: it's too early. The weather's too bad. I have a headache. My kid have a class. I need to cook. Light bladder leakage – all sorts of things hold me back. Fortunately, there's an easy fix for some excuses like LBL. Poise* Impressa* Bladder Supports help women stop worrying about leaks and give them the confidence to enjoy active, fulfilling lives. Available in three different sizes, they gently lift, or support, the urethra to help stop unexpected leaks before they happen by adapting to the unique internal shape of each woman's body. Poise recommends starting with the Impressa Sizing Kit to find the size that helps effectively stop leaks and fits most comfortably.
Don't let LBL be an obstacle in achieving your healthy new years resolutions! Connect with Poise on Facebook, Twitter, and Instagram. The rest of the excuses?
You're just going to have to buck up and not let them hold you back!! I know you can do it. 😀
So, I've shared my healthy goals for 2016. What are yours? And what's your best tip for not being in the 92% of population that doesn't achieve their goals?