Don't throw out that turkey carcass! Turn it into homemade stock instead. There are many health benefits of homemade stock so make sure to use of your leftover turkey or chicken scraps. And don't forget this important ingredient to maximize the health benefits of the deliciousness you're making!
*This post contains affiliate links. Thank you for supporting my site!*
Don't Forget This Important Ingredient in Homemade Stock
Stock (or bone broth) is one of the easiest things to make and it's so good for your health. It's also a great way to use up food items you would otherwise throw away. If you're not familiar with the benefits of homemade turkey /chicken / beef / lamb stock, consider this.
Health Benefits of Homemade Stock
There are a lot of health benefits of homemade stock because it's rich in minerals that support the immune system. Not only that, but it's all full of vitamins and mineral that support joint health and treat leaky gut syndrome like collagen, glutamine, glycine and proline. Do you take glucosamine? If so, you definitely want a healthy homemade stock. You can read more about the health benefits on Dr. Axe's site.
It's highly likely that your grandmother or great-grandmother made bone broth from chickens she raised herself. I'm sure you're familiar with eating chicken noodle soup when you're sick, right? It's the broth! That healthy, healthy stock that people used to make. Unfortunately, bouillon cubes or purchased stock rarely contains the healthy properties you can get out of homemade. Instead, you're more likely to find MSG and a tons of sodium which have been documented to cause a lot of health problems. Luckily, it's pretty easy to make your own stock – just fill a pot with the turkey bones from Thanksgivng, a few veggies, filtered water, and one more very important ingredient.
So what is this important ingredient that you must remember to add to your homemade stock? VINEGAR! Preferably organic, unfiltered apple cider vinegar like [easyazon_link identifier="B003Y7A6PA" locale="US" tag="sililo-20″]Bragg Apple Cider Vinegar[/easyazon_link]. The vinegar helps pull those healthy minerals from the bones. It used to be more difficult for me to find Bragg ACV, but I see it all over the place these days, including ALDI, Costco, and even [easyazon_link identifier="B003Y7A6PA" locale="US" tag="sililo-20″]Amazon[/easyazon_link]!  Your stock will be best if you use the bones from meat that was previously roasted (like your Thanksgiving turkey) and organic veggies as well, but you can use raw meat as well (just remove the meat from the bones after it's cooked and return the bones to the pot.
Here's how to make your own homemade stock
Don't Forget This Important Ingredient in Homemade Stock
Ingredients
Turkey carcass, meat removed (or 1-2 chicken carcasses, meat removed)
2-3 carrots, chopped into large pieces
1-2 onions, halved or quartered
2-3 celery stalks, chopped into large pieces
2-4 TBS Apple Cider Vinegar
Filtered water to fill the pot
Instructions
Put the meat carcass in a large pot and fill the pot with filtered water.
Add the apple cider vinegar and bring the pot to a gentle boil.
Skim off any scum that forms in the pot.
Then add the chopped veggies and cover the pot.
Continue boiling gently for 4-24 hours.
Let broth cool to room temperature and strain bones and veggies from the stock.
Transfer stock to storage containers. Your stock will keep in the fridge for a week or in the freezer for several months.
Nutrition Information:
Serving Size:
1
Amount Per Serving:
Calories:

80
Sodium:

16mg
Carbohydrates:

19g
Sugar:

7g
Protein:

2g
What do you use homemade stock in? I use it in my delicious, from-scratch turkey pot pie, homemade chicken soup, easy Chicken Tikka Masala, and this delicious immune boosting chicken stew! Please share you favorite uses for homemade stock too!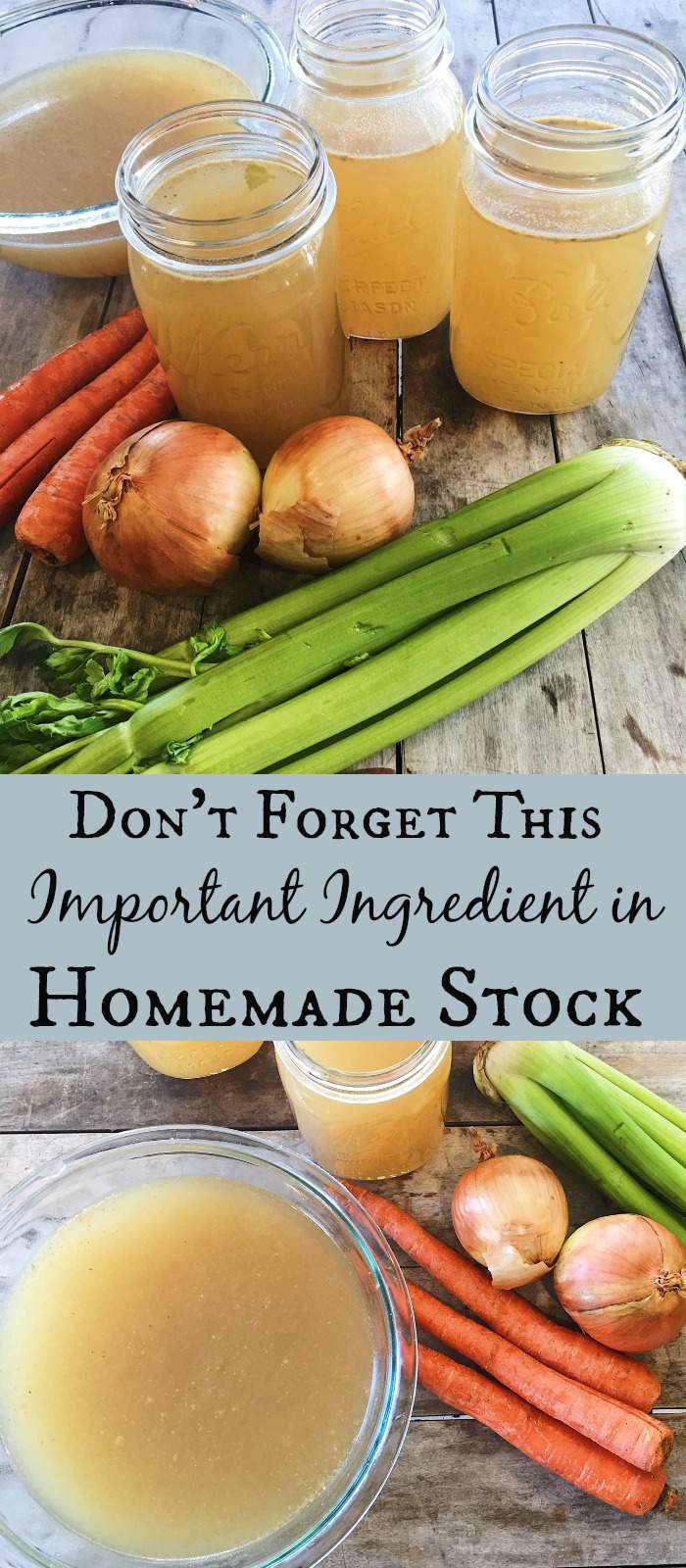 SimplifyLiveLove is a participant in the Amazon Services LLC Associates Program, an affiliate advertising program designed to provide a means for sites to earn advertising fees by advertising and linking to amazon.com.