Pomegranates are purported to extol all kinds of health benefits and my kids love them. But they are not that easy to open. Here's how to open a pomegranate without making a huge mess. In addition to being high in vitamins, A, C, E and folic acid, they are also said to protect against cancer, have anti-aging properties, ward off Alzheimers, and boost the immune system. (If you'd like to read more about them, here is an article that appeared in Time Magazine by Dr. Weil in 2006.)
How to open a pomegranate
But I've always passed them over in the grocery store until just recently. A couple weeks ago, Aldi had them on sale for 49 cents each and my kiddos begged me to get some. So I did.
But then I had to learn how to open them! They are a little intimidating looking, which is why I never bought them before. Plus, who wants to eat those seeds anyway? 😉
If you've never opened a pomegranate, here's how I did it. It kept the mess to minimum and the stain off my counter!
Here's what to do:
First, wash it and cut off the top and bottom. Use a cutting board that won't spill. The juice stains.
Score it like so: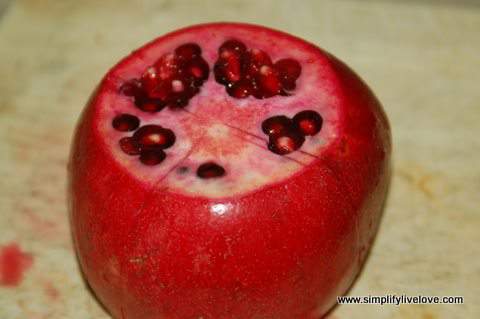 And put it in a bowl of water.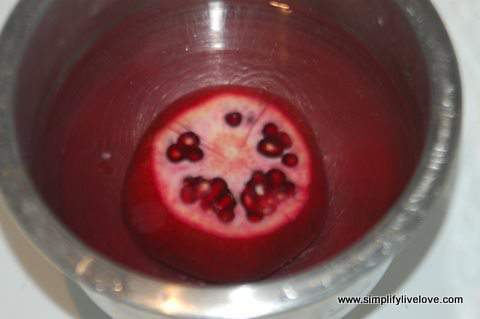 Then, break it into the four sections you scored.

Separate the seeds from the pith.

Then, strain them and remove any remaining pith.

After all that, whew! Done. Now you can either eat the seeds (which only my super most non-picky kid eater likes to do) or use them in smoothies. I recommend combining them with fresh pineapple. Yum! Next time they are on sale for 49 cents each, I'm buying a bunch, doing all this work, and then freezing the seeds for future use!
Do you eat pomegranates? What do you put them in?