Tips for Beautiful Vegetable Gardens from P. Allen Smith's Moss Mountain Farm
on Jun 13, 2017, Updated Jul 19, 2020
A few weeks ago, I  was treated to an influencer trip called Garden 2 Grow at P. Allen Smith's Moss Mountain Farm outside Little Rock, Arkansas. The trip was amazing and I was so excited to learn a few tips for beautiful vegetable gardens from Allen Smith himself! 
Welcome to anther installment of Tuesdays in the Garden where my group of gardening friends is sharing summer gardening tips.  I'm excited to share some of the beauty I saw at Moss Mountain Farm with you.
For many backyard and urban gardeners, it's hard to image (and photograph) the scale of the organic gardens at Moss Mountain Farm which total an entire acre! I thought my garden is big, but MMF gardens are immense. Several times I remarked that it would be so nice to have a staff of gardeners, but I was curious to learn that Smith's staff is actually not that big, 4-5 people maybe. I forget the exact size. I have that many people with my children…maybe I could utilize them a little bit better! Probably not, but I can dream, right?!
What really made an impression on me at Moss Mountain Farm is that despite its size, the entire garden is partitioned off into manageable areas. I wouldn't really call them raised garden beds, but definitely, the garden was thoughtfully laid out in a symmetrically grid system. It's sectioned off with lumber to define "beds." And then the beds are beautifully planted with flowers and veggies. P. Allen Smith grows berries, veggies, flowers, herbs, and also has a flower cutting garden in his one acre organic garden. I took away three main ideas for beautifying my own vegetable gardens out here in Eastern Iowa.
Beautiful Trellises at Moss Mountain Farm
I was really impressed by the different trellis Smith uses in his gardens.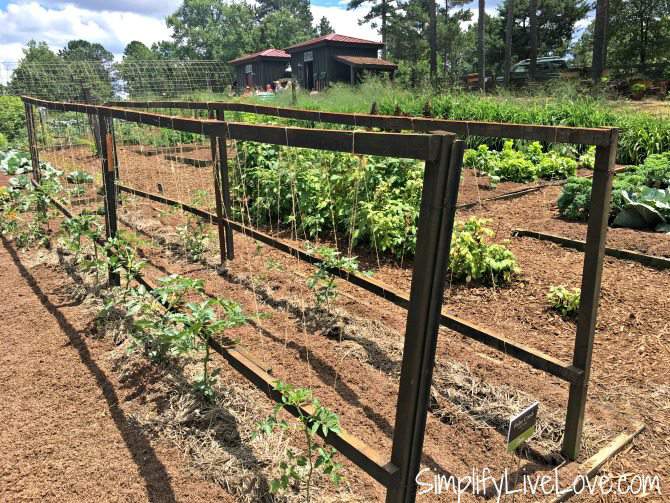 I love the simplicity of this tomato trellis. I've made huge tomato cages out of wire in the past and while they work well, they sure aren't as pretty and they take up a ton of room. Maybe next year I'll construct an easy trellis like this and try it out!
This simple wooden tower structure is another trellis I love! I can image beans climbing this for sure.
I also love these wire tunnels which will be overgrown with flowers, peas, and other wonderful plants later in the summer. I wish we could have seen them in their full glory. Can you image gourds growing on this trellis? I sure can! I tried this for cucumbers once with hog panels, but the cucumber beetles destroyed my plants before they could grow up and over. I might have to try again!
Companion planting to add beauty to the garden
Flowers are amazing companion plants and line most of the vegetable beds at Moss Mountain Farm. I always companion plant in my garden too, but I learned at Garden 2 Grow that I should do more!
Not only do flowers and herbs make amazing companion plants, but vegetable combinations can also support each other too. P. Allen Smith uses both vegetable and flower combinations at Moss Mountain Farm.
Buildings and potted plants to add beauty to the vegetable garden 
Garden shed and potting sink. I have a garden shed that is so under utilized it's not even funny. Honestly, it's just filled with junk and in desperate need of a clean out and make-over. We also have a sink very similar to the one in the picture in the barn. I don't think our climate would really support an outdoor sink, but I love this potting area!
The front of the garden shed.

I love both the fence around the gardens at Moss Mountain Farm and also this planter area. How pretty to use old wheelbarrows and a collection of pots. I want!
One thing my trip to Moss Mountain Farm made abundantly clear is that I have a lot of work to do at our little homestead. The beauty is here and with a little effort I can really  make this place pop. More companion planting, better system of trellises, and using buildings and other materials as planters would really make a big difference on our 5 acres. I hope you're inspired to make beautiful changes in your vegetable garden too!
Tuesdays in the Garden
And now it's time to see what my other gardening buddies have in store for your today! It looks like a lot of delicious tips to help you get the most out of your summer gardens. Enjoy!
From Shelly @FrugalFamilyHome – 5 Tips for a Thriving Summer Garden
From Patti @Hearth & Vine – 7 Tips for Tackling Weeds in Your Garden
From Jami @An Oregon Cottage – Your Guide to Summer Gardening
From Angie@The Freckled Rose – June Garden Tour
From Diane @Homemade Food Junkie – How to Grow Easy Leeks