This Tahini Chicken Thighs Instant Pot Recipe is the answer you're looking for when faced with the ever present question, "What's for dinner?"
Scrumptious Tahini Chicken Thighs Instant Pot Recipe
You can cook this recipe in both an instant pot or an air fryer. Either work fine – the air fryer will result in a slightly crispier chicken, and the instant pot will yield a juicier cut of meat.
The recipe card includes timing for both methods of cooking. The prep work will be the same regardless if you use an air fryer or a pressure cooker.
Questions about the Ingredients for Tahini Chicken
What is Tahini Sauce?
Tahini sauce is a paste made from sesame seeds. You can make it from scratch or buy premade. It's common in Middle Eastern cuisines (hummus, anyone?) and sometimes you'll find it Mediterranean food as well. Tahini sauce is vegan, gluten-free, and it's really quite delicious which is why we like it on these instant pot chicken thighs!
What if I don't have fresh parsley?
Fresh parsley is really nice in this dish, and it's easy to grow in your garden or on your kitchen windowsill. If you don't want to, or can't find, fresh parsley, an easy rule of thumb to remember is:
Can I use chicken breasts instead of chicken thighs?
Chicken breasts are fine to use in this recipe if you want. We prefer the thighs because they have a little bit more flavor, plus they're often a more economical cut of meat. If you're on a tight budget, chicken thighs might be the better choice. If you're on a strict diet and want to cut out fat, go with the breasts.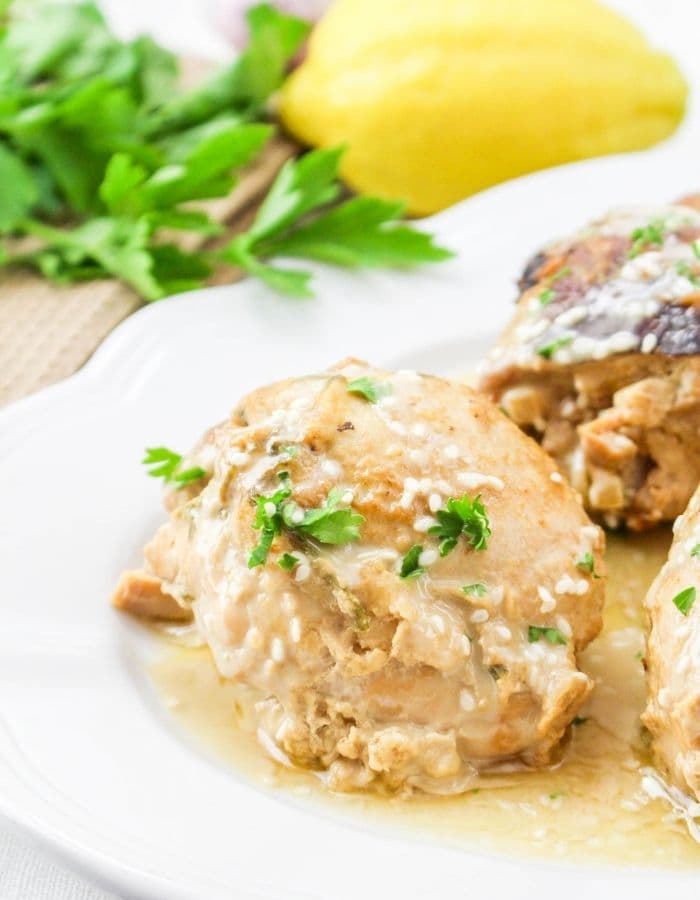 Is it better to use fresh or frozen chicken?
In general, it's better to cook with thawed meat. Frozen meat can't absorb the marinade properly so it won't be nearly as flavorful if you cook frozen chicken thighs instead of thawed.
Can I use bone-in chicken thighs?
You might be tempted to use bone-in skin (less) chicken thighs – especially if you cook the chicken in the air fryer and like crispy skin. Using bone-in thighs is fine, but there are two things to consider.
First, the cooking time will be longer and I'm not quite sure what it would be because I have not made this with bone-in chicken. Second, the yield will be less because some of the chicken wieght will be taken up by bones.
What side dishes go with Tahini Chicken Thighs
Well, besides the obvious pita bread and hummus (which you can also make from scratch in the Instant Pot, by the way), here are a few other side dishes you can quite happily serve with this delicious pressure cooker chicken recipe!
First, Make the Tahini Chicken Marinade
To make the marinade, simply combine all of the following ingredients in a glass, non-reactive bowl with a lid.
Add the chicken, cover, and marinate chicken overnight in your fridge.
Now Pressure Cook the Chicken
To cook the chicken, first add 1 cup water, then add the chicken marinade. Seal the lid and make sure the pressure release valve is set to sealing. Cook on manual high for 15 minutes. Then, do a quick pressure release. When it's done, carefully open the lid away from you to avoid steam in your face.
Eat the chicken as is, or shred with a fork and put in a pita! Enjoy.
Yield: 6 servings
Tahini Chicken Thighs Recipe in the Instant Pot or Air Fryer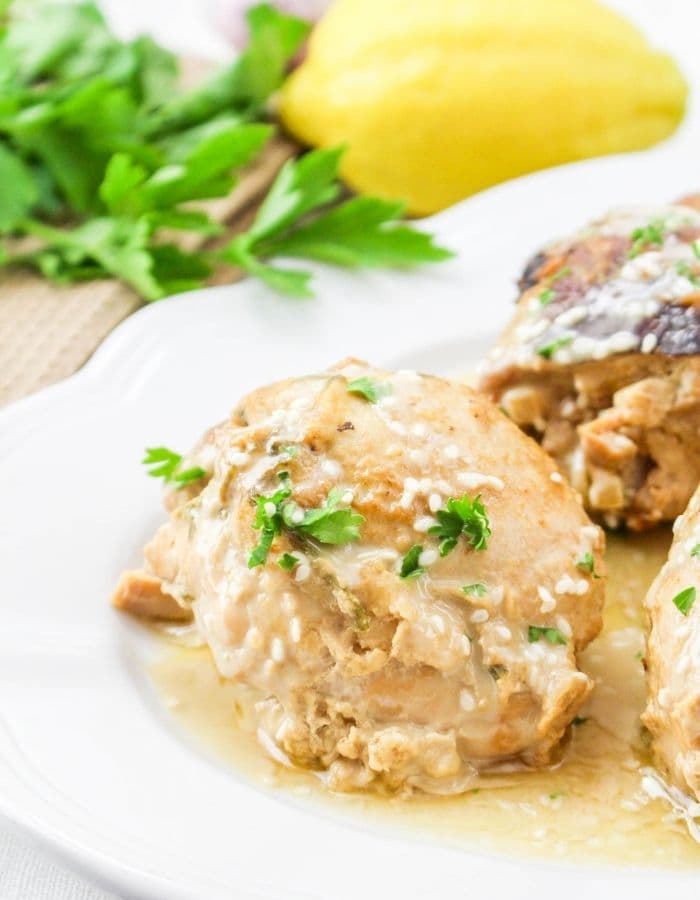 This Tahini Chicken Thighs Instant Pot Recipe is the answer you're looking for when faced with the ever present question, "What's for dinner?"
Total Time
8 hours
25 minutes
Ingredients
1 small onion, diced
3 tablespoons water, or chicken broth if you have any on hand
2 teaspoons lemon juice + a bit of zest if you are so inclined
For the Pressure Cooker
4 pounds boneless skinless chicken thighs
1 cup water
Instructions
Combine all marinade ingredients in a glass, non reactive bowl with a lid.
Add chicken and marinate for 8 hours or overnight in the fridge.
When it's time to cook, Pour water into the electric pressure cooker. Dump the chicken and marinade into the water.
Cover the electric pressure cooker and set the valve to sealing. Program the pressure cooker using the manual or pressure cook function for 15 minutes. Perform a quick release of the pressure.
Slice, shred, or serve the chicken thighs whole.
Garnish with additional tahini, sesame seeds, or chopped parsley.


Notes
Air Fryer Instructions: Omit the water if you want to make this recipe in the air fryer. Heat air fryer to 400 F and cook chicken thighs for about 18 minutes, flipping at halfway point.
Looking for more chicken recipes?
Freezer Friendly Chicken Pot Pie Tater Tot Casserole
Quick One Pan Greek Chicken with Feta & Olives
Instant Pot Whole Chicken Rotisserie Style From Fresh or Frozen