Did you know that the monarch butterfly population has declined by over 90% in the last few years and over 30% of the butterfly habitats have been destroyed due to modern agricultural and gardening practices? It's a very sad fact, but it's true.
Luckily, you can help by growing a butterfly garden to provide food and habitats to these important insects. If you think you need a lot of room to grow a butterfly garden, think again! All you need is a nice pot and the right plants. Here's how you can be a butterfly hero by growing your own butterfly garden in a pot!
Be a Butterfly Hero – Grow a Butterfly Garden in a Pot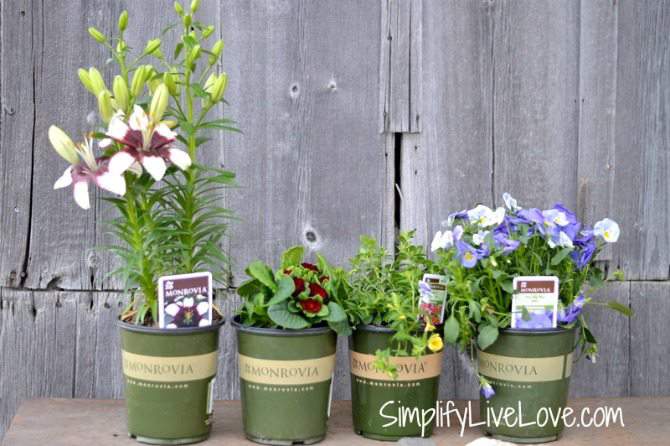 Supplies
Plants that attract butterflies and also are suited to container growing. I learned about the plants on Monrovia's website, but I bought my plants while we were in Missouri as our gardening centers aren't stocking very many plants yet and theirs were. But did you know that you can also order plants directly online and have them shipped to your gardening center? Yes! Shipping is free to the garden center of your choice. Head over to Shop Monrovia to find the perfect plants for you!
A flat rock for the butterflies to rest on
Moist sand or mud, for puddling of water
One large pot
A cute little sign so they know where to go. 😀 okay – not really necessary, but a cute touch.
Butterfly Habitats Should Include:
A butterfly habitat needs food, shelter, and water. They need both nectar-rich plants and if you want them to stick around a while and lay eggs, you'll need host plants as well.
Nectar-rich plants include:
Purple Coneflower
Phlox
Meadow Blazing Star
Verbena
Aster
Pansy
Butterfly Bush
Butterfly Weed
Lantana
Black Eyed Susan
Daisy
Host plants include:
Milkweed
Fennel
Parsley
Dill
And many of the nectar-rich plants are also host plants as well, like aster and coneflower.
To learn more about flowers, shrubs, and plants of all kinds, head over to Monrovia Plants!
Putting it all together:
Make sure your container drains well – so add holes if need be. Plant the flowers in the soil. Then place your butterfly garden in a sunny location and wait for the butterflies to come!
Once you've decided to be a butterfly hero by avoiding pesticides and providing butterflies a place to rest their wings and lay their eggs, take a picture of your butterfly heroes signing the word Butterfly and upload the picture to the National Wildlife Federation's Butterfly Hero program! As a thank-you, the NWF will send out a butterfly kit while supplies last.
Tell me which nectar-rich flowers you will include in your butterfly garden in a pot and show me your butterfly heroes!