Why to Grow Edible Flowers This Year & How to Eat Them
on Feb 25, 2021, Updated Oct 28, 2023
Growing edible flowers is a great way to add beauty, function, and fun to any garden. Here are a few of our favorite types of edible flowers and our favorite things to do with them!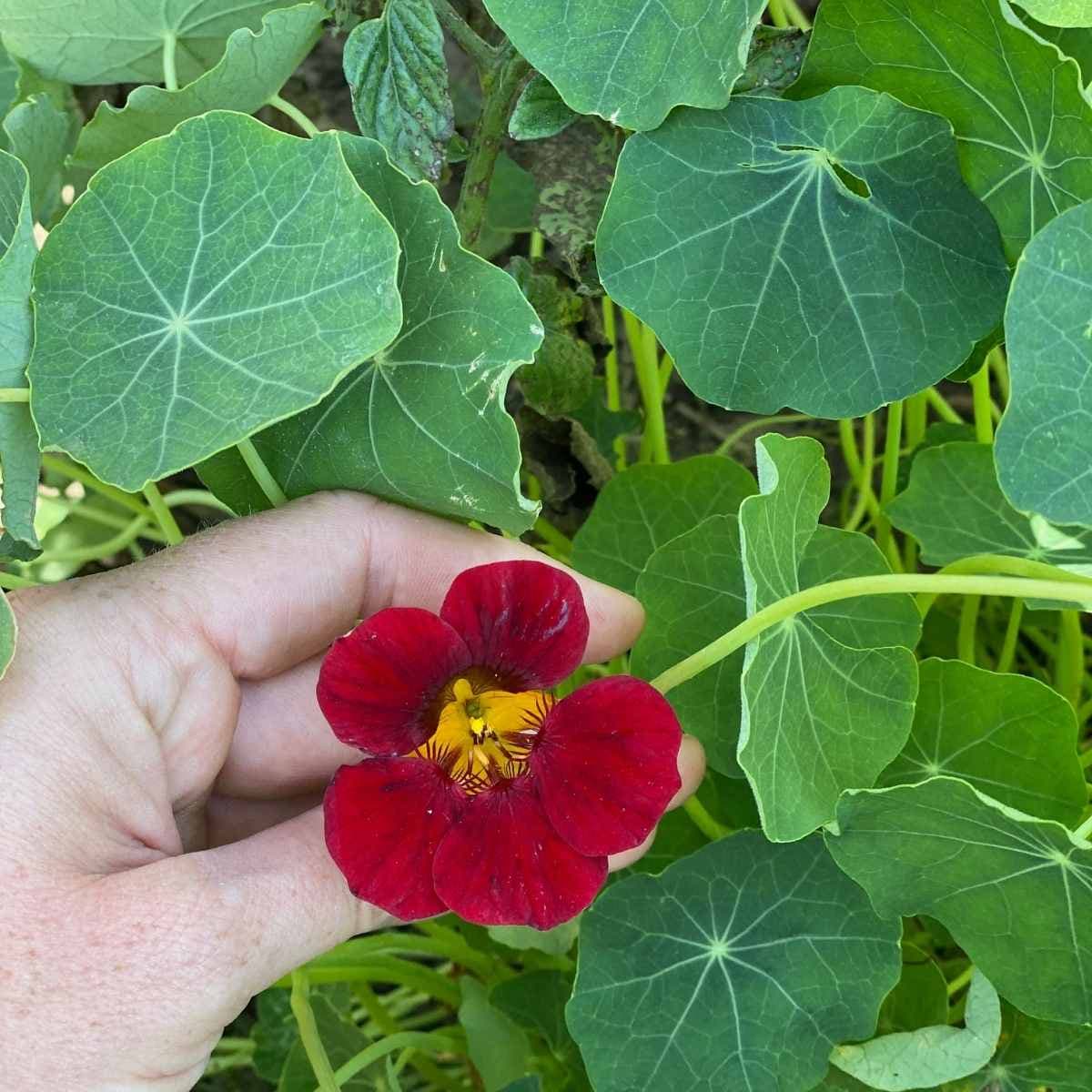 What to Know About Growing Edible Flowers
Thank you contributor, Honey Rowland, for sharing your knowledge on edible flowers! I grow a lot of flowers as companion plants, but I don't do a good job of using them. My goal is to incorporate more flowers into our food this year!
While many communities frown upon growing vegetables in your backyard, most are enthusiastic about growing flowers. A great way to add edibles to your gardening space is to grow edible flowers for both the beautiful landscaping and valuable food for your family.
These beautiful flowers are edible making them a great addition to your edible landscape. If you're wondering what kind of flowers are edible, read on! There are a surprisingly large number of them.
How do you eat flowers?
It goes without saying, that if you want to eat flowers you should make sure they are free of pesticides and other chemicals. Depending on the flower, different parts of the plant are edible. In some, only the petals are edible, so read on to learn the difference!
Flowers are great in summer fruit salads, sugared or dried and added to cakes, on ice cream or even jellies and infused creams. They are also beautiful frozen in ice cubes for pretty drinks or cocktails. My most used way besides salads is in teas from fresh or dried flowers.
Wondering how flowers taste? Well, some taste bitter, some have hints of fruit and some are very bland. Then there are some that start off sweet and end with a bit of a peppery kick like nasturtiums. But all have a unique flavor and offer health benefits and an additional way to increase your self sufficiency.
11 Tasty Edible Flowers to Grow & Eat
Surprise! Amaranth is an Edible Flower!
Amaranth tends to be thought of as a decorative flower with its bright purple bunches. The truth is these flowers are an edible grain though it is often hard to beat the birds to it. I also enjoy eating the new, young growth in salads and giving the plumes to my chickens.
I often sprinkle amaranth at the feet of my corn. The amaranth greens cool the corn's feet and the greens grow in which keeps weeds out. They offer a healthy supply of manganese, fiber, some protein and lots of essential amino acids for humans too.
Are chive flowers edible?
Yes, chive flowers ARE edible. Flowering chives have a pink, purple, or white flower at the top of deep green leaves. They also make a great addition to your garden bed or potted flowers. Depending on your type the flower heads can be a small half inch to 6 inches across. They make a pretty frame or border along your walkways.
While chive blossoms offer minimal nutrition they give an amazing amount of flavor and help perk up bland dishes. Chives can be used to add a garlic or onion flavor to any dish be it stew, salad or steak. Pollinators love them too!
Growing Lavender as an Edible Flower
Lavender is a beautiful flower for your garden. It can be used to make relaxing herbal tea. It is traditionally used in an herbs d'Provence spice blend which includes marjoram, rosemary, savory, and thyme. Using cotton string I tie and add them to a homemade tomato soup or when frying chicken. Don't forget to take the bunch out before serving it.
We enjoyed a citrus cake with last year's dried lavender petals that had been infused into some sugar or icing. We normally waited until after we had dried some of the new growth.
Lavender looks great planted in garden beds or large pots set to each side of your doors.
Did You Know Roses are Edible?
Roses are one of the most popular flowers for traditional landscaping. The petals are nice in a salad or a cake but I remember eating them with fresh cream and strawberries. Just make sure you remove the bitter white base so you can enjoy the rose petals!
The rose petals made the strawberries taste even more strawberry like. Come fall after a light frost, rosehips are perfect to dry for winter and spring use for teas or jellies.
Warning! Always strain your rosehips before eating or drinking as their hairs irritate the throat and belly. I find one rosehip makes a nice pot full of vitamin c during sniffle season.
Violets, Viola, Johnny Jump-Ups
Sometimes, growing edible flowers requires next to no effort on your part! If you look around your yard in yearly spring, you might be surprised by the lovely violets that suddenly appear as the weather warms up.
Violets are often found in your grass or along cooler, shaded spots. These little flowers are nice in a salad, as a colorful jelly, or sugared to top cupcakes for Mother's Day.
Violets are full of vitamins A and C. Where they really shine is when your throat is a bit sore as they soothe mucus membranes. There is more of a scent and less of a flavor.
When brewing as a hot tea let the water cool from boiling before adding your dried violets and steep less than 5 minutes. A wildflower honey helps to soothe the throat and masks the bland or bitterness of the violets.
Nasturtium Flowers
Nasturtiums have reds, oranges, yellows and even creamy colored flowers as well multiple shades and mixes between them. They can climb but most are mainly a mounding plant. Tied and trained to a trellis or growing around a mailbox they take a salad to new heights with their peppery flavored flower and spicy sweet leaves and stems. They are also good in a pesto.
They're amazing in a salad mixed with tomatoes, raisins and the nut of your choice. I really love making peppery, colorful gourmet vinegars during the summer. But, homemade winter tea blends to warm us up on long, cold nights or when struggling to get to sleep is nice too.
True Story: Dandelions are Edible!
Dandelions may be frowned upon by most Homeowners' Associations but they are very good for you. From liver support to anti inflammatory benefits they're full of nutrients. Full of Vitamin A, C, K and even E they're a perfect spring tonic and the entire plant is edible. An added benefit is they are often a first food for bees.
I like to pick the young leaves for salads and slice the roots up for a bit of added crunch. Chop up some boiled eggs, add garlic scapes or chives, and break the dandelion flower heads apart to sprinkle over the salad. They're even better after tossing the leaves in some nasturtium vinegar.
Calendula
Calendula is a member of the marigold family. The bright orange and yellow flowers do well in a container or in a mass on the ground. The flowers range from bland and bitter yellows to spicy oranges.
Calendula decrease inflammation. I also use orange calendula to replace saffron. It provides the beautiful color but is a little different taste. If you're use to saffron extend it by mixing calendula in. Fair warning though! Yellow marigolds tend to be the most bitter in my opinion but too much of either will make foods bitter.
Chamomile
Chamomile looks beautiful growing in large mass plantings. Chamomiles delicate flowers on long stalks are easily dried and added to hot water for a delicious tea. Chamomile tea calms and helps you drift off to sleep. I often add nasturtium to my chamomile to help with sleep issues.
Remember that chamomile and ragweed are related if you have allergies.
Red and White Clover
Red and White Clover is one of my favorites as you can use it to replace your lawn. No more mowing grass with leaves and flowers that can be eaten raw in a salad or sautéed with onion for a fresh spring green.
Drying the flower heads to add to teas is soothing to the throat. Red clover is preferred by women having hot flashes but white clover is better for those with colds.
Sunflowers
Sunflowers are the "funnest" flower. They follow the sun as it moves across the sky and everyone from human to bird likes them as they're edible from root to seed.
The leaves are a summer spinach alternative. They can be ate as shoots when they just appear from the earth. You can also slice the roots and fry them like potatoes. And, you can eat the petals and seeds in a salad.
I prefer to eat the seeds roasted and salted though. I also love adding slightly spicy sunflower shoots to salads in early spring. Since sunflowers are notorious for reseeding, the volunteer shoots are perfect for taking – they're often one of the first food that emerges in my garden in spring.
What other flowers are edible?
Lots more flowers are edible including squash blossoms, bee balm, borage, passion flower, pansies, chicory and more. Really, the sky's the limit when it comes to edible flowers!
Where to buy edible flowers?
A lot of people wonder where they can buy edible flowers. Hopefully this post encourages you to try to grow your own, but if you do have to make a purchase, we recommend checking your local farmer's market or grocery store.
 
If you look at the grocery store, look for edible flowers in the produce section, not the floral department as they have been sprayed with various toxins you do not want to ingest.
 
You can also buy edible flowers online – Gourmet Sweet Botanicals sells several varieties of edible flowers!


These flowers will enhance all of the vegetables growing in your garden too! Check out my how to grow garden vegetables series for tips and tricks on common garden vegetables.
How to Grow Garden Vegetables Series
Want to learn how to grow all the garden vegetables? Check out my How to Grow Series and learn to garden like a champ! More posts coming soon!
What is your favorite edible flower? Do you tend to eat them or make them into teas?