A traditional German breakfast is a wonderful thing. My kids would love to eat this breakfast every day like we did on our spring break trip to Germany. The best part: it requires very little cooking. However, it's a little tricky to serve in the US (at least where I live). If you'd like to serve a traditional German breakfast in the US, here's how.
*This post contains affiliate links. Thank you for supporting my site.*
How to Make A Traditional German Breakfast outside Germany
It's a little tricky to get a traditional German breakfast spread on the table in the US, but not impossible. With a little careful ingredient sourcing, you can serve up a fine German breakfast in the US too. And if you have a nice place to eat outside, make sure to cart this to your outdoor table. It tastes even better when eaten outdoors.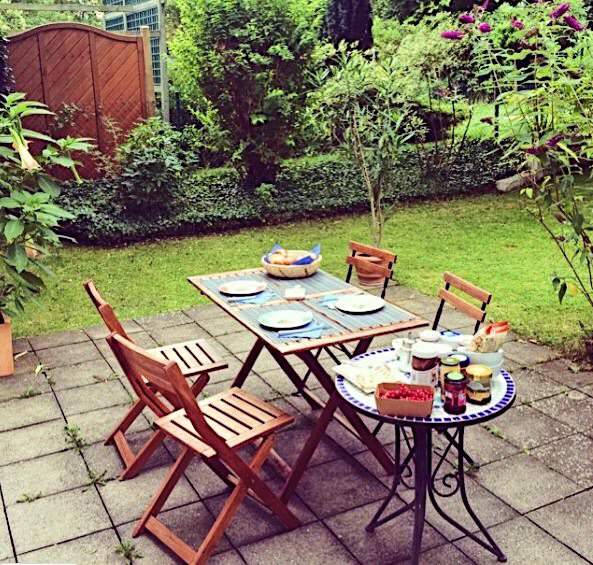 German Bread
The most important part of a traditional German breakfast is the bread. Sadly, it's really hard to find good German bread here in the US. In Germany, someone makes a quick run to the bakery in the morning to buy the daily bread. Brötchen rolls are big items on the breakfast menu, but they also serve croissants, pretzels, and baguettes too.
I've had some luck making my own artisan bread rolls as an alternative to brötchen, but they just aren't quite the same. I buy croissants and pretzel rolls at Aldi or Costco and also serve whatever nice seeded bread I find and a sliced baguette.
I've also started recently baking my own sourdough bread which comes in second. While I'd much rather go to Germany and have a brötchen, I'm content with my own home baked goodness too!
Meat & Cheese Platter
My kids love that Germans serve sliced meats for breakfast. Salami, leberwurst, kinderwurst (lunchmeat for kids) are all found on the breakfast table. I liked Kinderwurst a lot when I was young but my kids didn't like it that much so I don't try to find anything similar here.
If you're curious, Kinderwurst is similar to mortadella but without the fat cubes, and it contains a high amount of gelatin to give a moist texture that kids usually like.
Don't forget the cheese! Germans are quite fond of all types of cheese and serve up a nice assortment at breakfast. Soft cheeses, sliced cheeses, hard cheeses, nothing is off limits on the German breakfast table. The stinky the better!
Eggs & Fruit
The only part of the German breakfast that requires cooking is eggs! Germans love to eat soft boiled eggs with breakfast, and cook eggs in electric egg cookers. Egg cookers require very little effort. They put them in cute little egg cups and eat them with small egg spoons. My kids think soft boiled eggs are gross, but I like them, probably because I grew up eating them in Germany. There's also usually an assortment of sliced fruits. Germans are great at eating whatever is in season: cherries, currants, berries, kiwis, oranges, etc.


German Breakfast Spreads
Of course, you have to have spreads for the bread right? Honey, marmalades, real butter, Nutella (I prefer a non-GMO counterpart made by Rigoni di Asiago) should all be on your German breakfast table. Rigoni Di Asiago recently sent me a few of their spreads to try out and we loved them. I've tried other hazelnut spreads before but have not liked them as much as the Nocciolata Organic Hazelnut Spread from Rigoni di Asiago. I grew up eating Nutella, but in my quest to clean up our diet, I try to find options with better ingredients.
Drinks
No German breakfast is complete without drinks. Germans serve up different types of juices like multivitamin juice, apple, and orange. The multivitamin juice they drink in Germany is mostly fruit based. The closest equivalent I've been able to find is this Knudsen Juice. I don't buy a lot of juice here in the US so my kids were quite thrilled that they got to drink a lot of juice at breakfast. Of course, the grown-ups drink coffee or cappuccino and enjoy life a lot.
And this my friends, is a traditional German breakfast spread! If only I could find a German style bakery in my area, we'd be in heaven. Is this a type of breakfast your family would enjoy?
Want to try some other German Recipes? Here you go!
German Frikadellen with Pan Fried Potatoes